Grammar schools could admit just the cleverest 10% of pupils under new plans
Education chiefs considering 'national selection test' to clamp down on exam 'tourism'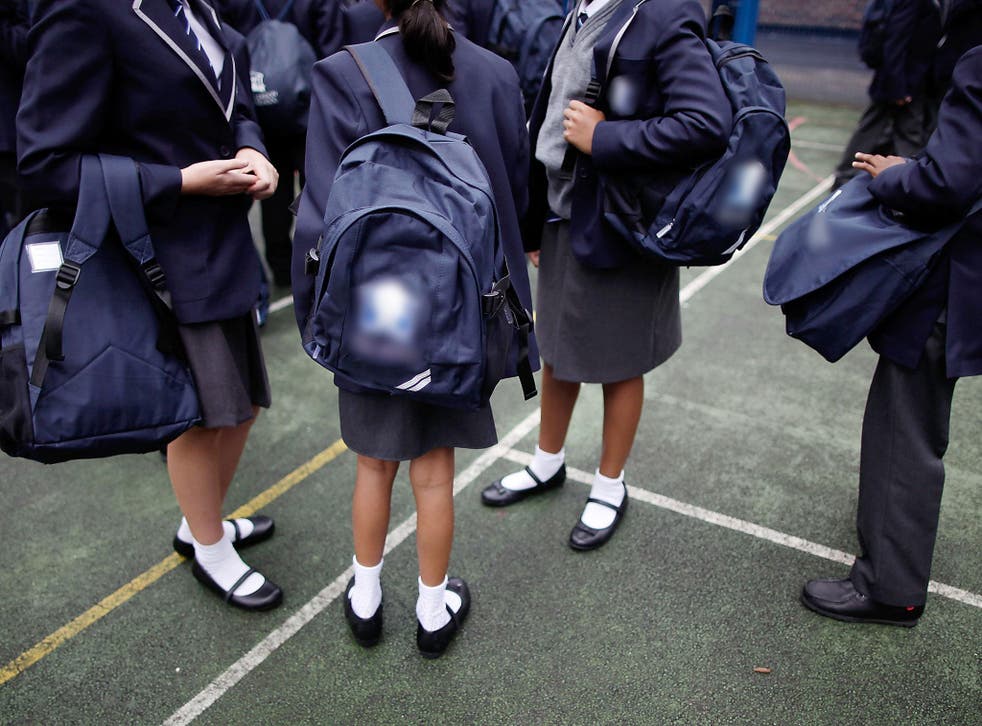 New grammar school proposals that could take in just the cleverest 10 per cent of children would make the system even more elitist, critics have argued.
Education chiefs are also considering a "national selection test", it has been revealed, in order to help prevent "test tourism", where parents enter their children for exams in different areas where they are considered easier.
The details of the Government's planned expansion of grammar schools emerged from notes of meetings between ministers, education advisers and the Grammar School Heads' Association (GSHA).
Under the current system, grammar schools select the top 25 per cent of high-achieving pupils based on the traditional 11-plus entrance exams.
But minutes from the government meeting disclosed that the new wave of grammars set to open in 2020 are likely to have a "narrower ability range" closer to 10 per cent.
Shadow Education Secretary Angela Rayner condemned the plans as a backwards step for social mobility, contrary to Government arguments in favour of expanding the selective schools.
She told The Independent: "These private discussions show that the Tories' new grammar schools will be even more narrow and elitist - creaming off just 10 per cent of pupils.
"So much for social mobility - the Tories care only about the few, not the many. These new grammar schools will do nothing to help the vast majority of our children in state schools."
"Threatening the pupil premium shows that they want to end any help for the most disadvantaged children.
UK news in pictures

Show all 50
According to the GSHA document, Education Secretary Justine Greening said the response to the consultation on increasing selection, which closed in December, was not "an overwhelming flood of negativity".
Ministers reportedly still want to see the top 25 per cent of pupils going to comprehensive schools, but the new selective schools will "probably have a narrower ability range, perhaps more like (the) top 10 per cent".
The Government also wants to develop "coaching-resistant tests" and to "move away from focusing on social mobility to social reform", the document disclosed.
Commenting on the document, Kevin Courtney, General Secretary of the National Union of Teachers, said: "Schools across the country are crying out for sufficient funding and instead of addressing this as an urgent priority, the Secretary of State is fiddling around with secret plans for a return to a two-tier education system in which 90 per cent of children will attend what are in effect secondary-modern schools.
"It is testament to this Government that they are so incapable of making the argument for grammar schools, that they intend to slip out their announcement at a time when the public and press are instead focused on Brexit," he added.
Theresa May says grammar schools are why she and Jeremy Corbyn are in leadership
Liberal Democrat education spokesman John Pugh said dividing children at the age of 11 will not keep Britain "open, tolerant and united".
"The Conservatives are determined to keep out all but a tiny, tiny few from their new generation of grammar schools," he said.
"If you exclude 90 per cent of the population, what are you doing to improve the life chances of kids who don't come from privileged backgrounds?
"Parents want the best for their children... but all the evidence shows that children on free school dinners have very little chance of getting into existing grammars, let alone this new generation of super-selective ones.
"The involvement of prime ministerial advisers shows that the school system is being used as a political football, with policy driven not by evidence but by ideology."
While the Government has asserted its determination to address the needs of "JAMs" - families Prime Minister Theresa May said are "just about managing" - industry leaders argue there has been an "over focus" on pupil premium, the extra funding given to schools to help disadvantaged children.
The document also said that admission policies to ensure children from lower-income households can attend grammars is "just one strategy".
New selective schools are likely to be opened as free schools, the GSHA note said, with the first likely to admit pupils in 2020.
There was no suggestion of how many new grammars schools could be approved.
The GSHA note said the ideas were discussed in meetings between some of its head teachers and Ms Greening, schools minister Nick Gibb, Department for Education (DfE) officials and Nick Timothy, Mrs May's joint chief of staff and former director of the New Schools Network.
A DfE spokeswoman said: "Thanks to the Government's reforms over the last six years, there are now almost 1.8 million more pupils being taught in schools rated good or outstanding schools than in 2010.
"But we know there is more to do and that's precisely why we have set out plans to make more good school places available, to more parents, in more parts of the country - including scrapping the ban on new grammar school places and harnessing the resources and expertise of universities, independent and faith schools.
"The schools that work for everyone consultation closed on December 12.
"As the Secretary of State told the House of Commons on Monday, we have received several thousand submissions, which we are now going through. We will respond in the spring."
The Government said it could not comment on private meetings.
Addition reporting by PA
Join our new commenting forum
Join thought-provoking conversations, follow other Independent readers and see their replies