NUS leader Malia Bouattia condemned by MPs for 'outright racism'
Home Affairs Select Committee condemns student leader for calling Birmingham University a 'Zionist outpost'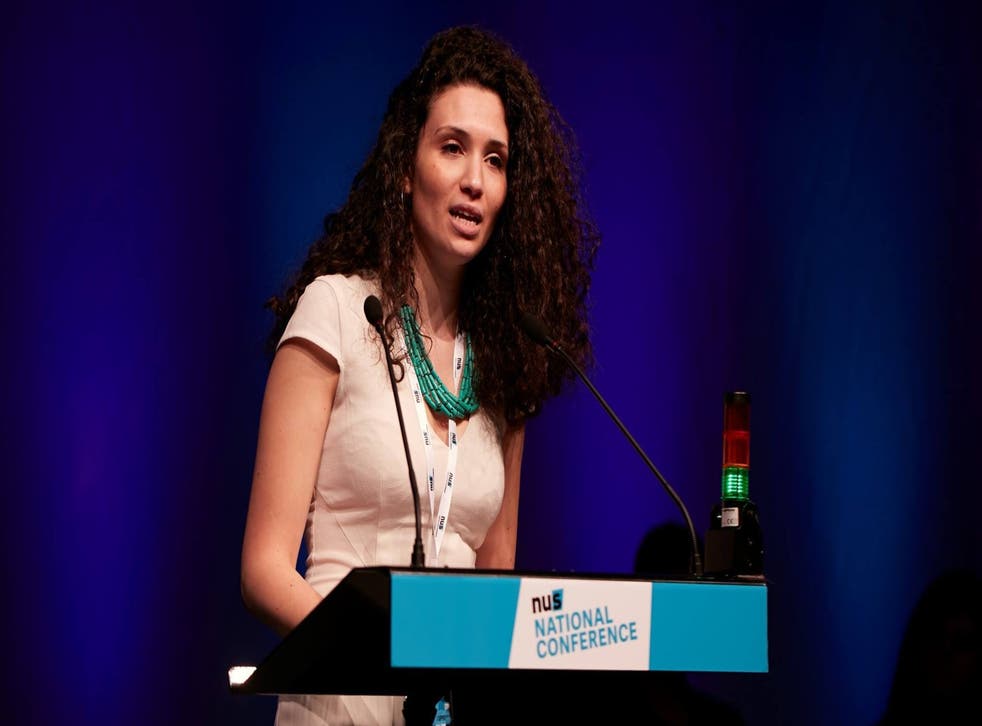 The National Union of Students (NUS) has failed to take seriously a growing culture of anti-Semitism on campuses, a group of MPs have warned, after a cross-party investigation into the comments and actions of the current president found her to be "racist".
Malia Bouattia, who was elected NUS president in April this year, has been repeatedly accused of anti-Semitism by the Jewish student community for her remarks on "Zionist" politics on campus.
Ms Bouattia denied the allegations, criticising media outlets for calling her "a racist, an anti-Semite, an Islamic State sympathiser, and more."
A new cross-party report published by the Commons Home Affairs Select Committee highlighted a number of allegations made against the union president, as part of a wider investigation into the "growing prevalence" of anti-Semitic hate crimes in the UK.
The report cites a number of incidents before and after her appointment in which Ms Bouattia has caused offence to the Jewish community.
MPs have also drawn attention to comments made by Ms Bouattia in a recorded speech at a conference in 2014 on "Gaza and the Palestinian Revolution", in which she said: "With mainstream Zionist-led media outlets… resistance is resented as an act of terrorism".
In a co-authored article published in 2011, Ms Bouattia referred to the University of Birmingham as being "something of a Zionist outpost in British higher education."
She is also said to have criticised peace talks between Israel and Palestine for strengthening "the colonial project".
The committee report said: "The current president of the National Union of Students, Malia Bouattia, does not appear to take sufficiently seriously the issue of anti-Semitism on campus, and has responded to Jewish students' concerns about her previous language with defensiveness and an apparent unwillingness to listen to their concerns.
"There is of course no reason why an individual who has campaigned for the rights of Palestinian people – a cause widely supported on university campuses – should not serve as president of the NUS.
"But Ms Bouattia's choice of language (and ongoing defence of that language) suggests a worrying disregard for her duty to represent all sections of the student population and promote balanced and respectful debate. Referring to Birmingham University as a 'Zionist outpost' (and similar comments) smacks of outright racism, which is unacceptable, and even more so from a public figure such as the president of the NUS."
Committee members have called on Ms Bouattia and the Union of Jewish students to make peace for the good of the national student body.
Investigators also noted that the "unique nature" of anti-Semitism they found requires "a unique response, which may not be effectively addressed by the steps that the NUS is currently taking."
"For the sake of their own credibility and to ensure Jewish students across the UK are treated appropriately, the NUS and the Union of Jewish Students (UJS) should work to mend their broken relationship."
It was advised that a Jewish member of the union's Anti-Racism Anti-Fascist (ARAF) taskforce should be elected by the UJS, and should not require the approval of Ms Bouattia.
If after a one year "grace period" the UJS does not believe that positive changes have been made by the taskforce, action must be taken at a higher level, the report warned.
Allegations that Ms Bouattia is anti-Jewish have lost her the support of student bodies across the country.
Since her election in April, student unions at the universities of Newcastle, Loughborough and Hull have all made the decision to disaffiliate from the NUS, and a number of others have held referendums as a direct result of discontentment with the NUS.
UK news in pictures

Show all 50
Responding the select committee report, the UJS said it welcomed the in-depth criticism of the NUS president.
A spokesperson said: "It tells the world what so many Jewish students have been saying for some time.
"As the report makes clear, the national president of NUS should not be making the kind of abhorrent and unacceptable comments that she has previously made.
"Her inability to fully represent all parts of the student population is disgraceful, and for no part of the student population is this truer than for Jewish students … the evidence outlined in the report all points to the fact that the NUS national president treats Jewish students' concerns differently to those of others, proving that there's one rule for Jewish students, another for everyone else."
The Jewish student body said the NUS should be doing more to ensure a welcoming and safe environment for Jewish students, but warned they did not see "any evidence" of change.
"The lack of action from NUS is startling, and it is only right that as an organisation they take a firmer stance against anti-Semitism. This starts with their national president."
"This report must act as a wake-up call for the NUS president and her organisation, because the culture being created on UK campuses is, unacceptably, one that accepts and fails to challenge anti-Semitism; a culture that is being manifested on her watch."
The NUS called the report "inaccurate" and said it focused unfairly on the union.
A spokesperson said: "NUS takes all forms of racism, including antisemitism, extremely seriously. As such, we recognise the importance of the report and its deeply troubling findings regarding the sharp rise in antisemitism across society.
"It is concerning that the report identifies that three out of four of politically motivated anti-Semitic incidences come from far-right groups, yet focuses almost exclusively on NUS in relation to antisemitism on campus. This fails to address the reality for students.
"We are only too aware of the reality, hence our continued work on Anti-racism and Anti-fascism, including more recent work with the Runnymede Trust on racism, and research into the experiences of Jewish Students. It is disappointing that the report is partial and inaccurate in relation to NUS work in tackling antisemitism, although we offered a detailed submission to the Inquiry.
"NUS has a long and proud history of fighting all forms of racism and fascism in the UK. NUS has always sought to build strong, positive relationships with the Union of Jewish Students and many other student-led groups to tackle racism and fascism and we will continue to do so."
Responding to the report, Ms Bouattia said: "The report's data on increasing anti-Semitism and targeting of the Jewish community is deeply concerning. I welcome the report's highlighting of the issue and its call for action across society, including in such areas as online platforms. This is also a priority for NUS.
"I will continue to listen to the concerns of Jewish students and the Jewish Community. As I wrote upon my election as president, and in the submission to this Inquiry, if the language I have used in the past has been interpreted any other way then let me make this clear – it was never my intention and I have revised my language accordingly. Our movement has students, both Jewish and otherwise, who hold a variety of deeply held beliefs on Israel-Palestine but it is a political argument, not one of faith. There is no place for anti-Semitism in the student movement, and in society.
"Following two years as co-chair of the NUS' Anti-Racist Anti-Fascist Campaign, I will continue to work across the student movement to eradicate all forms of hate, including anti-Semitism. We are stronger when we work together and I will continue to encourage progressive and inclusive working relationships across our movement."
Join our new commenting forum
Join thought-provoking conversations, follow other Independent readers and see their replies