The focus at Rochester is on the best possible exam results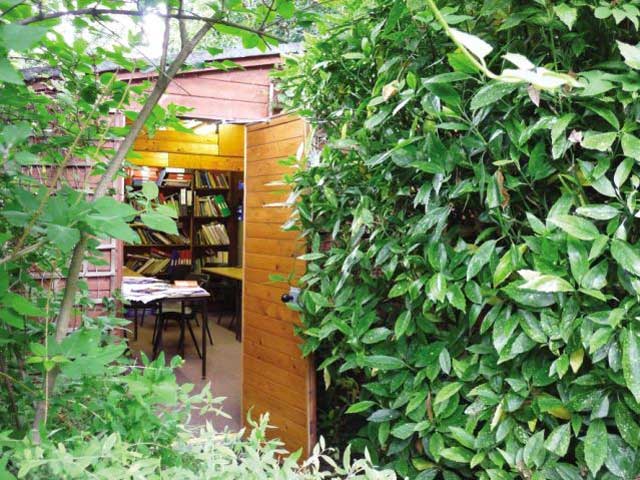 The garden shed at Rochester Independent College looks normal on the outside, but open the door and you discover it is not a shed but a learning environment. There you find teenagers applying the trapezium rule or proving equations. The maths shed is one of several subject hubs that have sprung up in the college's picturesque gardens over the years, including an observatory for GCSE astronomy.
Students from the ages of 11 to 19 do not wear a uniform, are on first-name terms with their teachers and help to draw up the rules. There are no bells, no assemblies and the lessons are held around seminar-style tables with a class size average of eight.
It sounds like an experiment in alternative education at the 285-student college in Kent, but, in fact, the teaching is rigorous and tailored to the best possible exam results – in keeping with its origins as a crammer offering quick-fix A-level courses and resits.
The college has come a long way since it was founded 26 years ago by two maths teachers. Now it offers a broad education combining its original focus on getting students into competitive courses such as medicine, dentistry and veterinary science with a new emphasis on the creative arts. It was one of the first schools in the UK to offer film studies GCSE, and, in 2004, 2006 and 2008, it won a Good Schools' Guide award for its A-level film results.
Unlike many independent and state schools in Kent, the college is not academically selective in the sixth form. The students range from straight A-grade Oxbridge candidates to a girl with C, D and E grades at GCSE who was refused a place at local sixth forms. She went on to gain BCC grades at A-level and a place to study English at university.
Alistair Brownlow, one of the three principals, says it is not uncommon to find students coming to the college after failing to shine in the sixth forms of both grammar and independent schools. One of them, George Matthews, 20, is just starting his second year of veterinary science at the University of Nottingham after gaining A grades in biology, chemistry and sociology.
Matthews joined the college after a year in the sixth form of Maidstone Grammar School. "There, the classes were 25, and the science teachers had to juggle the equipment and lay on practical experiments in three different sites. I wasn't doing well enough to get the top grades you need for vet school," he says. "The small classes at Rochester really helped."
According to Brownlow, the college sees a lot of students who have been told by schools they are not A-level or medical school material. It would be more accurate to say they are not A-level material or medical school material in that environment, he says. "There are schools around here which will not allow you to do an A-level in a subject unless you got an A or A* in it at GCSE."
Being treated as an adult is what most appeals to Josh Adcock. "I really enjoyed primary school, but when I went up to Oakwood Park Grammar it changed for me," he says. "I didn't like the institutional regime and the very pushy attitude of the teachers."
After leaving the grammar school, he was home-schooled and prepared himself for the GCSE exams. To keep costs down for his parents – Rochester's day fees are £13,500 a year in the sixth form – he completed four A-levels in one year and gained straight A grades and a distinction in the English advanced extension paper, securing a place to study English at the University of Bristol.
"The college isn't like a traditional private school," says Adcock. "The teachers give you plenty of guidance, but they expect you to take responsibility which makes it more like being at university."
Taking younger day-pupils – boarding is only for sixth-formers – has changed the feel of the college and opened up more opportunities for extra-curricular activities.
"We have a greater responsibility for their development and broadening their horizons, so it is not all about exam preparation which can be pretty soulless," says Brownlow. "The staff have sat around for years saying that things could have been different if they had had the sixth-formers earlier."
Next year, they will find out if they were correct, when the first pupils to be admitted at the age of 11 take their GCSEs.
Join our commenting forum
Join thought-provoking conversations, follow other Independent readers and see their replies