Thousands of teenagers to visit battlefields of the First World War in new Government scheme
The scheme aims to bring the the horrors of the conflict to life over the next five years. Emma Lee-Potter joins a group of pupils on their journey into the past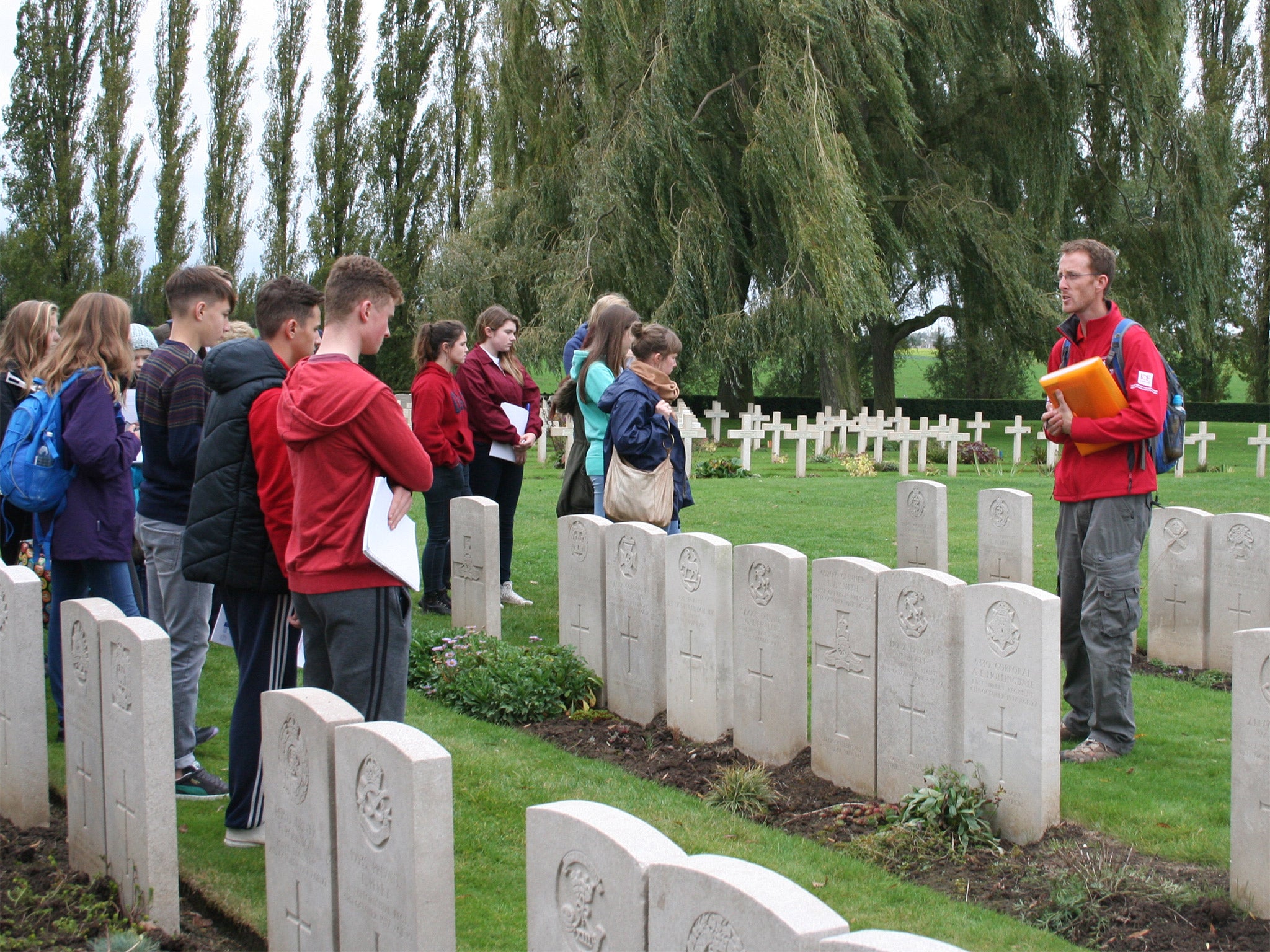 The mood was sombre as the teenagers stood and stared at the countless rows of headstones. Nearly 12,000 First World War soldiers are buried at Belgium's Tyne Cot Cemetery, each grave marked by a simple headstone hewn from white Portland stone. The largest British and Commonwealth war cemetery in the world, Tyne Cot also commemorates a further 35,000 soldiers whose bodies were never found.
Minutes earlier, the youngsters, all from Midlands secondary schools, had been chattering excitedly. Now, seeing the graves of men who sacrificed their lives during the Great War, they fell silent, stunned at the conflict's terrible human cost.
"Imagine a person standing by each and every one of them," murmured Tony Smith, one of the battlefield guides accompanying the group. "What a multitude that would be."
The teenagers were taking part in the First World War Centenary Battlefield Tours Programme, funded by the Government and designed to help teachers and pupils from every state secondary school in England develop a deeper understanding of the First World War, its scale and the millions of lives lost.
As Communities Secretary Eric Pickles said when he launched the programme in May this year: "It is our collective duty to educate future generations about the enormous losses suffered and sacrifices made because of the First World War, and to keep the memory alive of those who fought for our freedom."
Over the next five years, 4,000 secondary schools will send two pupils and a teacher to the Western Front to visit key battlefield sites, memorials, cemeteries and museums. As well as seeing the landscapes in northern France and Belgium where the war was fought, the students are being encouraged to research the lives of local soldiers and to think about the social, economic and political consequences of the First World War. They walk through trenches, cross No Man's Land, now lush and green but still scarred by shell holes, and get the chance to handle original artefacts, from pieces of shrapnel to the bulky wool serge greatcoats worn by the soldiers.
At Tyne Cot, Phoebe Edmondson, a 15-year-old pupil from Saint Martin's Catholic Academy in Stoke Golding, near Nuneaton, was visibly moved by one grave in particular – that of Royal Flying Corps pilot George Cowie, who died in October 1917 aged 18, just two weeks after arriving in France.
"Seeing his grave was very emotional for me because my dad's a pilot, too," said Phoebe, placing a small wooden cross next to the headstone. On it she'd written the words: "so young, but the bravery and courage shines on."
"We are studying the First World War at school, but coming here rather than reading about it in a textbook makes it all real. You realise that these aren't just graves. These were real people, with real life stories. George Cowie was only a little bit older than me. I can't really take it in – it seems unbelievable that these men sacrificed themselves for their country."
Around 350 schools have already taken part in the £5.3 million programme, which is being run by the Institute of Education and school tour operator Equity and offered at no cost to schools. "Our pupils come from a low socio-economic background and wouldn't get the opportunity to come here if it wasn't for this initiative," said one teacher quietly.
Last week, it was the turn of 44 schools from the Birmingham, Wolverhampton, Coventry and Telford areas.
The 90 pupils on the four-day trip, most of them aged between 12 and 16, had been chosen in a variety of ways. Some had written letters and essays explaining why visiting the battlefields was important, while others had made videos and designed posters. Two 12-year-olds from Hodge Hill Girls' School in Birmingham, Tasleema Syeda and Sidrah Awan, had baked a trench cake, emulating the cakes wrapped in brown paper parcels and sent to loved ones fighting in the trenches.
One of the first stops on the tour was Lijssenthoek Cemetery near Poperinge. A casualty clearing station between 1915 and 1920, the cemetery has nearly 11,000 graves, including that of nurse Nellie Spindler, one of only two British women killed in the First World War to be buried in Belgium.
As the students stood by the headstones, solemnly reading the poignant inscriptions, many of them discovered links to their own towns and cities. Molly Mabe, 15, and Tom Shelton, 14, laid a cross at the grave of a private who'd lived just a few minutes' walk from their school, The Marches School in Oswestry, Shropshire.
"I think there is a lack of appreciation among young people about what happened during the First World War," said Helena Griffiths, their history teacher. "Not intentionally, but they don't understand how lucky they are to have the freedom they have today. Bringing them here helps them to realise the impact the war had on people at the time – civilians as well as soldiers. I've seen a little light go on in their heads."
Meanwhile, two 13-year-old girls from King Edward VI Handsworth School in Birmingham had found the grave of Private John Benbow, who died in October 1916 aged 18.
Sophia Badhan and Elizabeth Townend listened in silence as Jane Glendenning, the school's head of English, read aloud the moving words of condolence an army chaplain wrote to Private Benbow's mother after his death.
"He seemed so young and so small to die but he had the heart and courage of the bravest of men," said the letter, passed to the school by two former pupils who are descendants of the soldier. The pupils and teachers, who also visited the German cemetery at Langemark and the Thiepval Memorial on the old Somme battlefield, were accompanied by guides from the Guild of Battlefield Guides and by serving British Army soldiers, all on hand to answer their questions.
Some of the students laid wreaths during the Last Post ceremony at the Menin Gate in Ypres. At 8pm every evening, thousands of people gather beneath the memorial to the missing at Menin Gate for a moving act of remembrance that dates back to 1928. The names of nearly 55,000 soldiers from Britain, Australia, Canada, South Africa and India who lost their lives between 1914 and 1917 and have no known grave are recorded here.
Sophie Crane, a 14-year-old pupil at The Avon Valley School in Rugby, was one of those chosen to lay a wreath. Earlier that day, Sophie had made an unscheduled stop near Ypres, walking through villagers' back gardens in search of the tiny Vlamertinghe New Military Cemetery, where her great grandmother's cousin is buried. He died in August 1917 at the age of 20.
"The First World War definitely means a lot more to me now," said Sophie.
"When you see all the headstones it brings it home to you how many people died – and this is only one cemetery."
The emphasis throughout each tour is on creating a lasting legacy. Organisers hope that teachers and their pupils will go back to their schools, talk about the places they have visited and perhaps launch commemorative projects of their own.
"The legacy for the kids is that they've been here and they will tell others what they have seen and why it is important," said Simon Bendry, national education co-ordinator for the First World War Centenary Battlefield Tours Programme, who first visited the battlefields as a teenager. "But the genuine legacy is the teachers who will go back into the classroom with new ideas and new approaches and teach hundreds more students."
Harry McGarrity, 15, head boy at Colmers School in Rednal, Birmingham, said that he would always remember laying a wreath at the Menin Gate.
"People need to realise the sacrifice that these soldiers made, even if it was 100 years ago," he said. "I think it should be studied for 1,000 years – so there won't be another World War for people to study."
For more information about the First World War Centenary Battlefield Tours Programme go to centenarybattlefieldtours.org
Join our commenting forum
Join thought-provoking conversations, follow other Independent readers and see their replies