AI could have 'immense' benefits for NHS, says tech committee chair
Significant investment required but technology could improve service on several fronts, Norman Lamb says
Jon Sharman
Thursday 11 January 2018 02:09 Comments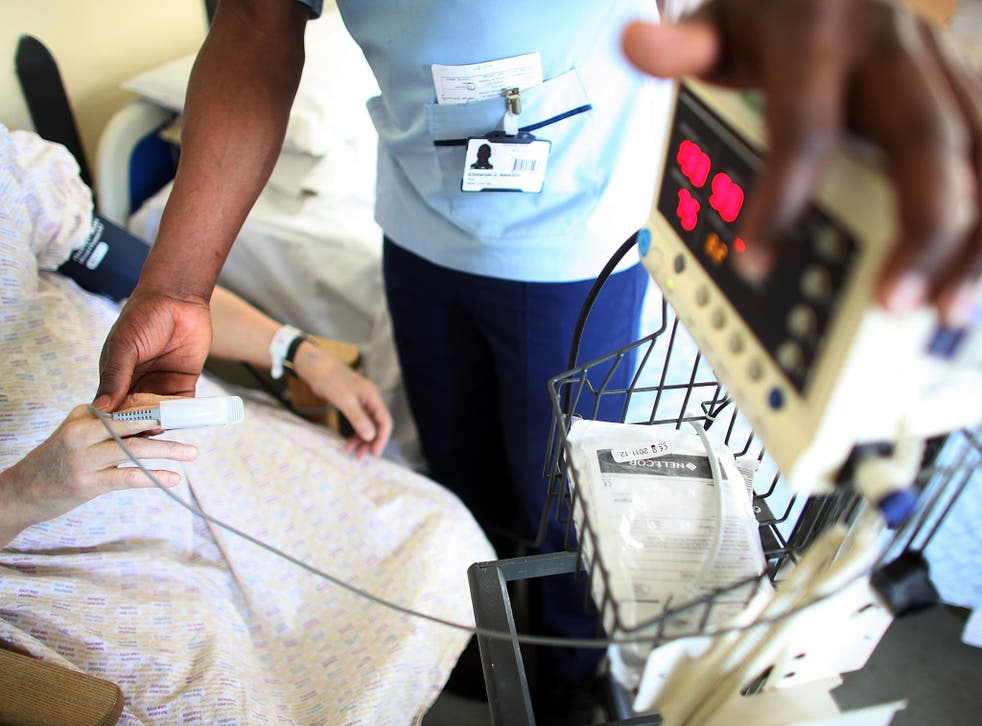 The chairman of the Commons Science and Technology Committee has thrown his weight behind recommendations for the widespread introduction of artificial intelligence (AI) to the NHS.
Norman Lamb said the rewards could be "immense" in terms of cost savings and diagnosing patients more quickly.
But he warned people's privacy must be protected and that the health service should get a "fair deal" from technology companies implementing the systems.
The report, by the Reform think tank, said AI could be used to target treatment by predicting which individuals or groups might be at risk of illness, to send patients to the most appropriate services or to enable them to "self-care".
The technology can also be used to improve diagnoses, Reform said, including for breast cancer – 30 times faster and more accurately than humans, the group claimed. However, it said AI should be an "enabler", not a decision-making tool.
So far only a handful of NHS trusts have implemented AI, according to Reform, adding that while the service as a whole "recognises the value of the use of AI it is lacking clarity about both the strategic direction to take and where to start".
Mr Lamb, a former care minister in the coalition Government, said a lack of funds was also a problem.
He told The Independent: "If we persist in teetering on the brink of collapse, as we are at the moment, with a system that's under-resourced, where any additional money just goes to propping up a dysfunctional system, we won't be able to take advantage of what AI could offer us.
"This does involve quite a significant up-front investment."
Cleaning up and digitising patient data was a "top priority", he said, if AI programmes were to be trained properly. "If data is not inputted accurately or if there is no consistent approach across a system then the AI can play havoc because it's operating on the basis of wrong information."
Reform said NHS Digital should create a list of training datasets – used to teach a programme how to identify patterns or a particular condition – and make it available to companies that want to produce algorithms for use in the health service.
Theresa May says 55,000 missed operations are part of the NHS plan
Last year the NHS was hit hard by the WannaCry ransomware due to vulnerabilities in its outdated computer hardware, exposing the service's creaking digital infrastructure.
Before that, public confidence in digital records was shaken when the Government scrapped its controversial care.data plan to share patients' notes. While pledging to restore trust after accusations the scheme was not transparent enough, ministers said in 2016 they were "absolutely committed to realising the benefits of sharing information".
Mr Lamb, who wrote a foreword for Reform's paper, said: "There are risks out there, particularly around privacy, we've got to make sure people are protected.
"The digitisation of the NHS has to be done in a way that guarantees the safety of data and that, again, requires investment. This can't be done on the cheap.
"And trust is going to be of central importance – if we lose the trust of people then we won't be able to realise the great opportunities ahead of us."
Reform's report admitted people do not always understand how their data is used and this can be due to a lack of engagement by authorities. It urged clarity around consent and opting-out if data is to be used for purposes beyond patients' direct care.
The think tank identified AI as a way to save money by keeping patients out of hospital if they do not need to be there, reducing the "burden" of administrative work and helping people to manage or improve chronic conditions.
Mr Lamb suggested "significant efficiencies" could be realised in this way. Challenged as to whether it would lead to job losses, he said: "Recruiting sufficient people is a massive challenge. We've got vast, tens of thousands of vacancies across the system.
"The idea that introducing processes that enable things to be done with fewer people, I don't think should cause a problem because there will always be a demand for people to work in the NHS."
That demand will grow with time due to Britain's ageing population, he added. "All of this potentially strips cost out of healthcare, which then means we've got more money to reinvest in actually supporting people rather than having a health system that's constantly on the brink of tipping over."
The "potential gain is immense" if AI can deliver the improvements Reform suggests, Mr Lamb said. He continued: "If a diagnosis of breast cancer is more accurate using AI than using people on their own then do we really want to stick to a less accurate diagnosis? I don't think there's an option here."
Implementations of AI already in place include Google's DeepMind at Moorefields Eye Hospital, where an algorithm was developed to identify disease from images inside the eye. And IBM Watson worked with Harrow Council on a system that allowed patients and caregivers to choose the best provider for them.
UK news in pictures

Show all 50
The technology is also used to collect data from wearable body monitors to promote healthy lifestyles and to provide cognitive behavioural therapy to mental health patients, Reform said. The group suggested AI could be used in future to keep medics up to date on scientific research and schedule operations more efficiently.
It warned the NHS should guard against being ripped off by tech giants and hold those companies to account in the same way as providers of medicines. There is also a risk of AI becoming biased due to a lack of data from certain groups, like "those on low incomes that may have less frequent interaction with the NHS", it said.
Eleonora Harwich, the think tank's head of digital and tech innovation, said: "The NHS has experienced difficulties in the past in realising the benefits of technology. Given the big hype around AI, there would be a danger of replicating past mistakes, when a radically different approach to technological adoption is required."
Register for free to continue reading
Registration is a free and easy way to support our truly independent journalism
By registering, you will also enjoy limited access to Premium articles, exclusive newsletters, commenting, and virtual events with our leading journalists
Already have an account? sign in
Join our new commenting forum
Join thought-provoking conversations, follow other Independent readers and see their replies