Less than 5% of problem drinkers amount to one third of alcohol consumption in England, warn public health chiefs
"This small group of people whose daily heavy drinking of these very cheap, strong alcohol - mostly ciders - is doing them so much harm"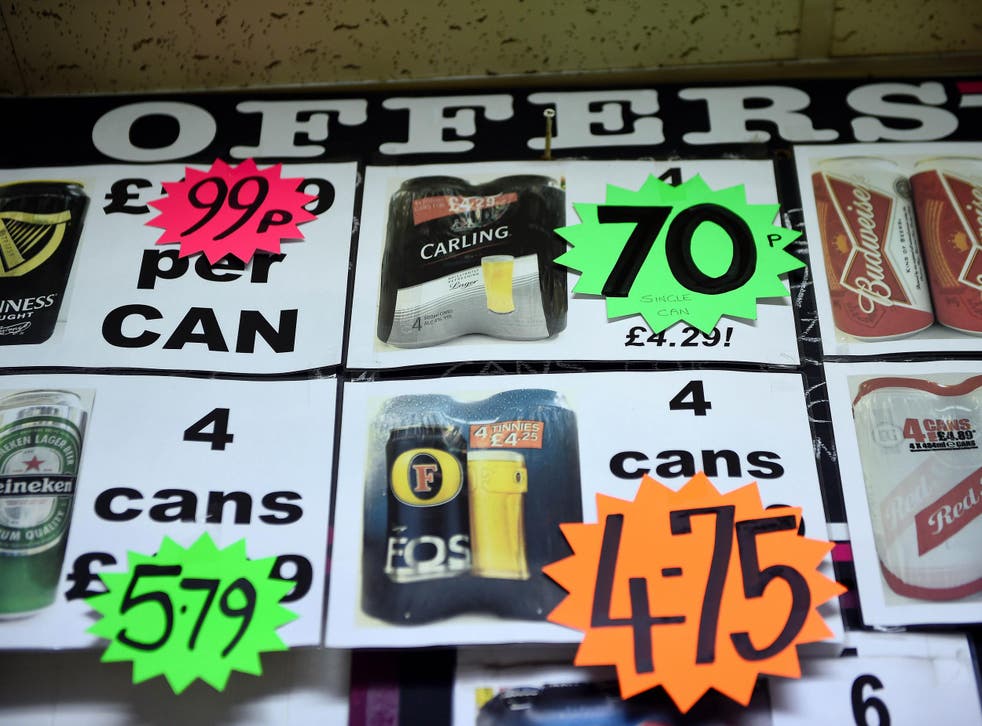 Four per cent of UK drinkers who have the most harmful alcohol consumption habits account for a third of all the alcohol drunk in the country, public health chiefs have revealed.
The "staggering" statistic was revealed as part of evidence to MPs on the potential impact of a 50p minimum price per unit of alcohol in the England.
Doctors said the change would benefit the two million people in this group by making very strong alcohol less affordable.
Director of alcohol, drugs and tobacco at Public Health England (PHE), Rosanna O'Connor said a minimum price police would "exquisitely target" the strongest, cheapest alcohol – typically high strength ciders – with negligible impact on moderate drinkers.
"A staggeringly small group of people, about four per cent of the population, are drinking just under a third of the alcohol consumed in the country, about two million people.
The 10 countries that drink the most alcohol

Show all 10
"I thought 'wow', when that emerged from our evidence review, 4.4 per cent of people drink 32 per cent of the alcohol. It's a staggering figure.
"This small group of people whose daily heavy drinking of these very cheap, strong alcohol – mostly ciders – is doing them so much harm."
MPs on the House of Commons Health and Home Affairs Committee, invited response on the question of Minimum Unit Price (MUP) legislation in England after a landmark ruling in Scotland.
It is set to become the first country in the world with a 50p MUP following the UK Supreme Court's rejection of a legal challenge by drinks manufacturers.
The Supreme Court said the Scottish Government's plan was a legitimate means of targeting problem drinkers and protecting human life and health.
It also said that an excise duty or tax on alcohol manufacturers would not be as effective in this aim as it would increase the prices of all alcohol, including sales in pubs and clubs, and could be circumvented by bulk-buy deals.
The Committee heard that the impact of a MUP for wine would be felt on bottles that were around £4.60 or cheaper.
Liver specialist Professor Nick Sheron, head of clinical hepatology within medicine at the University of Southampton, said the impact of a 50p MUP would be about £1.26 a week for a wine drinker consuming 14 units a week – the recommended maximum.
"But if you look at my patients with alcohol related cirrhosis, their median consumption is 120 units a week, and the mean (average) is higher, it's 150," Professor Sheron said.
Dry January: Kate Garraway suggests Brits have a problem with alcohol after giving up drinking for month
"A typical Frosty Jacks drinker would be drinking 16 litres of that and paying £20 pounds for it, that would go up threefold, so instead of £20 they'd be paying £70."
He added that there is currently limited real world evidence of the impact of a 50p MUP, but the initiative will almost certainly have benefits which would become clear as Scotland moves ahead.
"I would absolutely agree that, in terms of knowing the precise impact on economics, crime, and deaths, from minimum pricing, we don't know the answer. But is it going to reduce deaths and crime? Yes, it's beyond doubt, the question is how well.
"As more data comes in from the introduction in Scotland, we will see this fascination natural experiment."
Representatives from the National Police Chiefs Council also made the case for targeting cheap alcohol.
The trend of drinkers "pre-loading" on cheap alcohol at home before heading out was seen to be a significant contributor to public order offences, as well as putting vulnerable drinkers at risk.
Sergeant Mick Urwin, co-chair of the NPCCs licensing sub-unit said it also put officers at risk.
"Forty per cent of officers have said they experienced sexual assault or harassment while dealing with alcohol related issues, certainly in the night-time economy.
"Alcohol may be involved in a small proportion of all incidents we deal with, but the amount of time that takes up if you're dealing with someone who is drunk: you can't investigate the offence until eight to 12 hours later, that's staff time and space."
Sgt Urwin said he hoped for a host of alcohol control measures as part of a "harm reduction toolbox", but MUP would be a preferred priority.
Join our new commenting forum
Join thought-provoking conversations, follow other Independent readers and see their replies