Electrodes wired into the brain could help Alzheimer's patients, trial finds
Treatment shown to be safe in humans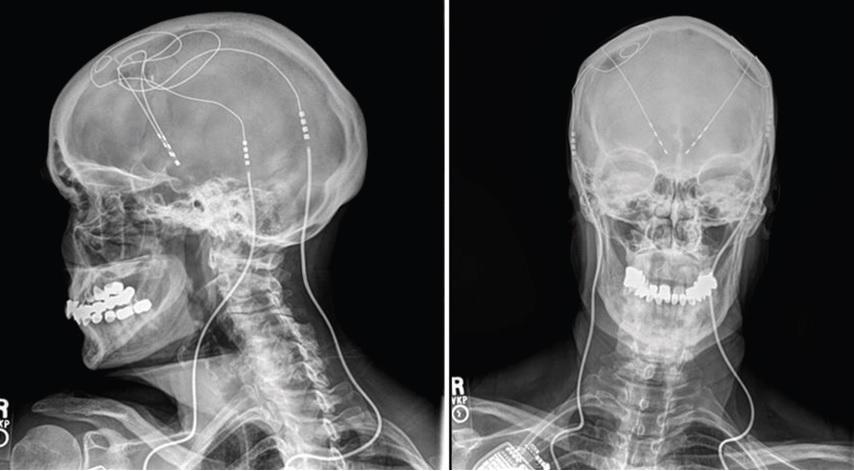 A brain "pacemaker" for Alzheimer's patients, which uses electrical wires to stimulate the parts of the brain responsible for problem solving, has been shown to be safe in humans and could become a treatment in future.
Doctors looking at the potential benefits of deep brain stimulation (DBS) in Alzheimer's patients said participants experienced improvements that could allow patients to live more independently.
DBS has been used to treat more than 135,000 patients with Parkinson's disease, but recent clinical trials in Alzheimer's using DBS on the regions responsible for memory formation have been unsuccessful.
Science news in pictures
Show all 20
However researchers from Ohio State University's Wexner Medical Centre say this is the first time the treatment for Alzheimer's disease has been applied to the brain's frontal lobe, the area that underpins organisation, planning and decision-making.
"We have many memory aides, tools and pharmaceutical treatments to help Alzheimer's patients with memory," said Dr Douglas Scharre, co-author of the study and director of Wexner's Division of Cognitive Neurology.
"But we don't have anything to help with improving their judgments, making good decisions, or increasing their ability to selectively focus attention on the task at hand and avoid distractions."
The paper notes that DBS could help with these elements of "executive control" which deteriorate as the disease progresses leading to "functional impairments and increased supervision needs that are the most challenging for caretakers".
It uses a pacemaker-like battery pack to run currents through wires up the neck and into the brain to stimulate this crucial area.
This pilot trial, published in the Journal of Alzheimer's Disease, was only in three patients with mild levels of Alzheimer's, and was conducted to determine whether DBS could be used safely without negative side effects.
This patient cohort is too small to determine whether the electrical stimulation to the frontal lobe had a beneficial impact, and there was no dummy group to control for any placebo effect.
However all the participants in the trial showed a decrease in the pace of mental decline, and two saw measurable improvements.
"By stimulating this region of the brain, the Alzheimer's subjects cognitive and daily functional abilities as a whole declined more slowly than Alzheimer's patients in a matched comparison group not being treated with DBS," Dr Scharre added.
Eighty-five-year-old LaVonne Moore's disease has progressed more slowly through the three-and-a-half years since having the device fitted, and she has even regained some independence.
The paper notes Ms Moore "improved after 24 months of stimulation".
"When entering the study, she was not doing any meal preparation. After DBS, she could independently initiate preparations of a simple meal, assemble ingredients, and cook the meal.
"She was able to organise an outing with respect to transportation and destination, plan for the weather, and bring the needed money. She also regained independence to select her clothing."
Husband and carer, Tom, aged 89, said Ms Moore had been eager to volunteer for the trial, and told him: "I will do anything to help others not go through what I'm going through."
Independent researchers stressed that the results here are too small to confirm that the treatment is causing this effect, but said investigating the frontal lobe appeared to be worthy of larger trials.
Dr Carol Routledge, director of research at Alzheimer's Research UK, said: "Previous research with deep brain stimulation in Alzheimer's has shown mixed results, but studies have not focused on brain regions responsible for decision making and problem-solving before.
"While memory is a key problem in Alzheimer's, changes in thinking skills have an equally devastating impact, so it's important that treatment approaches address these symptoms too.
"This small Phase One trial is useful in demonstrating that this invasive treatment is safe and has no serious side-effects in Alzheimer's, but the observed benefits in two of the patients must be treated with caution.
"There is a large amount of ongoing research to develop new drug treatments for dementia, but it's important that research also explores non-drug avenues of treatment. With 50 million people in the world living with dementia today, it is vital we continue to invest in a broad range of approaches to improve people's lives."
Fifty million people have dementia worldwide and there has been growing concern about the lack of success in finding new drug treatments.
Several major drug companies have announced they were ending, or scaling back research into new medicines recently, although philanthropist Bill Gates recently made a £50m investment to reinvigorate the hunt for a cure.
Join our commenting forum
Join thought-provoking conversations, follow other Independent readers and see their replies