Charlie Gard granted permanent residence in US by Congress 'to fly to America for treatment'
Critically ill baby is being kept on life support at Great Ormond Street Hospital
Katie Forster
Wednesday 19 July 2017 11:34 Comments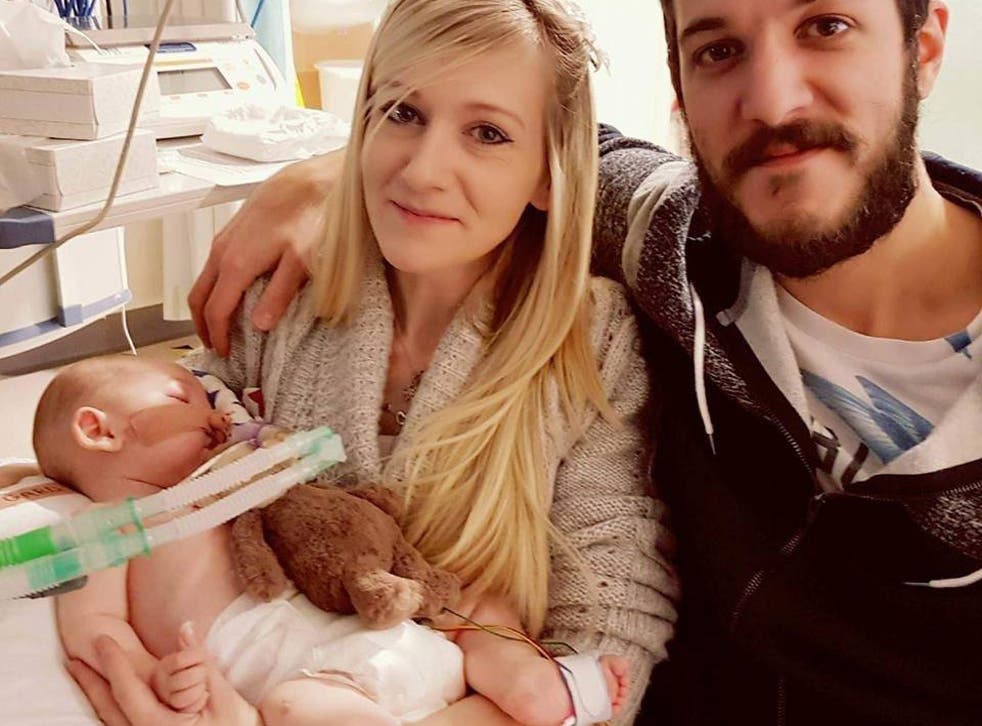 Charlie Gard has reportedly been granted permanent residence in the US so he can travel to America to receive experimental treatment. The decision by US Congress may oblige Great Ormond Street Hospital to release the sick baby so he can receive nucleoside therapy.
Nebraska representative Jeff Fortenberry said an amendment has been passed "that grants permanent resident status to Charlie Gard and family so Charlie can get the medical treatment he needs".
Charlie, who has a rare genetic disease, is being kept on life support at the children's hospital amid an ongoing court battle between his parents, who want him to receive the treatment, and doctors, who say it is unlikely to work and it is kinder for life support to be switched off.
An American doctor flew to London this week to examine the critically ill baby as part of a last-ditch attempt to persuade a High Court judge the treatment stands a chance of working.
Charlie, who was born on 4 August 2016, has a faulty RRM2B gene, which affects the cells responsible for energy production and respiration, leaving him unable to move or breath without a ventilator.
Dr Michio Hirano, a neuroscientist from Columbia University in New York, is said to have spent over five hours trying to convince doctors, along with an expert from a Vatican hospital in Rome. The specialist told the High Court nucleoside therapy has a 10 per cent chance of improving Charlie's condition, adding his research "clearly indicates" it reduces muscle weakness in patients with a similar genetic disorder.
"This is the best scientific data we have," he told the judge last week, adding he was prepared to extrapolate the findings on patients with TK2 depletion to Charlie's genetic deficiency. "These are small numbers, but with very rare diseases we must use every patient and gather as much detail from each patient as possible."
He said he hoped a high dose of nucleosides, which are found naturally in the body, would enter Charlie's cells, affect the mitochondria and prove "therapeutic".
But Katie Gollop QC, representing the hospital, called the doctor's findings "all very theoretical", saying: "You're trying to translate one experiment to another."
UK news in pictures

Show all 50
Charlie being granted permanent residence in the US could mean his parents Connie Yates and Chris Gard, in their thirties, no longer need permission from doctors at Great Ormond Street to take him across the Atlantic for treatment, according to MailOnline.
Currently police can be called into arrest the parents if doctors believe they will cause suffering to their child.
It was previously reported Charlie had been granted US citizenship.
The Independent has contacted Great Ormond Street hospital for comment.
Register for free to continue reading
Registration is a free and easy way to support our truly independent journalism
By registering, you will also enjoy limited access to Premium articles, exclusive newsletters, commenting, and virtual events with our leading journalists
Already have an account? sign in
Register for free to continue reading
Registration is a free and easy way to support our truly independent journalism
By registering, you will also enjoy limited access to Premium articles, exclusive newsletters, commenting, and virtual events with our leading journalists
Already have an account? sign in
Join our new commenting forum
Join thought-provoking conversations, follow other Independent readers and see their replies