Birmingham hospital issues alert as it cannot maintain safe nurse staffing levels in intensive care
Hospital doctors urged to help nurses look after patients and ensure they get breaks and drinks
Shaun Lintern
Health Correspondent
Wednesday 30 December 2020 14:58 Comments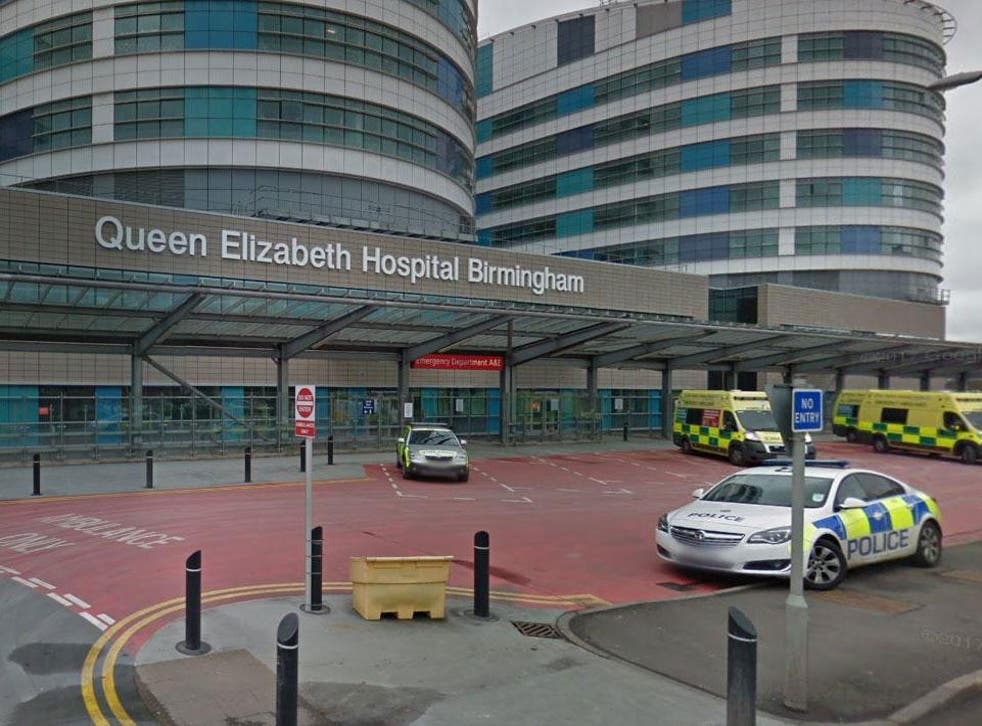 A major hospital in the West Midlands has warned doctors it has been unable to maintain safe nursing staffing levels in critical care because of a rise in sickness levels and increasing numbers of coronavirus patients.
University Hospitals Birmingham urged doctors to help nurses with patient care tasks as well as "just ensuring they've had a drink / break" in a message sent on Tuesday and seen by The Independent.
It warned the medics that it was struggling with staffing levels due to sickness as patient numbers "continued to rise".
The trust currently has almost 1,500 staff off work, with more than 43 per cent of absences linked to Covid-19.
Its warning to staff will trouble NHS bosses as the pressure from the surge in coronavirus patients in southeast and London spreads across the country.
Hospitals in the Midlands and north of England, including Liverpool and Manchester, were hit hard during the second wave of the virus in October and November, with many recording record levels of Covid patients.
Many continue to have large numbers of patients in beds, meaning there is little capacity should a spike in infections and hospitalisations, triggered by the new variant of the virus, happen in the coming weeks.
On Tuesday, UHB said it had 555 coronavirus patients across three hospital sites, with 52 patients in critical care. At its April peak the hospital saw 708 patients with over 170 in critical care.
The message sent to intensive care doctors said: "The trust Covid admissions have continued to rise with now over 550 Covid positive patients across the three sites. Our Covid numbers in ITU have also risen with 27 at [Queen Elizabeth], 18 at [Birmingham Heartlands Hospital] and seven at [Good Hope Hospital]."
It added: "We are expecting the numbers both in the trust and ITU to continue to rise."
On the nurse staffing levels, the message warned: "It is the nursing staff that have been under the most pressure - we declared a Critcon Level 3 as a trust on Christmas Eve as we were unable to maintain nursing ratios due to sickness levels and we have remained at Critcon 3."
A Critcon level three is the third out of four stages of pressure in critical care during the pandemic. A level three means the trust is at 'full stretch' after expanding critical care into other areas of the hospital to cope with demand, and is at or near maximum physical capacity.
National guidance says the "prime imperative" of a level three alert is to prevent a trust entering the worst level four which means the service is formally overwhelmed. This could include withdrawal of critical care and can only be agreed by NHS England nationally.
The message added: "We would be grateful if you could all do your utmost to support the nursing workforce over the coming days, by helping with tasks where appropriate or even just ensuring they've had a drink / break. You will know from the media how much pressure critical care capacity is under nationally, so the options for mutual aid from other trusts is minimal."
As Covid increases pressure for critical care, some hospitals are stretching nurse to patient ratios to one nurse to three patients.
A trust spokesperson told The Independent: "Staffing ratios are flexed up and down constantly across the sites in line with patient dependency to ensure the safest levels of care for all of our patients can be maintained.
"Staffing is reviewed at least three times per day. A number of strategies are being used to support staffing in ITU, including using bank/agency staff and redeploying non ITU staff who have had additional training in ITU settings to support patient care."
Register for free to continue reading
Registration is a free and easy way to support our truly independent journalism
By registering, you will also enjoy limited access to Premium articles, exclusive newsletters, commenting, and virtual events with our leading journalists
Already have an account? sign in
Join our new commenting forum
Join thought-provoking conversations, follow other Independent readers and see their replies