'It's not worth going out': Pregnant mother-of-three fighting for life after being diagnosed with coronavirus
'I'm telling you now, you're going to take this home and you're going to kill someone'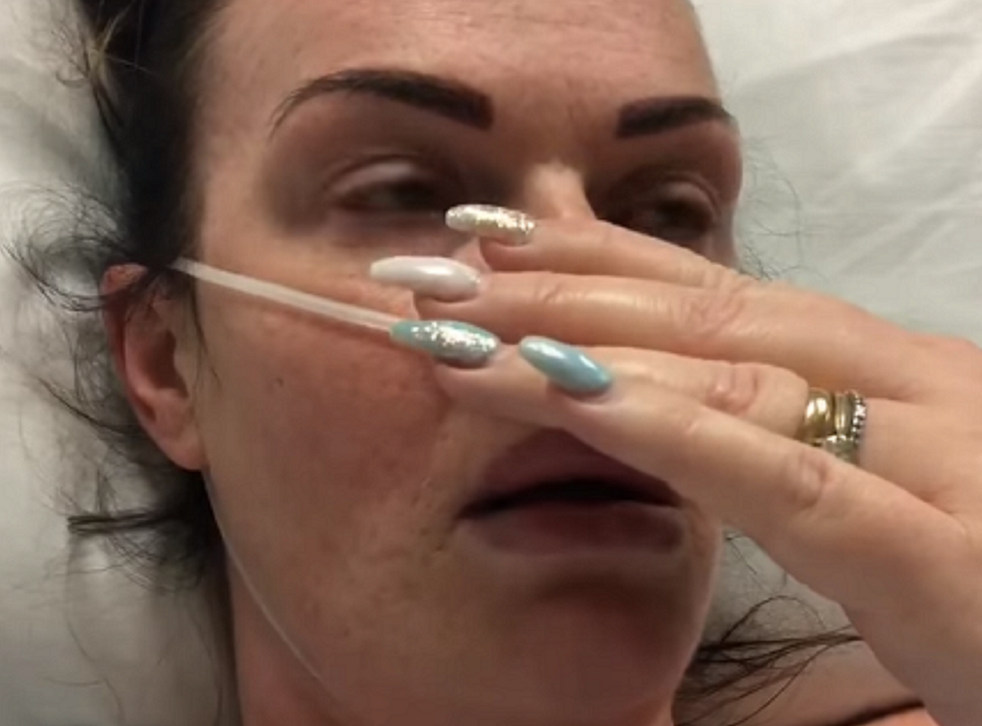 A pregnant mother fighting for life in hospital after being diagnosed with coronavirus has warned others "it's not worth going out". 
Karen Mannering, who is almost seven months pregnant with her fourth child, pleaded with others to stay inside during a tearful video filmed from her hospital bed. 
The 39-year-old beautician said she received the "horrendous" diagnosis after feeling unwell for two weeks. 
She is now fighting for her life and that of her unborn son after developing pneumonia in both lungs as a result. 
The married mother-of-three can be seen wearing a breathing tube in footage shot shortly after her diagnosis. 
In the video, posted on Facebook, she says: "I'm telling you now, if you're going to see your friends for a stupid beer on the sea wall because the weather's nice, you're going to take this home and you're going to kill someone; one of your family members. 
"Stop going out, and listen to Boris. Stop going out. It's not worth it." 
She adds: "I have just been told I have Covid-19, and I have been ill for two weeks. 
"I have been in hospital now since Saturday and today is Wednesday. I have pneumonia in both lungs and I am fighting for me and my baby. 
"I have three kids at home and a husband that I can't see." 
Ms Mannering said she did not know where she contracted the deadly virus from. 
Hot-tees Tanning Beauty and Hair Salon, where Ms Mannering works, informed customers a staff member had tested positive for Covid-19 in an update on its Facebook page. 
The business wrote: "To all of our customers at Hot-tees we regret to inform you that one of our members have been tested positive for COVID-19. 
"Please be safe and if you receive any of the symptoms please ring for medical advice." 
It comes as 463 people have died in the UK after contracting coronavirus. 
As of 9am on 25 March, a total of 97,019 people had been tested, with 87,490 being confirmed as negative and 9,529 positive.  
The Department of Health and Social Care noted the figures did not cover a 24-hour period. 
Register for free to continue reading
Registration is a free and easy way to support our truly independent journalism
By registering, you will also enjoy limited access to Premium articles, exclusive newsletters, commenting, and virtual events with our leading journalists
Already have an account? sign in
Register for free to continue reading
Registration is a free and easy way to support our truly independent journalism
By registering, you will also enjoy limited access to Premium articles, exclusive newsletters, commenting, and virtual events with our leading journalists
Already have an account? sign in
Join our new commenting forum
Join thought-provoking conversations, follow other Independent readers and see their replies