funded by our supporters
Inside the coronavirus mega-labs
Investigation: Workers inside the Covid-19 laboratories tell Shaun Lintern about the challenges of ramping up testing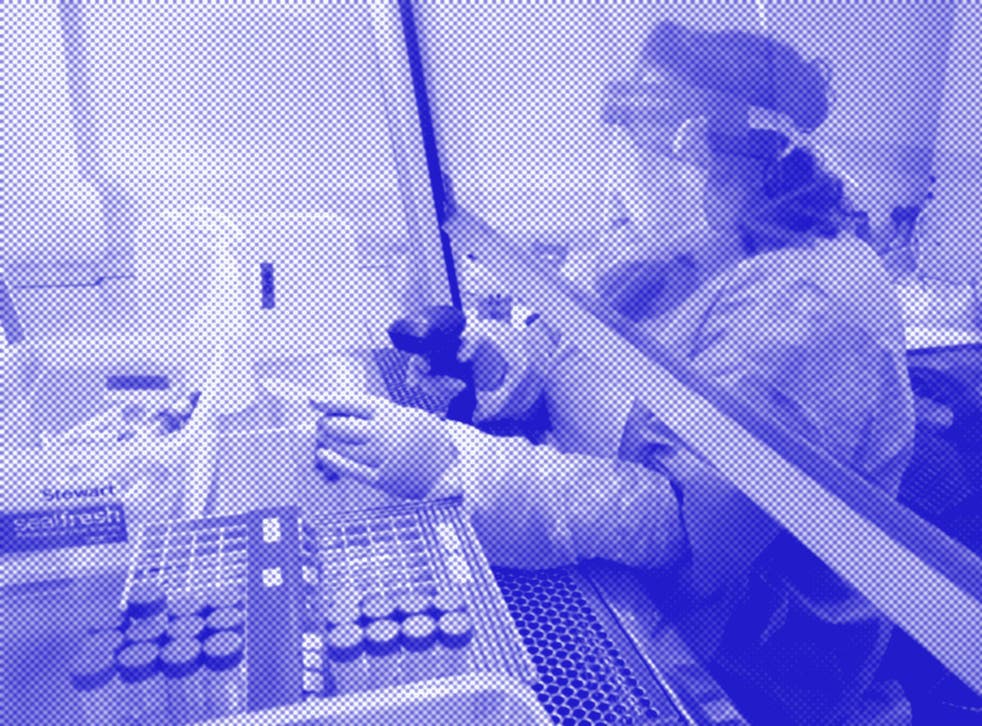 A volunteer workforce of expert scientists, technicians and students were drafted in to help get the Lighthouse Laboratories up and running at the beginning of the UK lockdown. As the first tranche of staff arrived on site in Milton Keynes, the challenge became clear.
"The simple fact is the Milton Keynes site wasn't a lab at all," said one insider. "Most of the equipment we were using was donated and it all had to be set up quickly. All the tests failed in the beginning."
Another added: "They spent the whole first week getting the process up and running and validating the tests with a hospital checking the work. It would have undoubtedly been a faster response mobilising existing labs."
One said: "It was 200 unpaid people who knocked out the first 300,000 tests and essentially winging it in a very controlled and sensible way but when you talk about preparedness, that doesn't strike me as being very prepared."
Speaking to The Independent as part of our investigation into the UK's private coronavirus labs, funded by our Supporter Programme, staff questioned the initial set-up of the three labs, which were opened as part of a centralised push to increase coronavirus testing. Accountancy giant Deloitte managed the operations. The first lab, in Milton Keynes, was opened on 9 April, followed by Alderley Park in Cheshire on 20 April and a third lab in Glasgow a few days later.
At the Alderley Park base, nestled on a business park in Cheshire, the feeling was the same: "It was just an office space to begin with, which had to be completely refitted. They started from nothing really."
The labs received test samples with barcodes, but no other information, then were required to send the test results for each barcode to NHS Digital.
The Independent was told the labs did not follow the same standardised processes, meaning there were disagreements on issues such as when to discard damaged or poorly labelled samples, leading to big variations in the void rates between Milton Keynes and Alderley Park.
One source said the rates reached as high as 40 per cent and were still at around 20 per cent earlier this month. The Lighthouse Labs and Department of Health said these numbers were not accurate but declined to give an alternative figure.
One insider said: "We did have a number of samples that we couldn't test because the swab had been taken and then it hadn't been put in the transport tube, which means you can't test it. Or the sample tube leaked. These are all things that happen when you're relying on long distance transportation to a testing lab.
"In the early days, we were getting all sorts of combinations of swabs and samples, it was ironed out but that did delay things. You wouldn't have had to iron out those things if you were using experienced lab staff."
Another described tube errors as the "biggest issue", adding: "In the early days when we were trying to ramp up to 20,000 it became impossible because the tubes weren't processable at all. Deloitte have really got on the case with that now.
"Everyone has been given the impression these labs were networked and working to a single protocol but that wasn't the case at all. They were each left to figure it out for themselves."
When the issue of large variations in the void rate between Milton Keynes and Alderley Park emerged, a meeting was held between the labs in May. A source within the labs said: "It was a big issue, with Alderley Park very unhappy. They felt Milton Keynes was trying to make them look bad."
During April, as the virus reached its peak in the country, staff in the labs described setting up the test process and having to overcome problems and errors that many felt were caused because they were starting from scratch.
Staff described being moved to tears when they saw the scale of viral infection in care homes.
One technician said: "One night we thought there was something wrong with the machines. The signals were so strong from the samples from a care home. It was a shocker; you could see how strong the virus was. I admit it made some of us quite upset."
When health secretary Matt Hancock triumphantly announced the UK was now carrying out 100,000 tests staff in the labs said they were "hurt and upset" at the obvious use of postal home-test kits to increase the numbers.
One scientist said: "People were upset when they announced the target had been met. I felt quite hurt at that, we had achieved so much so just to lie about it sort of devalued it a lot. A lot of us were p***ed off. We had done brilliantly to get to 65-70,000 tests at that stage."
As many staff begin to return to their normal lives, some told The Independent they had been unaware private companies were behind the labs and felt "exploited" as the labs now looked to recruit paid staff and expand further.
"I didn't really realise there was profit to be made, perhaps I was naive," said one volunteer who has since returned to their university: "The way things are changing at the labs now, it does make a lot of sense that they're private companies.
"You've now got university students expecting to be learning how to do PCR testing [for the virus's genetic material] and I feel they are being a bit missold about what the job entails. The reality is for some of them all they are ever going to do is open the bags. Fifteen thousand tests in 12 hours means opening 15,000 bags and it is just a brutal job."
They added: "I think they've really underappreciated how fragile the processes are. It's all very well getting these guys in without the experience. And it's fine when it's running smoothly but it's when it goes wrong. There were several occasions where it all went really badly wrong, and we stood the risk of losing thousands of tests."
The Milton Keynes Lighthouse Lab was based at UK Biocentre, a not-for-profit company set up to do academic biomedical research. It employed only 27 staff before the crisis and had no experience of providing infectious disease testing, with one source saying: "It was a very odd choice to create a lab there from nothing."
The company was established in 2011 as a subsidiary of the UK Biobank charity and is funded by the taxpayers via the National Institute for Health Research and the Department of Health, which has gave the company a grant of £653,000 in 2017 after it made a loss. Its latest accounts for the year to September 2018 show it made a loss of more than £11,000 and reported it expected to continue making losses until it could expand services at the site.
The Cheshire Lighthouse Lab is run by Medicines Discovery Catapult, described as a technology and medical innovation incubator funded by Innovate UK, an agency of the UK government. It also had little experience in running large-scale infectious disease testing.
Along with the third site in Glasgow, these labs have been operating without formal accreditation to confirm they meet the same standards followed by most UK laboratories.
Allan Wilson, president of the Institute of Biomedical Science, said: "When you set Lighthouse Labs up, running only with volunteers without registered staff, which are largely unaccredited, then I think that runs significant risks and that's not a risk many other countries are prepared to take.
"The testing strategy for this country has been constantly shifting with more political targets than clinical. Before May there was no clear testing strategy. We should be using testing in a targeted way to try and reduce the transmission of disease."
Medicines Discovery Catapult said the integrity of samples and packaging received by the labs varied and any samples deemed unsafe or which could not be identified were classed as void and not tested. It said efforts were ongoing to improve the packaging across testing sites.
MDC said the labs had been working under an open book not-for-profit contract with the Department of Health, and all volunteers have been offered salaries with many taking on the roles.
It said the success of the labs meant there was now a need to maintain them, which is why they were now recruiting for longer term staff.
A Department of Health spokesperson said: "The Lighthouse Labs form part of the biggest network of diagnostic laboratories in British history and has been set up in a matter of months.
"The UK has one of the largest testing programmes in the world and it draws on the expertise and resources of a number of public and private sector partners which has undoubtedly curbed the spread of the virus and saved lives."
Read the rest of our Failing the Test investigation:
Slow start and flawed decisions in Britain's coronavirus testing have cost lives, warn health leaders
How German coronavirus testing stormed ahead of the UK's model
Local health officials say they have been left in the dark on spread of coronavirus
This article was funded by our supporters. If you would like to help fund more investigations, please make a contribution
Join our new commenting forum
Join thought-provoking conversations, follow other Independent readers and see their replies