Inspectors downgrade hospital A&E where patients left waiting 'head to toe'
Care Quality Commission finds patients facing long waits for care due to heavy demands on service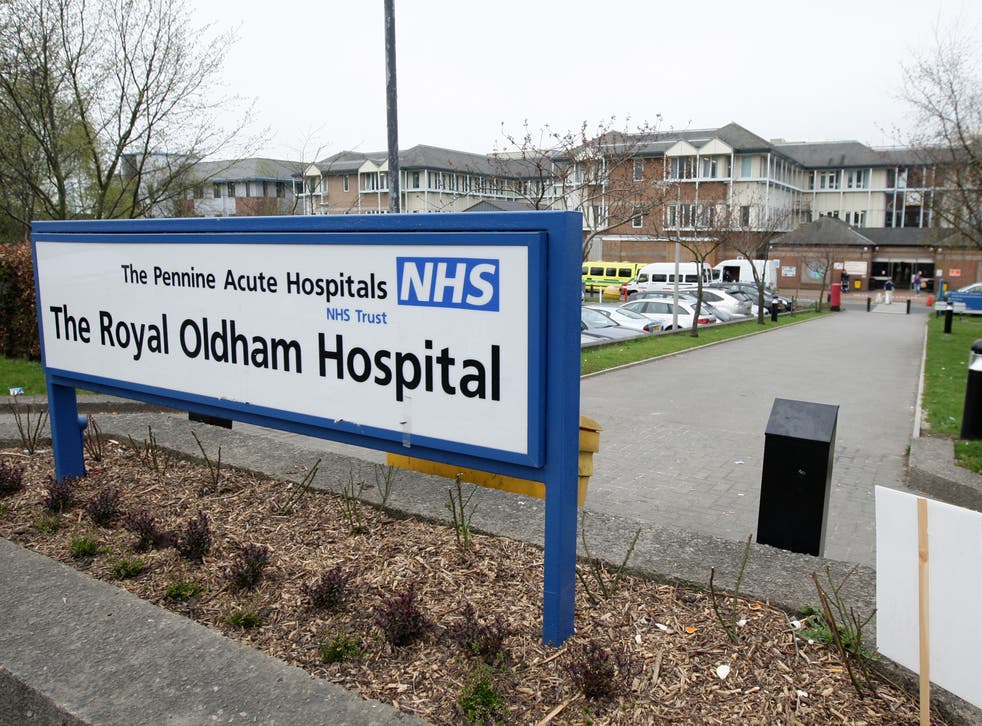 A hospital A&E department has been downgraded by regulators amid fears of "significant risk of harm" to patients after inspectors found some were crammed "head to toe" on trolleys during a surge in coronavirus cases.
The Care Quality Commission has told bosses at the Royal Oldham Hospital to urgently improve its A&E service after the November inspection found staff were not following infection rules and patients were at risk of catching the virus.
The inspection confirms reports, revealed by The Independent last year, that patients in the A&E unit were being forced to wait close together for long periods. Whistleblowers from the trust said the practice was unsafe and the president of the Royal College of Emergency Medicine, Katherine Henderson, said it was a "potentially lethal" situation.
The CQC visited the emergency department on 30 November after it said concerns were raised over the safety of patients.
Following the inspection, it downgraded the hospital's A&E service from good to requires improvement.
The inspection report said: "Staff, patients and ambulance crews were not always able to maintain social distancing in the corridors. Patients on trolleys were positioned 'head to toe'."
It added that staff in the A&E did not follow rules and parts of the A&E premises were not always cleaned.
It said: "Staff did not always maintain social distancing between patients or themselves. We saw six staff members not maintaining social distance in an office next to the green (non-Covid) resuscitation area. Staff workstations within the department were close together which limited staff ability to socially distance when updating patient records.
"Another staff member interacted closely with patients and the immediate physical environment, without using gloves and without washing hands or changing PPE between patients. Staff did not always change personal protective equipment (PPE) when moving between different areas."
It said in some cases the physical size of the corridors meant staff and ambulance crews could not stick to the two-metre rule.
It also warned patients faced long waits for care due to heavy demands on the service.
Inspectors said the number of patients spending more than 18 hours waiting in the department had increased from 118 in October 2019 to 367 in October 2020, despite more than 2,000 fewer patients. During November, a total 439 patients had waited longer than 18 hours.
The inspectors did praise staff for care being delivered safely and said teams worked well together. But the CQC highlighted poor rates of life support training with training for basic life support at 40 per cent among medical staff and advanced training at just 23 per cent. Paediatric life support training was below 50 per cent for both nurses and doctors.
While there were generally enough registered nurses on duty on most shifts, there were not enough health care support workers with medical staffing levels often reliant on locum and agency staffing, the inspectors found.
CQC's deputy chief inspector for the north, Ann Ford, said: "During our inspection in November, we could see that staff at the Royal Oldham Hospital were working hard to provide care to patients in very challenging conditions, when the northwest as a whole was experiencing significant levels of Covid-19 related pressure.
"Given the pressure the trust were under, the decision to inspect during this period was a difficult one. However, both staff and patients told us they were concerned about the safety of care being delivered in the emergency department and we had a duty to inspect to support the trust in knowing where to make improvements.
"We will continue to monitor the trust and will return to check on the progress of improvements."
The Northern Care Alliance Group, which runs the Royal Oldham Hospital, said it had already taken steps to act on the report.
Chief nurse Libby McManus said: "On the day the CQC inspected our emergency department in November last year, the inspection team saw some infection control practice which is neither acceptable nor our usual high standard and for this we are sorry to our patients and public.
"We did not wait for this report to be published. I want to reassure those who depend on our services that immediate and decisive action was taken to address the areas of improvement required. We continue to monitor and manage the small yet significant detail of all our practice.
"We remain focused on protecting and separating Covid patients, avoiding overcrowding in A&E, and dealing with the challenge in the reduction in bed capacity due to the need for additional Covid-19 beds."
Register for free to continue reading
Registration is a free and easy way to support our truly independent journalism
By registering, you will also enjoy limited access to Premium articles, exclusive newsletters, commenting, and virtual events with our leading journalists
Already have an account? sign in
Register for free to continue reading
Registration is a free and easy way to support our truly independent journalism
By registering, you will also enjoy limited access to Premium articles, exclusive newsletters, commenting, and virtual events with our leading journalists
Already have an account? sign in
Join our new commenting forum
Join thought-provoking conversations, follow other Independent readers and see their replies