Thousands of test and trace staff to be let go with just a week's notice
As the number of news cases of coronavirus falls, the UK's tracking service is scrapping thousands of posts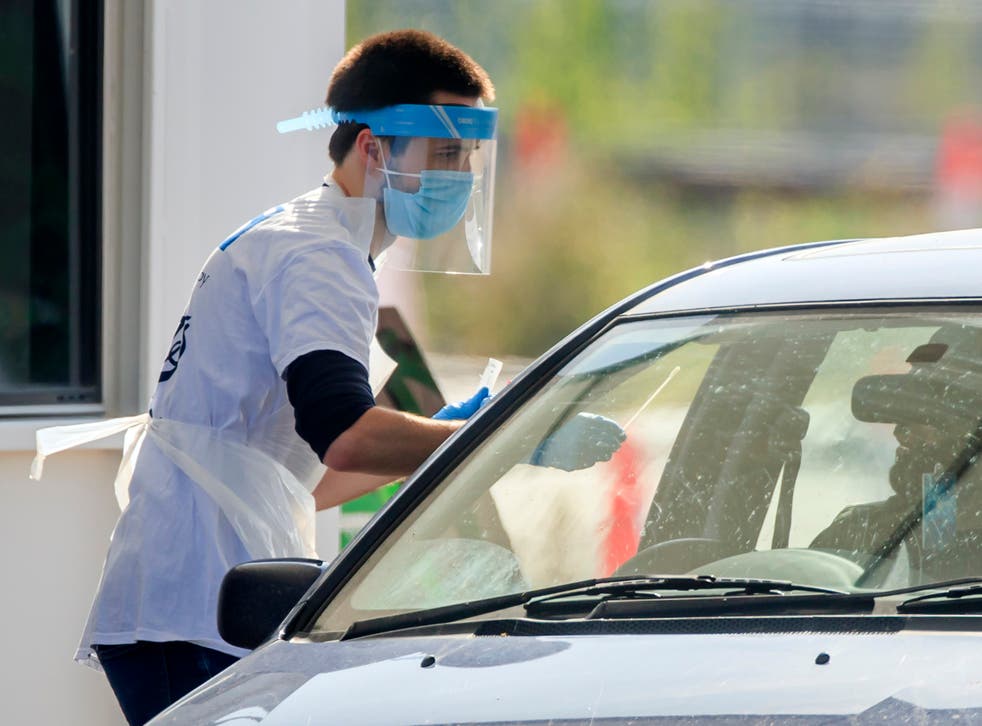 Up to 8,000 contact tracers working in the government's test and trace service are to be axed with just a week's notice as the rate of coronavirus infection falls sharply.
An email to test and trace staff from bosses sent on Wednesday evening said the service was now handling about 7,000 cases a day, compared with 60,000 at the peak of the second wave in January.
The test and trace service has about 22,000 contact tracing staff who speak to patients with confirmed Covid-19, attempting to trace anyone who may have been in close contact with them and are at risk of infection.
The service aims to reduce its workforce to 14,000 as part of a de-escalation from the winter surge. In some cases, staff will be given just a week's notice.
Many staff were recruited via the NHS Professionals agency and work multiples of four-hour shifts.
It comes as the government's Nightingale hospitals are to be stood down from the end of the month, with four in Birmingham, Bristol, Harrogate and Manchester closing. The temporary hospital in Exeter will be used for diagnostics, and the two sites in Sunderland and London will stay open as vaccination centres.
The Nightingales were opened during the first wave of the Covid pandemic but were never used on a mass scale. They cost taxpayers an estimated £500m.
In his budget last week, the chancellor, Rishi Sunak, revealed that spending on the test and trace service would rise by another £15bn, taking its total allocated budget to £37bn over two years.
Ministers have faced criticism for only being prepared to offer NHS staff a 1 per cent pay rise at a total cost of about £500m. Baroness Dido Harding has had to defend spending up to £1,000 a day on consultants for the test and trace service, which was set up in May last year to try and control the spread of the virus and prevent a second wave.
In an email to test and trace staff on Wednesday, Emma Moore, divisional director for tracing, said the service was operating "in a constantly changing environment".
She said: "Case rates are now at around 7,000 a day and whilst we are constantly reviewing requirements based on the situation, this means we need to reduce our capacity whilst retaining the right skills and our ability to ramp up again to ensure we are able to respond to any potential future demand.
"In terms of numbers, this means we have seen an increase from around 14,000 colleagues in the summer last year to around 22,000 to support the winter peak. Based on current data and forecasts, we expect to reduce our workforce back down to around 14,000 over the coming months."
She said suppliers would be given two weeks' notice, adding that the service was "committed to giving individuals who are impacted at least one week's notice. I appreciate that this may not give you the level of certainty you need, but I hope you understand our need to be a flexible service to enable us to respond effectively to changes in prevalence of the virus."
On Tuesday, England's chief medical officer Chris Whitty warned MPs another surge of the virus could be inevitable later this year.
Ms Moore told staff that if the test and trace service needed to increase again then it would look to re-employ staff who had experience.
The email also revealed that the service would launch a new "integrated tracing system" to replace two existing systems so staff can call patients and record information in one place.
The test and trace service will become part of the new National Institute for Health Protection, which will replace Public Health England from April.
UK news in pictures

Show all 50
A Department of Health and Social Care spokesperson said: "Just as we increased numbers working in the trace service to be able to respond to forecasted demand over the winter, we are responding to the reduction in case numbers we've seen since Christmas.
"Latest figures show NHS Test and Trace has successfully reached 93.5 per cent of the contacts of positive cases, making a real impact in breaking chains of transmission.
"So far, more than 9.2 million cases and contacts have been reached and told to self-isolate by contact tracers - people who might otherwise have gone on to unknowingly spread the virus. Everyone involved in the tracing service should be hugely proud of this."
Register for free to continue reading
Registration is a free and easy way to support our truly independent journalism
By registering, you will also enjoy limited access to Premium articles, exclusive newsletters, commenting, and virtual events with our leading journalists
Already have an account? sign in
Register for free to continue reading
Registration is a free and easy way to support our truly independent journalism
By registering, you will also enjoy limited access to Premium articles, exclusive newsletters, commenting, and virtual events with our leading journalists
Already have an account? sign in
Join our new commenting forum
Join thought-provoking conversations, follow other Independent readers and see their replies