NHS recruits thousands of overseas nurses to work on understaffed wards
Exclusive: More than 300 international critical care nurses to join NHS as part of worldwide recruitment effort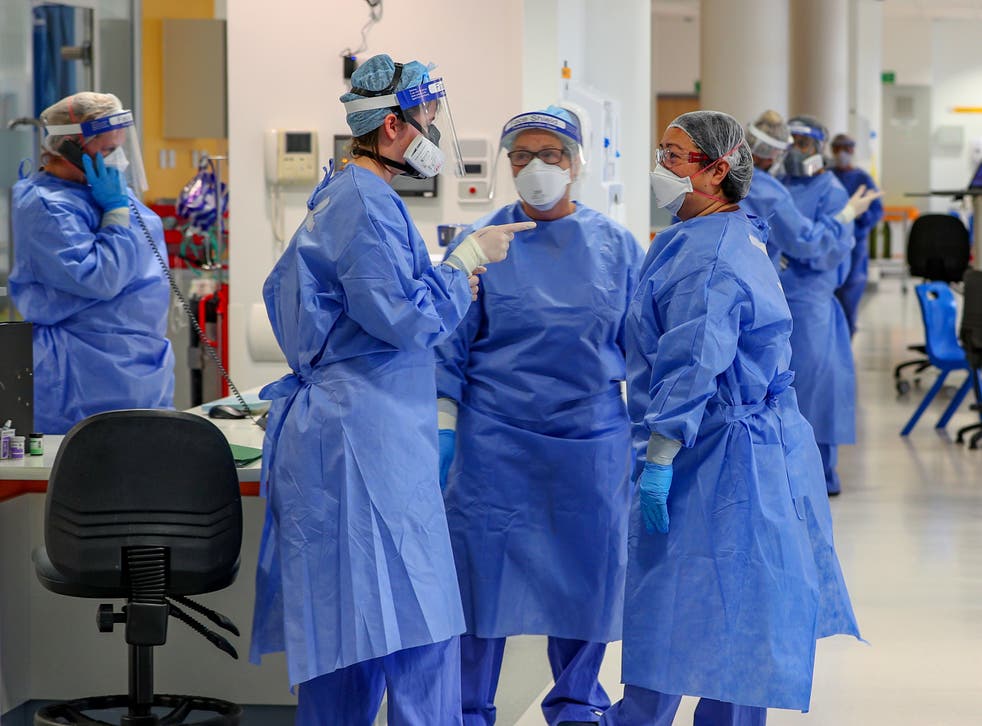 More than 8,000 overseas nurses have been recruited by the NHS in the last 10 months to help fill gaps on overstretched hospital wards, The Independent can reveal.
Health service bosses launched a worldwide search to recruit nurses after the first wave of the pandemic last year – when staffing levels were dangerously stretched to cope with the numbers of critically ill patients.
But the large-scale recruitment of nurses from other countries has been labelled "ethically dubious" during the coronavirus pandemic and at a time when the World Health Organisation has warned the world is short of 6 million nurses.
The Independent has learned a total of 8,100 overseas registered nurses joined NHS trusts between April and January, with the NHS aiming to bring in up to 1,000 nurses a month in the year ahead.
This includes more than 300 nurses trained in critical care to work in intensive care units where nurse-to-patient ratios were stretched to dangerous levels during the height of the pandemic.
Historic failures to plan workforce numbers in the NHS meant overseas recruitment was built into the NHS long-term plan in 2019.
Hospitals in England were given £28m by NHS England last October to help cover costs such as flights, airport transfers and accommodation for international nurses to help get them to the UK sooner.
It also covered quarantine costs and support for nurses to train virtually while they were in isolation.
At Manchester University Foundation Trust 240 international nurses were brought to the UK after travel restrictions were lifted in September last year, with another 180 due to arrive by the end of March.
The trust is aiming to recruit 360 overseas nurses each year on top of its UK recruitment to work in intensive care, operating theatres and elderly care wards.
Thirty critical care nurses from India joined Mid and South Essex NHS Trust in February, according to a message from England's chief nurse Ruth May, seen by The Independent.
She said these were "the first of 330 overseas-trained critical care nurses joining NHS trusts around the country soon. The skills these specialist nurses are bringing to our hospitals are needed now more than ever".
Nicki Credland, chair of the British Association of Critical Care Nurses, questioned the recruitment.
She said: "This is a global pandemic and we need to protect critical care nurses in every country to deliver expert care to patients. Robbing Peter to pay Paul is ethically dubious."
To head off these criticisms, the Department of Health and Social Care revised its guidelines for overseas recruitment in February to align with the World Health Organisations code of practice. It means the NHS will not bring in nurses from 47 countries listed as struggling for healthcare staff unless there is a deal between the two governments.
Before the coronavirus pandemic there were almost 40,000 nurse vacancies in the NHS with staffing levels used as a key argument by the government to defend offering nurses only a 1 per cent pay rise from April.
The Department of Health and Social Care said last week there would have to be 'trade-offs" if staff received higher pay, while its focus was on recruiting and paying for more staff overall.
The Royal College of Nursing (RCN) has argued there will be an exodus of nurses from the NHS after coronavirus and a substantial pay rise was needed to help retain existing staff.
Jude Diggins, interim director of nursing, policy and public affairs at the RCN, said: "There is a chronic shortage of nursing staff in the UK but it is not sustainable to use international staff to make up the shortfall.
"International recruitment must be aligned with a plan to grow the domestic nursing workforce. It is important to make nursing an attractive profession to join, with access to financial support through training and a good salary at the end.
"Any reciprocal agreements between the UK and other countries must be ethical and the nursing profession in that country agrees with the approach being taken."
The union has set up a £35m fund to support nurses in the event the pay dispute leads to industrial action.
Following the pandemic, there has been an increase in people wanting to train as nurses in the UK with a 22 per cent rise in the number of students on university courses in England in 2020 compared to 2019. An increase of 4,360 students.
Ruth May, chief nursing officer for NHS England, said: "It is a testament to our wonderful NHS that healthcare professionals from all over the world have chosen to come to work with us in a variety of roles providing support and care to patients, and we are delighted to welcome them to our teams and extend the invitation to others to join us.
"Our new recruits bring a wealth of skills and experience to the NHS, and in turn we will work hard to ensure they, together with all our staff, have all the support they need to fulfil their potential and most importantly provide exceptional patient care."
Register for free to continue reading
Registration is a free and easy way to support our truly independent journalism
By registering, you will also enjoy limited access to Premium articles, exclusive newsletters, commenting, and virtual events with our leading journalists
Already have an account? sign in
Register for free to continue reading
Registration is a free and easy way to support our truly independent journalism
By registering, you will also enjoy limited access to Premium articles, exclusive newsletters, commenting, and virtual events with our leading journalists
Already have an account? sign in
Join our new commenting forum
Join thought-provoking conversations, follow other Independent readers and see their replies