Life-saving transplants delayed as coronavirus patients fill beds
Exclusive: Several major organ transplant centres across England forced to suspend operations because of redeployment and strain on intensive care capacity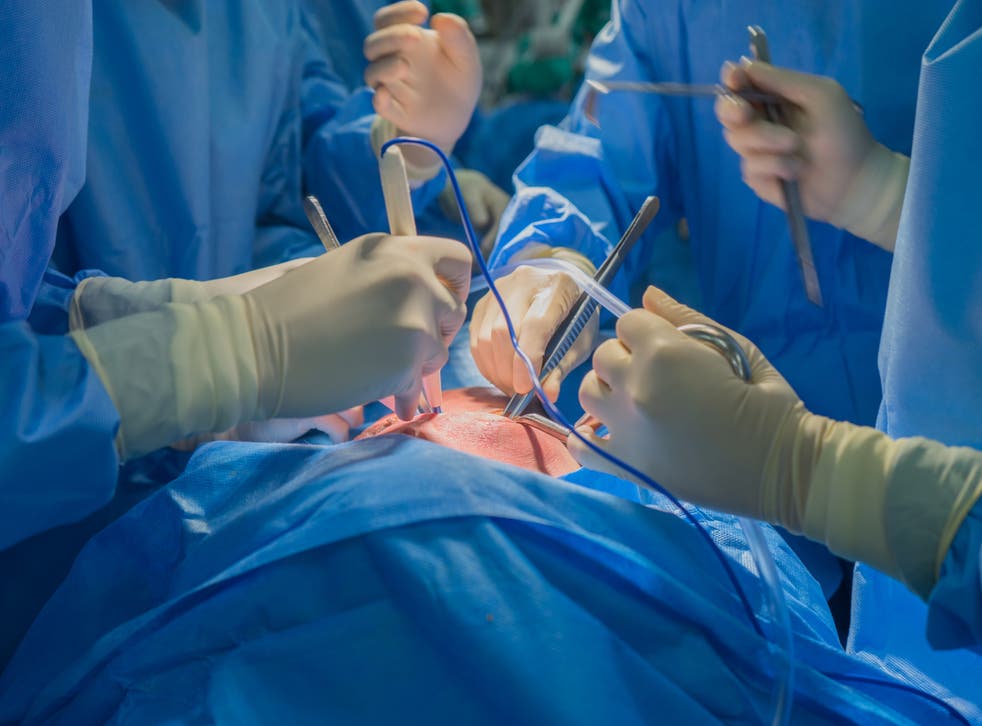 Patients are missing out on potentially life-saving organ transplant surgery because hospital intensive care beds are filled by coronavirus patients, The Independent has learnt.
Major organ transplant centres in London, as well as the Queen Elizabeth Hospital in Birmingham and Addenbrooke's Hospital in Cambridge, have been forced to close their doors to transplant cases because of a lack of beds, the increased risk to patients, and the need to redeploy doctors and nurses to the coronavirus front line.
Hospitals across England had more than 32,600 Covid-19 patients on Wednesday, with NHS bosses warning that the numbers could continue to rise in some areas until the end of the month. A record 1,564 deaths linked to the coronavirus were reported on Wednesday, and 47,525 new infections.
The impact on organ transplant services follows hundreds of urgent cancer operations being delayed in London and across the country, as NHS trusts run out of spare beds to treat non-Covid patients. Most routine operations have also been stopped in the hardest-hit areas.
There was already a 21 per cent drop in the number of transplant surgeries carried out in 2020, compared with 2019, as a result of the first and second waves of the virus. NHS Blood and Transplant (NHSBT) said there were 3,102 surgeries in 2020, compared with 3,948 a year before.  
During the first wave of the pandemic in April and May last year, the number of transplants dropped by almost 60 per cent, from 615 in 2019 to 264 over the same period in 2020. The NHS recovered and carried out more surgeries than normal in the summer, before hospitals were hit by the second wave.
Some transplant patients wait months or even years for organs, with patients now facing the prospect of longer waits and missing out on a matched organ because of pressure from the latest wave of the coronavirus. There are currently about 6,000 people on the UK transplant waiting list. More than 350 people died last year while waiting for a transplant, according to NHSBT.
Teacher Shona McFadyen was diagnosed with liver cancer in December 2018 and needs an urgent liver transplant at the Queen Elizabeth Hospital in Birmingham. She has already waited 22 months for her surgery.
She told The Independent: "It's not the hospital's fault. I get that. But it just adds to the feeling of hopelessness and it feels like as patients we have been forgotten about. It is life and death for us."
Across England on Wednesday, 11 organ transplant hospitals were closed or partially closed for transplant surgery.
London, where hospitals have been overwhelmed with Covid-19 patients for the past two weeks, is particularly hard hit.
The Royal London Hospital in Whitechapel is closed for kidney transplants. The Royal Free Hospital in north London is closed for kidney, liver and pancreatic cell transplants; this includes being closed for "super urgent" liver patients. Also closed are Guy's Hospital, St George's Hospital, King's College Hospital and the West London Renal and Transplant Centre. A small number of living donor operations are going ahead.
Outside London, the Queen Elizabeth Hospital in Birmingham has stopped kidney transplants and paused its living donor operations for at least 14 days. It has also stopped doing liver transplants for urgent patients and is performing surgery on "super urgent" patients on a case-by-case basis.
Addenbrooke's Hospital in Cambridge has adopted the same position, but it is still doing transplants for deceased donor kidney patients.
Oxford's Churchill Hospital has stopped doing small-bowel transplants.
Ms McFadyen described feeling isolated from the decisions about her care: "I haven't had any updates from the hospital. It's very scary … It feels like the last two years of my life have been put on pause."
The science teacher from Northamptonshire said: "It's like being on a rollercoaster of emotions every day. I can't see it getting better for months."
She said some of the patients in her local groups were very ill and everyone was anxious over hearing that transplant operations were being delayed. "During the first wave, we went months without hearing from our doctors because they were all intensive care."
Many transplant centres in the north of England remain open for now, which is good news for Anthony Ryall, aged 34, from Washington, Tyne and Wear, who is waiting for a date for his transplant of a kidney that is being donated by his mother.
He told The Independent: "I've been on dialysis for almost exactly a year and was put on the transplant list in August, but we're just waiting for the date. It is worrying to hear operations are being delayed, because the longer you're on dialysis the more side effects there can be."
Patients sick with Covid-19 can develop hypoxia, or a shortage of oxygen, as well as pneumonia and organ failure. It is why many need critical care beds and ventilators to help them breathe. Most hospitals have been forced to expand the number of critical care beds far beyond their normal limits.
University Hospitals Birmingham Trust said yesterday that it may see 280 patients in critical care by the end of this week and needed 500 staff redeployed from other areas of the trust, including transplant teams, to help deliver care.
Pamela Healy, chief executive of the British Liver Trust, said: "The nurses on our helpline have been receiving an increased number of calls from worried patients who are anxiously awaiting a transplant.
"For most people on the waiting list, it is much safer for them to wait until this crisis is over. However, it is vital that urgent transplants continue to take place."
NHSBT said specialist centres were working together to do as many operations as possible during the current surge in coronavirus admissions, with each donation considered on a case-by-case basis.
The situation is changing daily and transplant centres are regularly reassessing their ability to carry out operations.
John Forsythe, medical director of organ donation and transplantation for NHSBT, said teams had worked to try to ensure no opportunities for transplants were missed by centres working together. But he added: "Organ donation and transplantation is a highly sensitive, challenging and intense area of NHS work, where time is critical. The current pandemic has brought unprecedented challenges."
He added that transplant surgery had gone ahead for the most urgent patients during the first wave and had returned to pre-Covid levels over the summer.
Join our new commenting forum
Join thought-provoking conversations, follow other Independent readers and see their replies