Coronavirus: UK testing programme 'in chaos' amid 185,000 test backlog
Swabs sent to Italy and Germany for processing amid delays in supply chain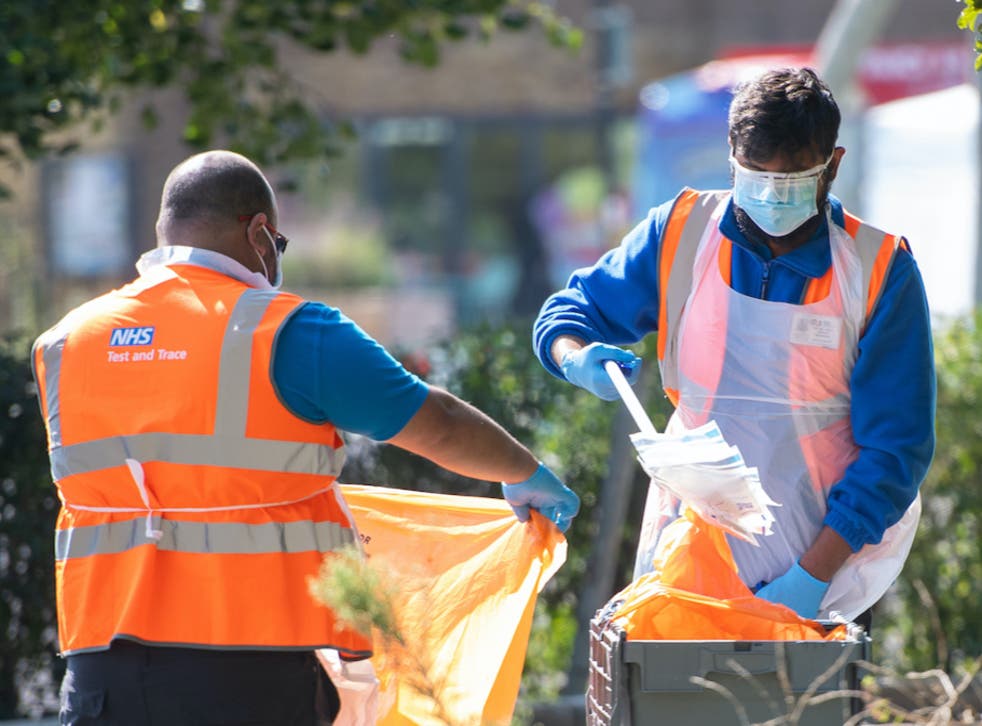 The UK's coronavirus testing programme is struggling to clear a backlog of 185,000 tests, according to leaked data from the Department of Health and Social Care.
Swabs are being sent to laboratories in Italy and Germany because of the delays in processing - with three quarters taking longer than the government's target of 24 hours, the documents show.
Large numbers of tests are also being returned "void" due to problems such as "leaked samples". On one day last week 4.3 per cent, or more than 6,570, were binned.
The Sunday Times said the testing documents marked "Official: sensitive" revealed the government's testing programme had been hit by "chaos" in supply chains despite boasting of a capacity of more than 350,000 tests a day.
Health secretary Matt Hancock has set a target of 500,000 by the end of October and plans to conduct up to 10 million tests a day by early 2021 under "Operation Moonshot".
However the director of NHS Test and Trace has already apologised for problems in the booking service which left people either unable to get tested, or being asked journeys of hundreds of miles for an appointment.
Sarah-Jane Marshall said that there was a "critical pinch-point" in laboratory processing of tests and added: "We are doing all we can to expand quickly".
The Department of Health blamed a growth in demand from people who do not have symptoms and insisted: "Test and trace is working".
According to the leaked data for 9 September, laboratories with a total capacity of 162,000 processed 134,576 results and had a total backlog of 185,000 tests.
The sites included labs run by Randox, the private company awarded a £133m testing contract in march, Eurofins, which operates in Germany and Luxembourg, and Immensa, based in Italy.
However while the labs on mainland Europe successfully processed 100 per cent of results within 24 hours, Randox only processed 9.4 per cent in that time. Labs in Manchester also struggled to meet the target, with rates of 3.1 per cent in Manchester, 13.4 per cent in Milton Keynes and 38.1 per cent in Glasgow.
The Sunday Times reported that Randox, which is based in Northern Ireland and has a stated capacity of 40,000 tests a day, has voided more than 35,000 test kits since the start of August.
Randox said in a statement: "Those being tested are made aware that samples only remain valid for a limited period once collected, and those periods of validity are fully understood across the planning and logistic process. Randox have no responsibility for the logistics of sample delivery to laboratories."
Shadow health secretary Jonathan Ashworth said that "people will be astonished tests are piling up left unprocessed, or even thrown away, because of errors in transportation and swabbing."
He tweeted: "This really is ministerial incompetence at a whole new level".
It comes after Labour leader Keir Starmer warned that the system is "on the verge of collapse" and called on Boris Johnson to take responsibility for the "fiasco".
Join our new commenting forum
Join thought-provoking conversations, follow other Independent readers and see their replies