Covid vaccine: JCVI yet to receive key research ahead of final booster decision
Joint Committee on Vaccination and Immunisation will this week assess interim results from a final key piece of research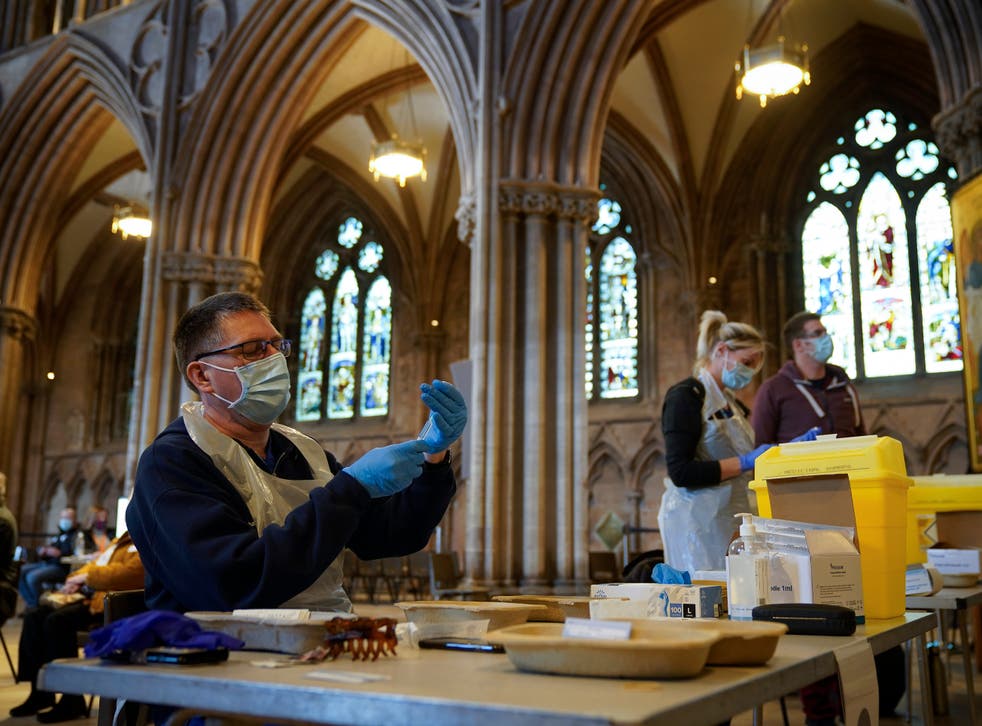 Members of the UK's vaccination watchdog are still waiting to receive the interim results of key research on booster jabs as the group prepares to make a final decision on whether millions of third doses should be administered this autumn.
The government said on Wednesday it is "confident" that a booster programme will be approved in the next few days – yet it remains unclear whether the Joint Committee on Vaccination and Immunisation will issue its recommendation within this time frame.
Ahead of a meeting due to be held on Thursday, members of the JCVI will assess preliminary findings from the ongoing Cov-Boost study, which is investigating the effectiveness of a third dose in 'topping up' the immunity levels of double-jabbed people.
The research is looking at seven different vaccines in total, but the early data set to be passed to the JCVI will only relate to the AstraZeneca, Pfizer, Moderna and Johnson & Johnson jabs – all of which have been approved for use in the UK.
However, a JCVI source told The Independent on Tuesday evening that members had yet to receive the papers ahead of tomorrow's meeting, while another contact close to the advisory committee said it was "likely" that any announcement on booster jabs, and who will receive them, will be made next week.
The final results of the Cov-Boost study are "some weeks away," though the early data due to be passed to the JCVI will "relate to the vaccines they can logistically recommend to be deployed in any autumn campaign," said Prof Saul Faust, chief investigator of the UK study.
The JCVI, which offers independent advice on vaccinations to the government, is taking a number of studies into consideration as part of its decision-making process.
These include the Com-Cov study, which is investigating immunity responses in people who have received two different vaccine doses, and the ComFluCov study, which is examining the viability of giving a flu and Covid jab at the same time.
JCVI members will also review data from the Office for National Statistics and Imperial College London on antibody levels in the UK population.
Results from all these different studies have been made available to the JCVI, which has already recommended that half a million people aged 12 and over with severely weakened immune systems should be offered third Covid vaccine doses.
It's expected that any wider booster programme recommended by the JCVI will be scaled down from the preliminary plans outlined in June, which instructed ministers and NHS officials to start preparing for a rollout of third doses in two separate stages.
Those plans advised offering a third dose to some 32 million Britons, including the clinically vulnerable, frontline health and social care workers, care home residents and those living with immunosuppressed individuals, followed by all over-50s.
However, JCVI officials later steered away from this guidance, suggesting the programme may not cover all these individuals, but Professor Anthony Harnden, deputy chairman of the advisory body, said he still expects "millions of people" to receive a booster jab.
"We want to get the strategy right on this," he told the BBC last week. "It's highly likely that there will be a booster programme, it's just a question of how we frame it. This will be decided over the next few weeks."
Politicians have placed mounting pressure on the JCVI to issue a recommendation on booster jabs, amid concerns that immunity is waning in fully vaccinated people, potentially leading to hospitalisations during the winter months.
Jeremy Hunt, the former health secretary, said ministers should consider rolling out Covid booster injections even without a green light from the JCVI.
"If you look at what's happened in Israel, they have a higher vaccination rate even than us – 80 per cent of adults – and they have found a Delta variant does lead to increased hospital admissions, but two weeks after they introduced boosters those admissions started to go down again," he said last week.
But as with the decision whether to vaccinate 12-15-year-olds – one it ultimately deferred to senior government scientists – the JCVI is refusing to rush any recommendation on booster jabs as it reviews all available evidence, despite initial hopes in Downing Street that the programme would be launched at the beginning of September.
UK news in pictures

Show all 50
Alongside the limited data supporting booster jabs, there are concerns within the JCVI that pushing third doses on the public could also dent wider vaccine confidence, discouraging people from coming forward for future vaccinations, one source said.
"We must stress the need for all eligible adults to have two Covid vaccines wherever possible to protect themselves and to reduce transmission to others," the JCVI source told The Independent last month. "This is still much more important than consideration of boosters."
A spokesperson for Public Health England said that the JCVI is considering all available evidence on boosters and will provide its advice to ministers in due course.
Join our new commenting forum
Join thought-provoking conversations, follow other Independent readers and see their replies