What is a Covid lateral flow test?
Pregnancy-style tests return results in minutes without specialist lab equipment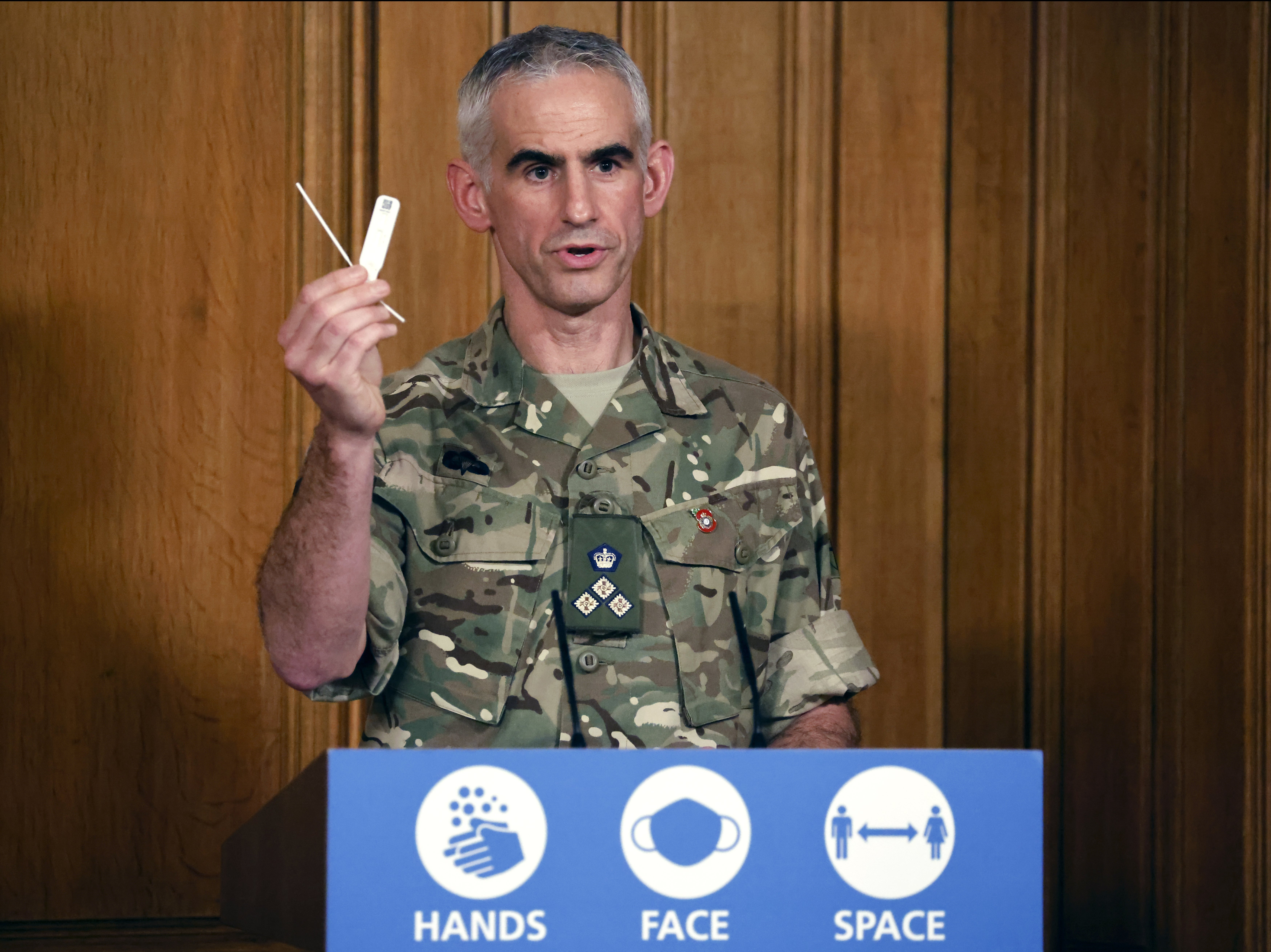 The government has announced it will roll-out mass coronavirus testing to other cities following a successful pilot in Liverpool, using new rapid tests that can provide a result within just 20 minutes.   
Unlike the normal polymerase chain reaction (PCR) tests, which have been used for months to determine if a person has Covid, this mass-testing scheme uses lateral flow tests.  
Lateral flow tests can return results significantly faster than the PCR because the swab does not need to be sent to a laboratory but can instead by processed on-site with minimal training.
Similar to at-home pregnancy tests, coronavirus lateral flow tests work by triggering a reaction in a simple paper cartridge, which reveals results as a line.
In a lateral flow test, a swab is placed in the nose or throat of the person being tested, before then being put into an extraction tube with a liquid to create a solution.  
Drops of this solution are place on a paper test cartridge which contains coronavirus antibodies.  
If the swab solution does contain Covid, it will bond with the antibodies, creating a chemical reaction that creates a coloured line on the paper, revealing a positive test.  
While lateral flow tests are much faster to return results than the PCR tests the government has been using for most of the pandemic, they can be less sensitive and not pick up as many actually infected people as the more traditional tests.  
A government-commissioned study by Public Health England and the University of Oxford, published on Wednesday, showed that the lateral flow tests correctly identified about 76.8% of people who were deemed to have coronavirus by the more accurate PCR tests.  
This means about 23% of people who actually do have Covid will be returned as negative when using a lateral flow test.  
The PCR tests have a much better specificity of 99.68%, so only a very small number of people (about three in a thousand) who do not have the virus will falsely test positive.  
Lateral flow tests work best when testing someone with a high viral load — the study suggested 95% of individuals who were highly infectious were picked up by the tests.  
The Department for Health said this meant the tests would be effective at identifying those most likely to spread the disease and would help clamp down on outbreaks, even though they missed almost one in four Covid-positive people.  
Some experts agreed lateral flow tests were a useful tool in battling the pandemic. Jonathan Ball, professor of molecular virology at the University of Nottingham, said its "rapidity and ease of use" made it a pragmatic choice for community testing.  
"Even though it won't detect as many infected individuals as the PCR test, it will identify those with the highest viral loads, and it's those people who are most likely to go onto infect others. It won't replace other tests like PCR, but it is a useful additional tool for coronavirus control."
Mass coronavirus testing in Liverpool showing 'positive signs', according to health boss
But others have expressed scepticism, including Jon Deeks, professor of biostatistics at the University of Birmingham. He said although lateral flow tests had a low false positive rate, because of the huge numbers of people without any symptoms expecting to take the tests they could still return more false positives than actual infected people.  
"The poor detection rate of the test makes it entirely unsuitable for the government's claim that it will allow safe "test and release" of people from lockdown and students from university," he said.  
"It is particularly important to inform those with a negative result that Covid could have easily have been missed — should they be falsely reassured and consider, for example, visiting elderly relatives, greater harm could easily occur."
Join our commenting forum
Join thought-provoking conversations, follow other Independent readers and see their replies