Government continued to source PPE from Malaysia suppliers accused of modern slavery
Exclusive: Gloves manufactured by Brightway Holdings, which is under investigation for labour abuses, are being used by frontline healthcare workers in the NHS
Samuel Lovett
Sunday 14 March 2021 10:57 Comments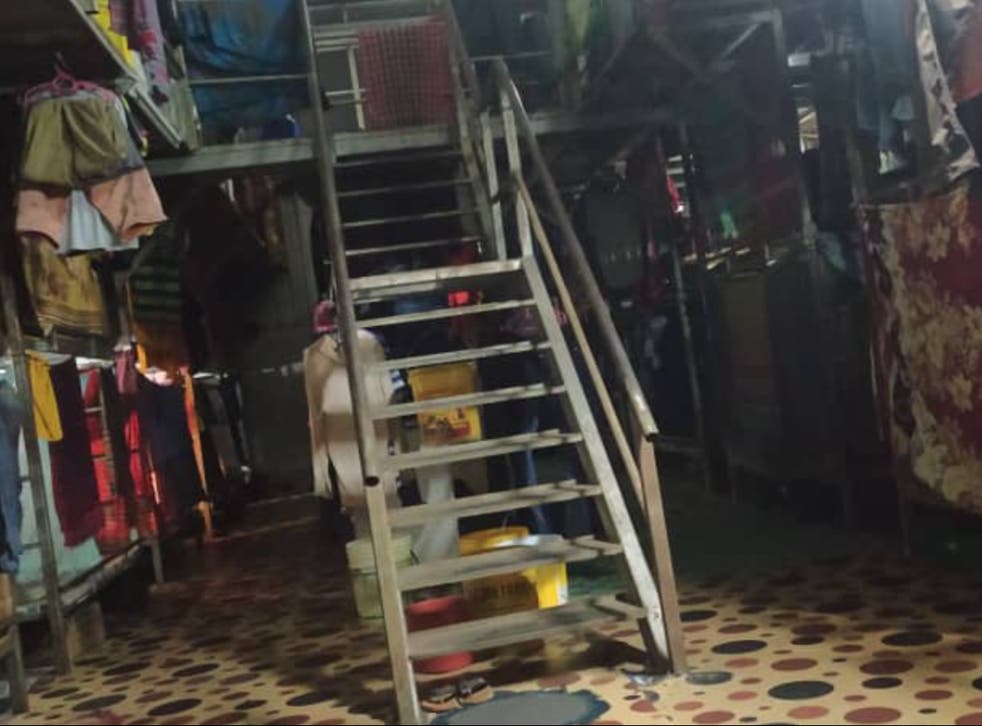 The government continued to source personal protective equipment (PPE) from companies facing modern slavery allegations, despite promises to crack down on suppliers accused of labour abuses, The Independent can reveal.
Just five months after the Home Office announced "powerful new measures" to tackle modern slavery risks in the UK's supply chains, it has emerged that frontline healthcare workers are using medical gloves manufactured by Malaysian firm Brightway Holdings.
The company, one of the world's largest manufacturers of rubber gloves, is being investigated by Malaysia's labour department over claims that hundreds of the firm's workers were forced to live in squalid conditions in metal shipping containers. 
Following a raid on the accommodation last December, the country's human resources minister said: "This looks like modern slavery." Photos from the sting operation have been shared with The Independent and show rows of cramped beds stacked on top of each another within the containers.
Brightway is facing 30 charges and a fine over the alleged failure to comply with housing standards for workers. It said the workers had been housed in hostels, acknowledged there was "congestion", and said it was improving employee living conditions.
The Independent understands that a number of major countries, including within North America, are now considering banning products made by the company.
Despite the indications of labour abuse, medical gloves manufactured by Brightway have recently been supplied to at least one NHS hospital in the south of England, and there are fears these supplies have been widely circulated throughout the country.
A source at the hospital told The Independent that a large consignment was delivered at the end of February. "There'll be thousands of Brightway gloves in circulation throughout the wards," the source said. "There's loads of boxes. We had a whole load."
In one photo taken of the hospital's storeroom, a Department of Health and Social Care (DHSC) contract code can be seen on a Brightway-branded box. Dating shows that the gloves were made in November last year, and it's believed they were delivered to Britain in December or early January.
Other gloves provided by Supermax, another Malaysian supplier accused of labour abuses, are also being stocked by the same south England hospital.
Employees at the company have previously claimed to work 12 hours per day, for up to 29 days without a rest, and compared one of Supermax's factories to "a prison". The firm denies these allegations, saying it operates in accordance with Malaysian law.
A number of glove manufacturers in Malaysia have been linked to the illegal recruitment of impoverished migrants from Bangladesh and Nepal, with accusations that they have been forced to live and work in appalling conditions. 
Some have been accused of confiscating workers' passports, leaving them vulnerable to debt bondage, where they are forced to pay off a loan that can ultimately never be repaid.
NHS insiders say that the global rush for gloves and masks at the start of the pandemic – which saw prices rise by more than 1,000 per cent in some cases – led to confusion, miscommunication and panic within the DHSC's rapidly assembled PPE channel, with officials racing to obtain whatever supplies they could, regardless of where they came from.
With procurement and supply controlled by this centralised unit, it's likely that the Brightway gloves have been distributed to other hospitals across England. "These supplies have come through the DHSC mechanism, so I'm sure this has happened elsewhere," the source said. "I understand they've got huge warehouses stocked with this stuff."
The Independent previously revealed that the government ignored internal warnings over the Malaysian glove industry and bought PPE from firms accused of modern slavery.
In response, the DHSC said it had asked all glove suppliers to undertake a modern slavery assessment, and that those companies found to be in breach of the NHS's Labour Standards Assurance System (LSAS) – which seeks to ensure good work practices among suppliers – would be removed from the UK's supply chain frameworks.
In September, the government said that public bodies which have a budget of £36m or more, including local authorities in England and Wales, will be required to regularly report on the steps they have taken to prevent modern slavery in their supply chains.
Addressing how the Brightway gloves ended up in the NHS, the DHSC said they had been supplied through intermediary companies, which had obtained the PPE before selling it on to the government. The contract through which the gloves were sourced has since ended, the DHSC added.
The department refused to provide any further information on the contract, how much of the taxpayer's money had been spent on it, and which suppliers were ultimately responsible for providing the Brightway stock.
The government is required by law to publish a "contract award notice" within 30 days of granting any contract for public goods or services worth more than £120,000.
UK news in pictures

Show all 50
"All the details are on the record," the prime minister, Boris Johnson, wrongfully claimed last month. "The contracts are there on the record for everybody to see."
With the government seemingly in breach of its own regulations – having repeatedly insisted it won't do business with companies presenting modern slavery risks – campaigners have called for an urgent inquiry into the state of the NHS's supply chains and for a tightening of transparency rules.
Andy Hall, a migrant worker specialist focusing on forced labour in gloves supply chains, told The Independent: "The presence of these tainted gloves in UK hospitals shows once again how the government's claims to be addressing modern slavery in its public procurement supply chain – despite having been told specifically many times that such companies are complicit in modern slavery – are empty rhetoric."
Before the pandemic, just 1 per cent of PPE used in the UK was produced here – though the government said in September that it intends to raise this figure to 70 per cent. As such, campaigners have questioned why overseas manufacturers with histories of labour abuses are continuing to provide supplies to Britain.
"It seems poignant to note that as we fight a global pandemic, migrant workers on the other side of the world are being exploited in order for us to be protected here, despite the government's intention to produce more PPE in the UK," Nusrat Uddin, a Wilson Solicitors lawyer specialising in trafficking and modern slavery, told The Independent.
She added that the Modern Slavery Act 2015 was not fit for purpose "with regards to improving transparency in supply chains".
"The Act requires certain companies, and soon public bodies, to publish steps they have taken to tackle modern slavery in their supply chains," she said. "However, there are no set standards upon which those steps are assessed, and so even if companies are taking ineffective measures, they still fulfil government requirements." 
Professor Mahmood Bhutta, an NHS surgeon and co-founder of the Medical Fair and Ethical Trade Group at the British Medical Association, urged the government to "make a stand for the workers it purports to protect".
"We know that when the government awarded contracts for supply of PPE it stipulated that companies who won those contracts must comply with UK law on modern slavery in their supply chains," he told The Independent. "Time and time again, we have witnessed a brazen disregard of those contractual obligations.
"When will these companies be held to account? When can I put on gloves at work without feeling I am complicit in human suffering?"
A government spokesperson said: "We take all allegations of modern slavery very seriously and all suppliers must follow the highest legal and ethical standards.
"All those who sub-contract orders of equipment for the NHS must fully understand their supply chains and operate responsibly. We will not award contracts to those who fall below these standards."
A Brightway spokesperson said: "The safety and welfare of our workforce has and will always be a priority to us. Further, independent assessments and audits are being conducted with reference to social compliance and we will be happy to share the reports as and when they come out."
Register for free to continue reading
Registration is a free and easy way to support our truly independent journalism
By registering, you will also enjoy limited access to Premium articles, exclusive newsletters, commenting, and virtual events with our leading journalists
Already have an account? sign in
Register for free to continue reading
Registration is a free and easy way to support our truly independent journalism
By registering, you will also enjoy limited access to Premium articles, exclusive newsletters, commenting, and virtual events with our leading journalists
Already have an account? sign in
Join our new commenting forum
Join thought-provoking conversations, follow other Independent readers and see their replies