Vaccine during Ramadan will not break fast, leading Muslim NHS workers say
'Getting an injection does not break the fast as it's not nutrition,' one doctor says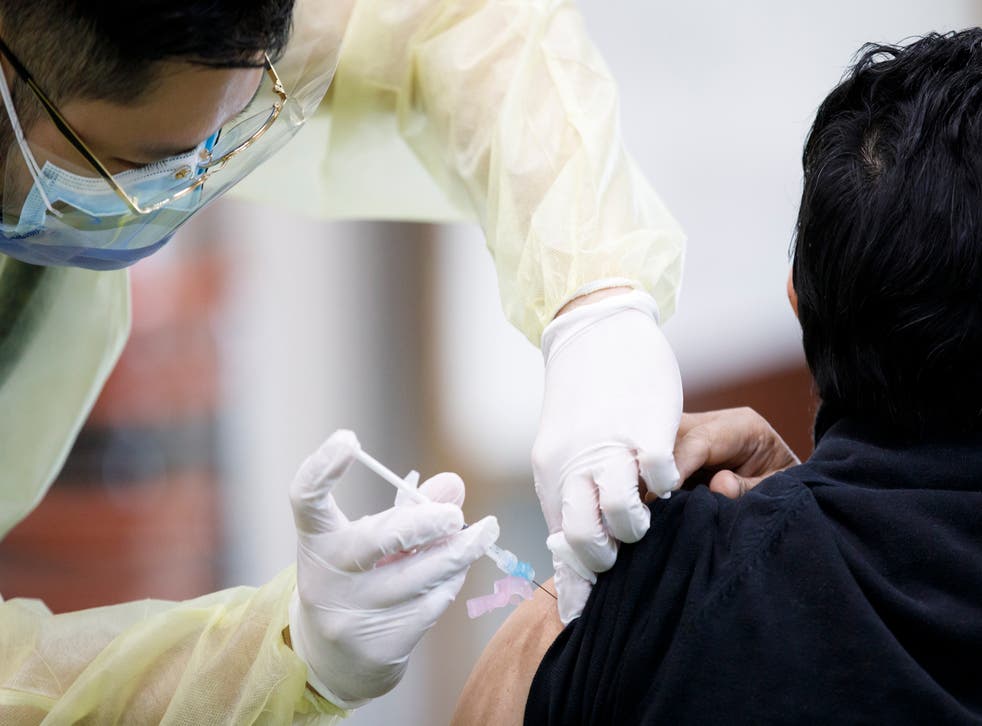 Leading Muslim doctors have urged people observing Ramadan to continue to get the Covid-19 vaccine during the religious period, underlining that the injection will not break their fast.
NHS staff and religious figures called on Muslims to continue to attend vaccine appointments during daylight hours.
Ramadan will take place between 12 April and 12 May, with fasting Muslims abstaining from food and drink during daylight hours.
Experts also allayed concerns about taking painkillers during fasting hours if experiencing potential side-effects after vaccination, explaining that they did not count as nutrition and are permitted.
Dr Farzana Hussain, a Muslim and GP at The Project Surgery in East London, said Muslims should continue to attend appointments while fasting.
Read more:
She said: "Getting an injection does not break the fast as it's not nutrition, and so there is absolutely no reason why you shouldn't have it if you are eligible and have been invited for your Covid-19 vaccine, and those scheduled for their second dose should take it."
Dr Hussain also stressed that taking the vaccine is "a responsibility of a practising Muslim" because "the Koran says saving your life is the most important thing: to save one life is to save the whole of humanity".
Since the vaccine rollout began, scores of mosques across the country have used Friday prayers to fight misinformation around vaccinations, while there has also been a campaign to film community leaders getting the jab.
Although experts have said that people observing Ramadan should not stop getting the jab during daylight hours, some sites will remain open later during the religious month in case patients prefer to wait until after breaking their daily fast.
Imam Yunus Dudhwala, head of chaplaincy at Barts Health NHS Trust, said: "This Ramadan will continue to be different. The vast majority of scholars have deemed taking the vaccine whilst fasting as permissible and stated that it does not break the fast."
He called on Muslims to "consider taking the vaccine" when offered an appointment, stressing that "it is effective and the best way of protecting yourself and your loved ones".
The NHS Race and Health Observatory also stated that it is safe to take the vaccine while fasting.
Researchers recently suggested that practices associated with Ramadan did not have detrimental effects on Covid-19 deaths in 2020. The religious period coincided with the virus's first wave last year.
In a paper published in the Journal of Global Health this week, the authors compared death rates during Ramadan in similarly deprived areas of England with large Muslim populations to areas with small Muslim populations. Fasting appeared to have had no detrimental effect on outcomes.
There have been a number of community efforts to galvanise support for vaccinations after a poll in December found only found 57 per cent of people from Black, Asian and other ethnic minority backgrounds in the UK would be happy to have the Covid-19 vaccine, compared to 79 per cent of white people.
Register for free to continue reading
Registration is a free and easy way to support our truly independent journalism
By registering, you will also enjoy limited access to Premium articles, exclusive newsletters, commenting, and virtual events with our leading journalists
Already have an account? sign in
Register for free to continue reading
Registration is a free and easy way to support our truly independent journalism
By registering, you will also enjoy limited access to Premium articles, exclusive newsletters, commenting, and virtual events with our leading journalists
Already have an account? sign in
Join our new commenting forum
Join thought-provoking conversations, follow other Independent readers and see their replies