UK vaccines provide high protection against Kent variant, real-world study shows
Data is accumulating that shows the jabs are lowering cases and hospitalisation rates within the community
Samuel Lovett
Science Correspondent
Friday 23 April 2021 08:52 Comments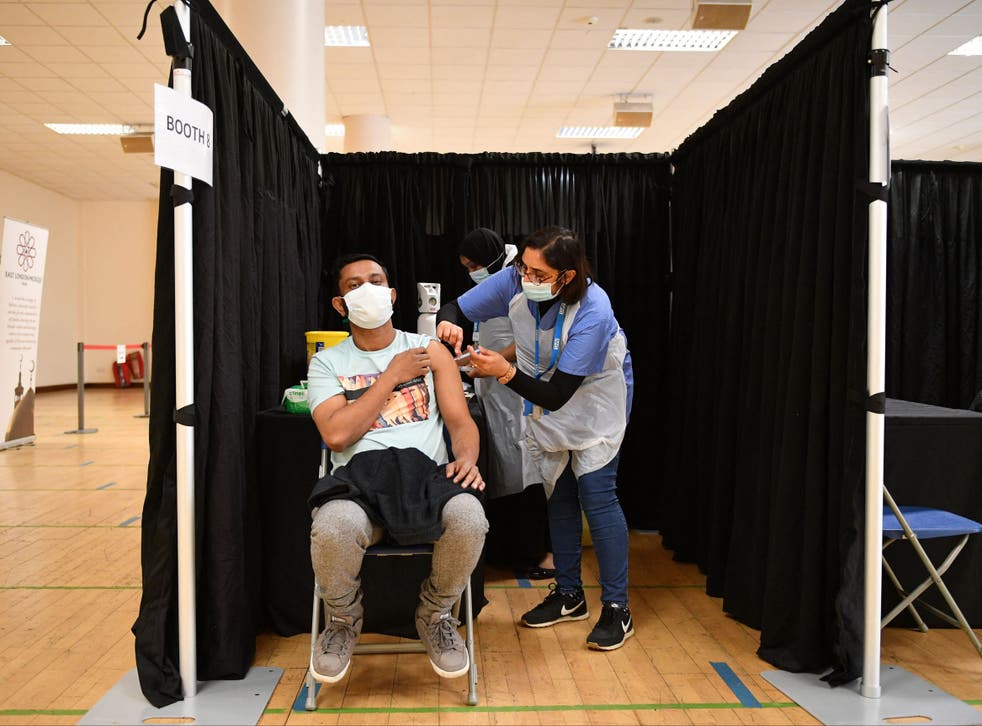 The UK's two main vaccines provide all age groups with high levels of protection against the Kent coronavirus variant and are cutting community infections, a real-world study in Britain has confirmed, with scientists "confident" that the jabs are also reducing the transmission of Covid-19.
A team of experts from the University of Oxford, which led the research, said their findings offer hope that vaccines will be able to control the pandemic in the long term.
Although clinical trials have pointed to the effectiveness of the jabs, data is slowly accumulating around the world which shows that these life-saving tools are lowering cases and hospitalisation rates within populations.
With the UK's rollout now into its fifth month, analysis from Oxford and the Office for National Statistics has indicated that a single dose of the AstraZeneca or Pfizer vaccine significantly reduces all types of infection – symptomatic and asymptomatic – by 65 per cent. Meanwhile, protection lasts for at least 10 weeks.
The findings, which have not been peer reviewed, were based on 1,610,562 test results taken from 373,402 people between 1 December 2020 and 3 April 2021.
Because the Kent variant – known as B117 – was dominant in Britain during this period, the vaccine data is specific to the mutated form of the virus, the scientists said.
"Most of the [large-scale vaccine] trials were conducted when B117 wasn't around. I would say that's another direct strength of the study, that we can directly show efficacy against the variant that is really dominant at the moment," said Professor Sarah Walker, chief investigator and academic lead.
Two doses of the Pfizer vaccine offered similar levels of protection against Covid-19 as natural immunity after infection, the Oxford study added, and caused a 90 per cent drop in symptomatic cases among the vaccinated.
Not enough people have yet received two doses of the AstraZeneca jab to confirm its overall effectiveness.
There was also no evidence to suggest that the vaccines were less effective in providing protection among people aged 75 and over, or those with long-term health conditions, the researchers said.
The research was unable to establish whether the vaccines cut transmission – but the scientists said they were optimistic that there is a reducing effect, pointing to the impact of the jab on people infected with a large amount of virus.
"What we see is that the vaccine protects against infections with a high viral burden, so lots of virus present, and these are people that are particularly able to transmit to other individuals," said Dr Koen Pouwels, a senior researcher at Oxford University's Nuffield Department of Population Health.
"Of course, there are still infections that are occurring at a lower rate and these particularly have a lower viral load, so there are people who are still able to transmit but at a lower rate.
"I think we can be fairly confident that there is a reduction; we just need to quantify the exact reduction."
The Oxford team also assessed the impact of the vaccines on antibody responses in the general population.
In individuals who had not had Covid-19 before, antibody responses to a single dose of either vaccine were lower in older individuals, especially those aged over 60 years. Responses to two Pfizer doses were high across all ages.
On average, antibody levels rose more slowly and to a lower level with a single dose of the AstraZeneca vaccine, but then dropped more quickly with one Pfizer shot. By 10 weeks, and before a second jab, antibody positivity was similar regardless of which vaccine had been administrated.
Although the two vaccines generated slightly different immune responses, there was no evidence that they varied in their ability to reduce infection rates in the community.
David Eyre, an associate professor at Oxford University's Big Data Institute, said: "In older individuals, two vaccine doses are as effective as prior natural infection at generating antibodies … In younger individuals, a single dose achieves the same level of response. 
UK news in pictures

Show all 50
"Our findings highlight the importance of individuals getting the second vaccine dose for increased protection."
Prof Walker said the results from both sets of research suggested the pandemic could be brought under control through vaccination.
"In a personal opinion, I would say I'm cautiously optimistic, because I think the last three months have shown the combined effect of lockdown and vaccination," she said.
"But long-term lockdown isn't a viable solution. Vaccines are clearly going to be the only way that we are going to have a chance to control this long-term. Without vaccines, I don't think getting to zero is really feasible."
In reference to the new and emerging variants, Prof Walker warned: "The virus is very good at throwing these curveballs. So we're always going to be one small step away from the potential for things to go wrong again."
Register for free to continue reading
Registration is a free and easy way to support our truly independent journalism
By registering, you will also enjoy limited access to Premium articles, exclusive newsletters, commenting, and virtual events with our leading journalists
Already have an account? sign in
Register for free to continue reading
Registration is a free and easy way to support our truly independent journalism
By registering, you will also enjoy limited access to Premium articles, exclusive newsletters, commenting, and virtual events with our leading journalists
Already have an account? sign in
Join our new commenting forum
Join thought-provoking conversations, follow other Independent readers and see their replies