Dr Bawa-Garba: Doctors threaten to boycott their appraisals over treatment of trainee paediatrician
Staff fear they could face legal action if they admit mistakes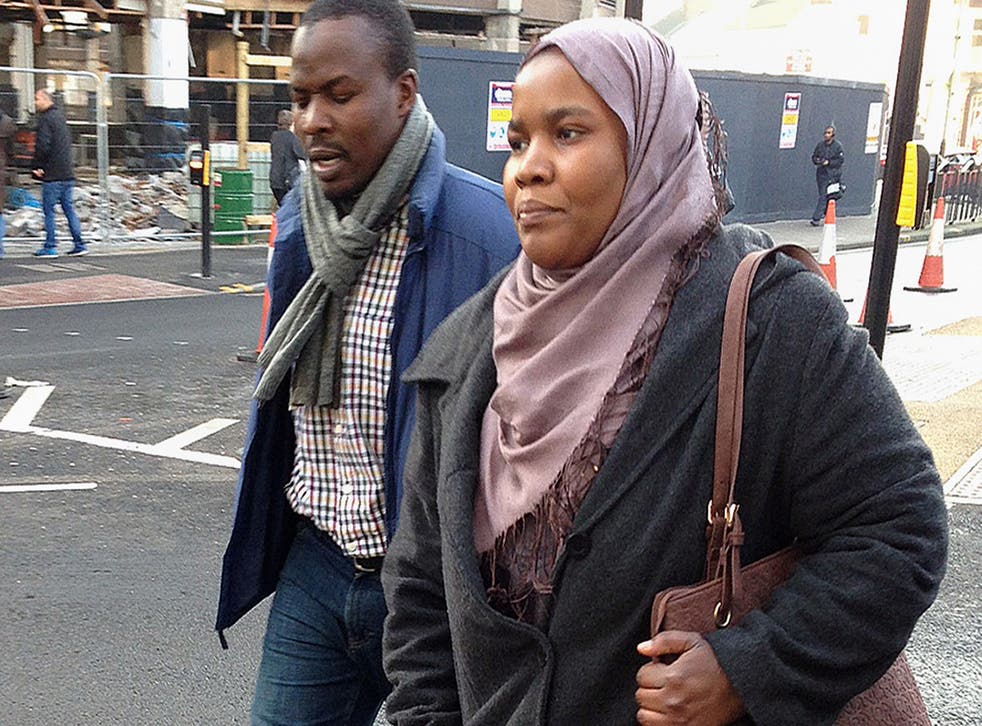 Doctors are threatening to boycott their appraisals after a trainee paediatrician was stripped of her medical licence.
The evaluations, which are submitted to doctors' employers on a yearly basis, contain medics' assessments of their own errors.
They are then used by each employer as a basis for submitting revalidation requests to the General Medical Council (GMC) that allow the respective practitioner to continue operating.
Many health staff have expressed fears they could face legal action if they admit making mistakes, after it was reported that reflective statements submitted by Dr Hadiza Bawa-Garba as part of her appraisal, contributed to the loss of he medical licence.
Dr Alan Woodall, who chairs the 8,000 strong General Practice Survival (GPS) pressure group, told The Independent doctors would be "frightened to reflect" on their own practice, following the GMC's successful efforts to strike Dr Bawa-Garba from the register.
He added that there had been "paradigm shift" in the health service towards blaming individual staff for systemic failings resulting from poor management and chronic underfunding.
Dr Bawa-Garda was convicted of manslaughter by gross negligence in 2015 after mistakes in the care of Jack Adcock at Leicester Royal Infirmary in 2011.
Jack, who had Down's Syndrome and a heart condition, died of septic shock, hours after being admitted with sickness and vomiting.
Last week, the GMC won a legal bid to allow it to strike Dr Bawa-Garba from the register.
London's High Court heard there was a "catalogue" of errors in Jack's care, that staff had missed signs of his infection and mistakenly thought he was under a do-not-resuscitate order.
Dr Bawa-Garba's supporters have warned that she being scapegoated for systemic problems in the NHS.
A crowdfunding campaign has raised more than £260,000 for a civil appeal against the High Court decision that allowed the GMC to strike her off the medical register.
Health news in pictures

Show all 40
In a letter to the British Medical Association, Dr Woodall said he had been contacted by "hundreds" of doctors who warned they would no longer take part in "meaningful written appraisal" after the High Court ruling.
He also called on the British Medical Association (BMA) to press the House of Commons health select committee to investigate whether the GMC was fit for purpose.
Although the prosecution at Dr Bawa-Garba's trial said her reflection did not form part of the evidence against her, elements of her assessment were reportedly seen by expert witnesses.
Dr Jonathan Cusack, Dr Bawa-Garba's supervisor at Leicester Royal Infirmary told health magazine Pulse, that he had "full sight and helped her write her reflections".
In his letter, Mr Woodall said: "The use of information disclosed during appraisal and case reviews to prosecute individuals for gross negligence manslaughter has, at a stroke, ended the confidence of the entire medical profession in the learning culture that is supposed to exist to enable professionals to better prevent errors and avoidable harm to patients."
He added: "Hundreds of my colleagues have now stated they will no longer engage in meaningful written appraisal, and many of us who have voluntarily worked in overburdened areas of care such as out-of-hours urgent care are withdrawing their services due to the professional risk that clearly is being devolved down to the front-line clinician."
Stephen Hawking to take Jeremy Hunt to court over 'back-door privatisation' of NHS
On the day of the six-year-old's death, Dr Bawa-Garba was completing duties on behalf of of three or four doctors, he said, and she had no support from a consultant.
"Under those circumstances anybody can make errors," he added.
Dr Woodall said no one at the hospital trust was held to account, pointing out that no corporate manslaughter charges were pursued.
"People are going to act defensively" if the GMC continues to hold individuals accountable for systemic failings, he said, adding: "More people will suffer harm and die if the GMC pushes doctors to defensive practice."
His comments come after the BMA GP sessional subcommittee chair Dr Zoe Norris, who works as an appraiser, said she would advise all doctors to amend their appraisal reflections to read: "I am happy to reflect on this case one-to-one with my appraiser. However, following the unjust treatment of a UK doctor by the GMC on 25 January 2018 I am not prepared to reflect in writing."
Dr Peter T Wilmshurst, a consultant cardiologist at Royal Stoke University Hospital last week wrote an open letter to the British Medical Journal in which he asked the GMC to investigate his clinical practice over the last 40 years to see whether he was fit for practice.
"During four decades of practice, I have made clinical errors including delayed diagnosis and errors in treatment. Some sick patients died. I am sure that many would have died anyway, but in some cases my errors are likely to have contributed to poor outcomes and some patient deaths," he said.
"It is clear that the High Court agreed with the GMC that honest errors should be career ending mistakes."
In a statement, the GMC said Dr Bawa-Garba's reflective statements on her assessment did not contribute to the decision to strike her off the medical register.
A spokesman said: "We recognise the strength of feeling expressed by many doctors, and we are listening to those concerns. Reflective notes are an important part of learning for doctors, and show insight on a doctor's part if they are ever questioned about their actions.
"That's why we welcome the Medical Protection Society – who represented Dr Bawa-Garba – making clear this week that her reflective notes were not used against her in court, and were introduced into her tribunal by her defence team. The GMC does not ask doctors to provide their notes."
Join our new commenting forum
Join thought-provoking conversations, follow other Independent readers and see their replies