Heroin to be prescribed to addicts in plan to starve criminal gangs of cash
UK police commissioner says addiction a public health issue and 'our approach to drugs is failing'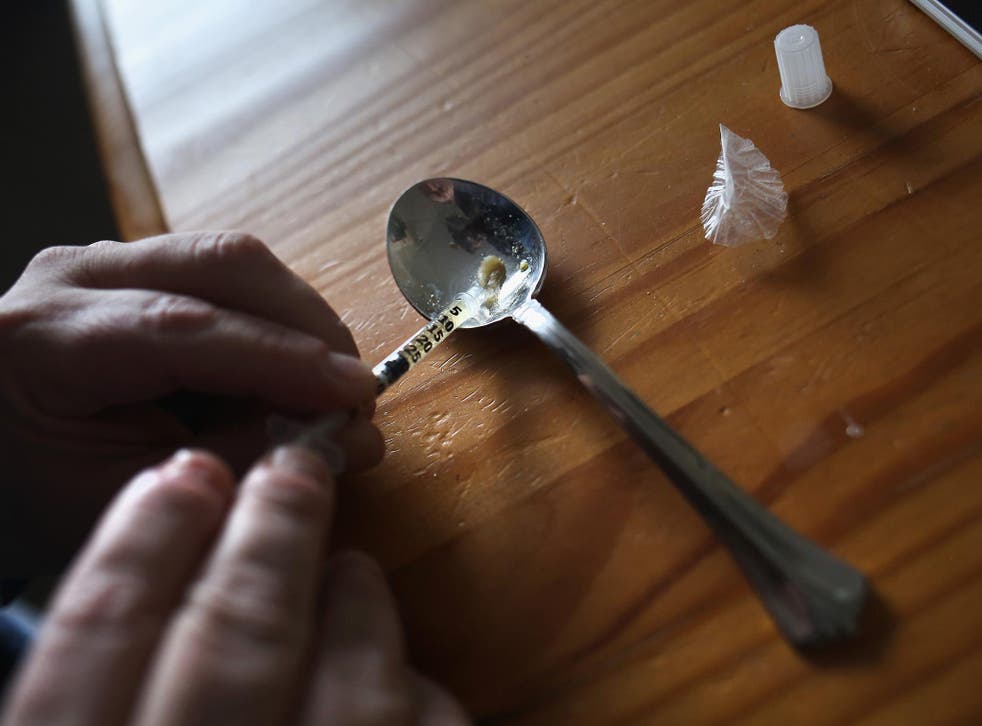 The official in charge of the UK's second largest police force signalled a radical new approach to the war on drugs on Monday, including plans to keep some drug offenders out of criminal courts and provide users heroin on prescription.
David Jamieson, West Midlands Police and Crime commissioner, said drugs were costing £1.4bn of public money a year in his region alone, and "fresh ideas" were needed to tackle the problem.
Mr Jamieson, who sets the region's policing priorities and budget, said the time has come to treat addiction as a public health issue – a move that has been welcomed by charities and medical experts.
UK news in pictures

Show all 50
This will include schemes that provide heroin as part of treatment, to reduce petty crime and stop money being funnelled to criminal gangs – a move with some government support.
It will also include a review of heroin consumption rooms, which already run in EU countries including France, Spain and Portugal but are opposed by the Home Office.
These are medically supervised spaces providing clean needles and equipment for users. They have been shown to significantly lower overdose rates and increase use of rehab programmes.
The schemes are backed by MPs, as well as medical groups, such as the British Medical Association and the Government's own policy advisers, the Advisory Council on the Misuse of Drugs (ACMD).
Experts have said the Government must "accept responsibility" for rising drug deaths driven in part by austerity, with 3,744 people dying of overdoses in 2016 – about 70 per cent of which were overdoses of illicit drugs.
The West Midlands' intervention is aimed at doing away with the failed enforcement tactics associated with the war on drugs, and plans to introduce several other initiatives, some of which are already working in other parts of the UK, including:
A formal alternative to the court system that will direct users to treatment programmes rather than jails.
This could be similar to the Checkpoint programme run by Durham Constabulary, which offers offenders, including low-level drug dealers and consumers, the chance to avoid prosecution if they avoid reoffending and complete community service and restorative justice programmes over four months.
City-centre testing for recreational drugs used by night clubbers, a scheme that has previously been run at festivals and provides information on the strength and purity of drugs being taken.
Training and equipping police officers to deliver anti-overdose drug naloxone.
Seizing more money from large criminal gangs, and reinvesting it in drug prevention programmes.
"Despite the good work being done by many, collectively our approach to drugs is failing," Mr Jamieson said.
"Drugs are costing the West Midlands £1.4bn each year. It means people are forced to live with more crime, public services are put under strain and not enough is done to reduce the suffering of those who are addicted.
"If we are to cut crime and save lives there's one thing we can all agree on; we need fresh ideas.
"These are bold, but practical proposals that will reduce crime, the cost to the public purse and the terrible harm caused by drugs.
"These proposals tackle the drugs market head on, hitting the organised criminals profiting from the misery of others."
Campaigner Rose Humphries, of the Anyone's Child project, welcomed the change of direction for police forces.
Ms Humphries lost two sons to heroin overdoses, and she said: "Bitter experience has taught me that current drugs ­policy didn't protect my children, and it won't protect yours.
"If their drug use had been treated as a health issue instead of a criminal one, Jake and Roland would probably be alive today."
The commissioner's office reports that every three days in the West Midlands somebody dies from drug poisoning, while organised criminals are profiting.
Global commission call for legalisation of drugs
Half of all burglary, theft, shoplifting and robbery is committed by people suffering from serious addiction to drugs including heroin and crack cocaine.
Transform Drug Policy Foundation, a group that backs the regulated role for medically supervised drug taking as treatment, told The Independent there is a "rising tide" of recognition that criminalising those experiencing addiction was not working.
It added that the Government will have to rethink its opposition to drug consumption rooms as support grows.
The organisations' director of campaigns, Martin Powell, said: "Our failed approach to drugs cannot be allowed to continue. Drug deaths are at a record high, while young people's drug use has risen from 15 to 24 per cent in three years.
"We welcome the PCC's recommendations, which are a sensible, real-world response to drug use and supply in the West Midlands, which we hope everyone will get behind.
"The benefits will be huge: crimes committed to fund drug use will fall, as will profits for organised crime gangs, while overdoses, HIV infections, and ambulance call-outs will be cut."
World's 10 deadliest street drugs

Show all 10
Shirley Cramer CBE, chief executive of the Royal Society for Public Health, said the recommendations were welcome. "We know that diverting people suffering as a result of harmful substance use away from the criminal justice system and into treatment leads to better outcomes for the individual and for society, and we know that pragmatic harm reduction interventions, such as drug consumption rooms, heroin assisted treatment and drug safety testing, can play an extremely helpful role in that process," she added.
"It is heartening to hear more influential voices, with on-the-ground experience of these issues, give these measures their backing."
A Home Office spokesperson backed the move to bring together police and health partners, but added: "This Government has no plans whatsoever to introduce drug consumption rooms. There is no legal framework for the provision of drug consumption rooms in the UK.
"A range of offences is likely to be committed in the operation of drug consumption rooms. We expect local police forces to enforce the law in such circumstances.
Register for free to continue reading
Registration is a free and easy way to support our truly independent journalism
By registering, you will also enjoy limited access to Premium articles, exclusive newsletters, commenting, and virtual events with our leading journalists
Already have an account? sign in