Eating chips twice a week 'doubles your chance of death', says study
British people consumed three times as many chips in 2014 than in 1974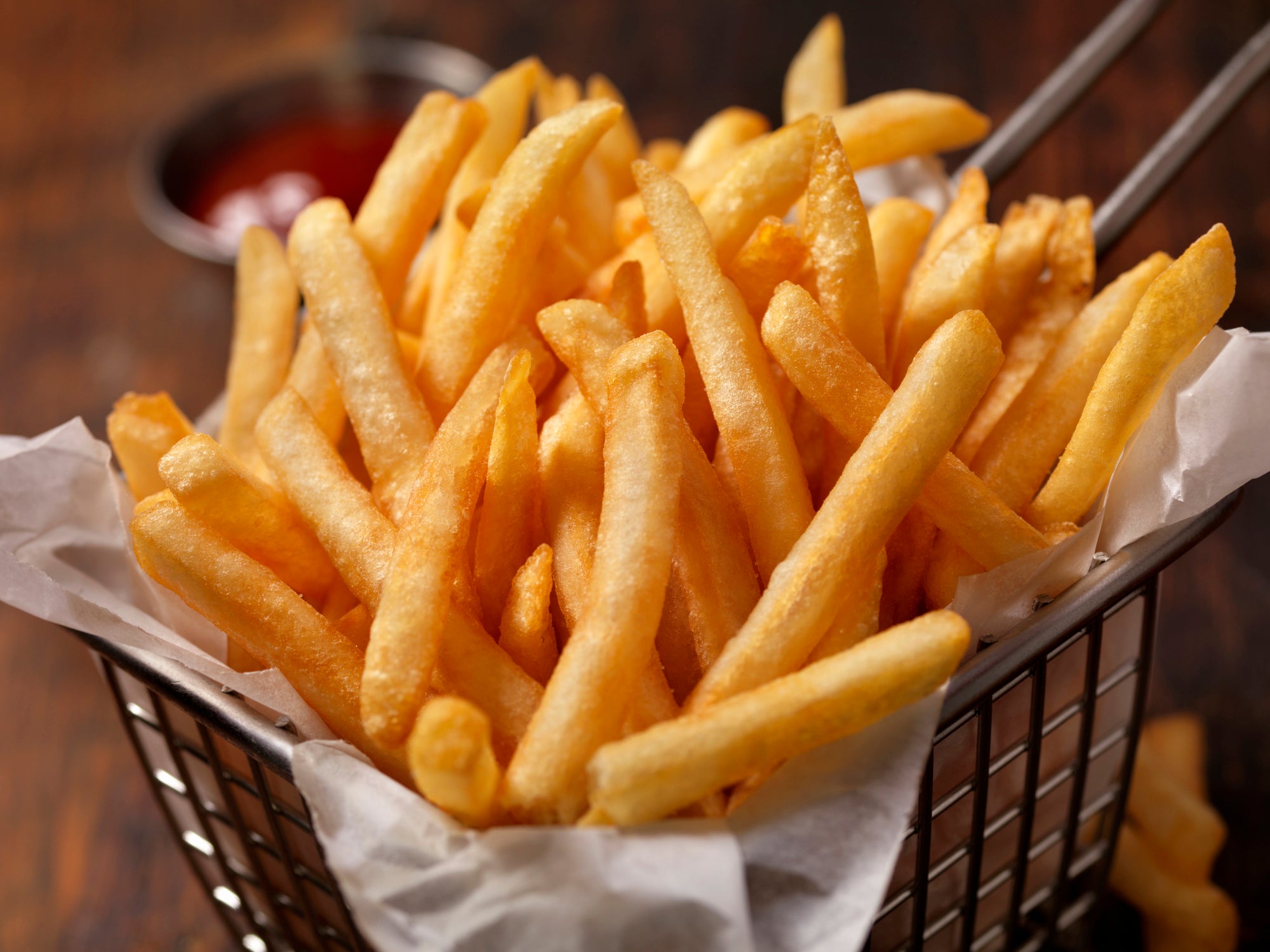 Eating chips more than twice a week can double your risk of dying, a new study has found.
Whether with battered cod, a burger, curry sauce or doused in salt and vinegar, chips of all varieties are one of Britain's favourite treats.
People in the UK consumed three times as many chips in 2014 than in 1974 – including frozen chips bought in the supermarket – according to the Government's National Food Survey.
But while it's common knowledge that indulging a chip habit too often can lead to weight gain, it may also affect mortality rates, researchers have now shown.
The study, published in the American Journal of Clinical Nutrition, found that over an eight-year period, people who regularly ate fried potatoes were twice as likely to die.
Researchers analysed the potato consumption and health of 4,440 people aged between 45 and 79. After eight years had passed, 236 of the participants had died.
They found that while eating lots of potatoes overall – regardless of cooking method – did not increase the risk of death within that time period, those who consumed fried potatoes two to three times a week were twice as likely to die compared to those who did not eat any.
All types of fried potatoes, including hash browns, crisps, and wedges, were linked to a hike in death rates.
Six healthy breakfast recipes to try
Show all 6
"The frequent consumption of fried potatoes appears to be associated with an increased mortality risk," concluded the researchers, led by Dr Nicola Veronese from the National Research Council in Padova, Italy.
The scientists said the age or sex of the participants did not influence the result, but highlighted that other factors including obesity, lack of exercise and high salt consumption may also have contributed to the deaths.
"Fried potato consumption may be an indicator of a less healthy (Western) dietary pattern which is associated with increased mortality," said Susanna Larsson, an associate professor at the Karolinska Institute in Sweden.
The National Food Survey showed that consumption of takeaway food has nearly doubled since 1974.
Obesity rates have also trebled in the last 30 years to 27 per cent in 2015, with 58 per cent of women and 68 per cent of men said to be overweight or obese.
Join our commenting forum
Join thought-provoking conversations, follow other Independent readers and see their replies