Jamie Oliver calls Theresa May's plan to scrap free school lunches a 'disgrace'
'It's a fact that children perform better after eating a decent lunch,' says chef
Katie Forster Comments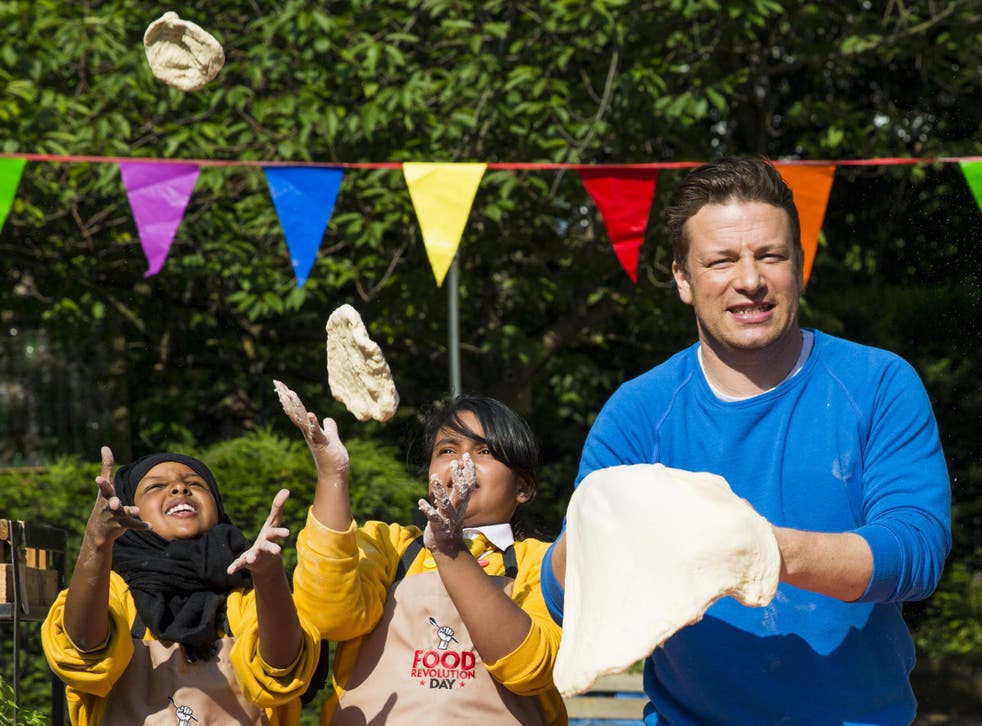 Theresa May's plan to take away free hot lunches for schoolchildren has been labelled a "disgrace" by Jamie Oliver.
The chef and campaigner, famous for improving the quality of school meals, said the move "puts our future generations at huge risk" by ignoring the proven benefits of "a decent lunch".
Plans to replace universal lunchtime meals for pupils up to the age of 7 with free breakfasts for every primary school child were announced yesterday in the Conservative manifesto.
Ms May was branded "the lunch snatcher" after unveiling the plans, which the Tories say will ease school funding cuts by providing the bulk of a £1bn cash injection for education.
"We've already seen the Childhood Obesity Strategy ripped to shreds, now Theresa May and her government have decided to remove free school lunches from millions of primary children," said Mr Oliver.
"This is a disgrace. It's a fact that children perform better after eating a decent lunch.
"This move shows a complete lack of understanding of all the data that's been shared and puts our future generations at huge risk, as well as further undermining our teachers who benefit from well-fed kids."
Theresa May launches the Conservative manifesto
The Conservatives said children from poorer families would continue to get free hot lunches – as well as free breakfasts – throughout their education.
They argued that evidence showed breakfast is as effective at helping children learn at school as a hot lunch, while being delivered at a tenth of the cost at about £60m a year.
Commenting on the plans, Liberal Democrat education spokeswoman Sarah Olney said: "Margaret Thatcher was know as the 'milk snatcher'. Theresa May will go down as the 'lunch snatcher'."
In its manifesto, the Conservative party said: "We do not believe that giving school lunches to all children free of charge for the first three years of primary school – regardless of the income of their parents – is a sensible use of public money.
"There is now good evidence that school breakfasts are at least as effective in helping children to make progress in school."
General secretary of the National Union of Teachers Kevin Courtney called scrapping free school lunches for infants "mean-spirited and wrong-headed".
UK General Election 2017

Show all 47
"It is a long time for a child to go without food from the morning until 15:30, which will be the case for many families in work but struggling," he said, according to the BBC.
Valentine Mulholland, head of policy for the National Association of Head Teachers, said many of the group's members had reported "significant improvement in concentration and engagement" from pupils since the scheme's introduction.
Mr Oliver, 41, began campaigning for healthier food for British schoolchildren in 2005, leading to the removal of fast-food options such as the infamous 'turkey twizzler' from school canteens and a move towards fresh food cooked from scratch.
Register for free to continue reading
Registration is a free and easy way to support our truly independent journalism
By registering, you will also enjoy limited access to Premium articles, exclusive newsletters, commenting, and virtual events with our leading journalists
Already have an account? sign in
Join our new commenting forum
Join thought-provoking conversations, follow other Independent readers and see their replies