Jeremy Hunt calls for national inquiry into NHS maternity safety after repeated scandals
Exclusive: In his first interview as new chair of select committee, former health secretary backs The Independent's campaign to keep mothers and babies safe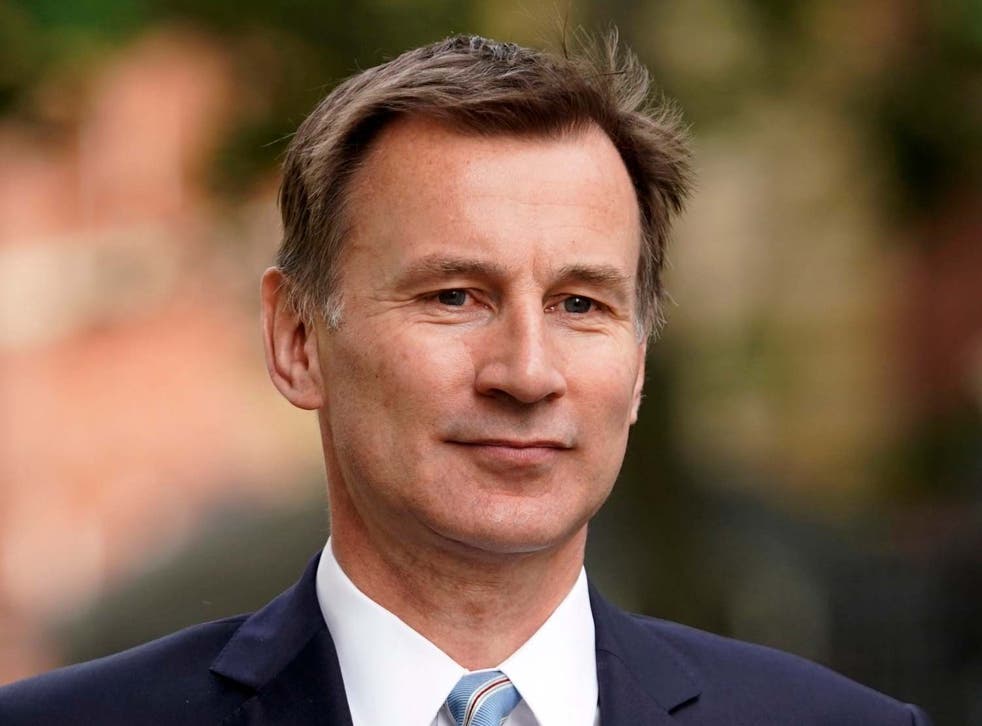 Jeremy Hunt has called for an independent inquiry into maternity safety across the NHS in the wake of a string of hospital scandals.
The former health secretary, who is now chair of the influential Health and Social Care Select Committee, also backed The Independent's campaign to reinstate a scrapped maternity safety fund – and called for a probe into why poor care and cover-ups are being repeated at different hospitals.
In November a leaked report given to The Independent revealed Britain's largest maternity scandal, at the Shrewsbury and Telford Hospital NHS Trust, where dozens of babies and mothers died due to poor care, and more than 900 cases are being investigated.
And in January East Kent Hospitals University trust was criticised over a series of deaths, including the case of Harry Richford who died as a result of neglect due to failings the hospital had been warned about years earlier.
Mr Hunt, who was Britain's longest serving health secretary, told The Independent: "I think the case is becoming unanswerable for an independent inquiry into the safety of maternity care across the NHS ... I think it's difficult to say there isn't some kind of a pattern of problems here. The question that needs answering is: why do these mistakes appear to be repeating themselves?
"Why is it that despite enormous effort, we still appear in parts of the NHS to have a defensive culture when things go wrong?"
Following the Shrewsbury and Telford scandal The Independent has launched a campaign have training on safety for thousands of NHS staff reinstated, as well as a requirement to involve harmed families in investigations of poor care.
Mr Hunt, who challenged Boris Johnson for the leadership of the Tory party, added: "It may well be that what the NHS is doing at the moment is sufficient, but it might not be and I think we need to look at this, independently, to reassure the public and say what is being done is sufficient or we need to do more."
The former foreign secretary said the issue of hospitals pursuing a "normal birth" ideology and waiting too long to perform caesarean sections was a "hotly debated topic" – and another reason for an inquiry to examine "whether the safety of mothers and babies, which is the priority for the vast majority of NHS maternity units, has been compromised in any part of the NHS, by a mistaken obsession with a particular ideology as to how births should take place".
UK news in pictures

Show all 50
The South West Surrey MP said he felt "liberated" having now left government, adding: "I will criticise the government when I don't believe they're delivering on their commitments, and I will praise them when I think they are.
"It's a very specific constitutional role. And it's a privilege to do it because in a way you are the only person in your field, who is really licenced to give an independent view and it would be a very big dereliction of duty not to do so."
He said health secretaries often had tenures shorter than "Chelsea football managers" adding: "Having done the job for longer than anyone else, it's time for me to put that experience, both good and bad, at the disposal of parliament and the country to try and prevent my successor making the same mistakes that governments make year in year out, and help us take the NHS and social care system to a more positive place."
"Throughout all my time as health secretary, the NHS didn't have enough money, and I was continually battling with No 10 and No 11 to get more money for the NHS. I got the extra £8bn in 2015 and then the extra £20bn in 2018.
"The debate now has fundamentally changed to how we use that additional funding to relieve the pressures and make the progress that we want. Where there are policies that I put in place that have not stood the test of time, I think people know me well enough to know I'll be completely honest about that."
He added: "One of the biggest single things I wish I had known at the start of my period as health secretary, which no one ever really advised me and I didn't learn until probably halfway through, is that yes, money matters, but capacity matters even more. You can put extra money in the system, but if you haven't got more doctors and nurses to spend that money you ain't gonna change anything.
"I think it's essential that there is an independently verified plan for the number of doctors and nurses that are going to be needed over the next decade. Because otherwise, in my experience, what always happens is that the Treasury bargains down the Department of Health and Social Care and you end up making compromises."
As the UK has now left the EU and is starting trade deals with countries like the USA, Mr Hunt said there were risks for the NHS but he said he was not necessarily concerned that it could be hit with big bills for higher spending on US drugs.
"I'm not concerned about it, but I am absolutely certain the Americans will ask for it. They definitely think that we pay too little for drugs. But the truth is it's a free market. We buy our drugs on the open market, the NHS uses its purchasing power as the largest purchaser of drugs in the world to get the best prices and nothing could be more free market and fair than that. But I know it's a running sore.
"I just don't see why the government would ever make a concession on that. Not least because the first thing that would happen if it did is that Simon Stevens [NHS England chief executive] would want to reopen the funding package for the NHS."
He will replace former health select committee chair Sarah Wollaston, who Mr Hunt praised saying: "I'm filling very big shoes, she was the very model of being an independent MP, respected on all sides of the house for the independence of her views and the sincerity of her commitment to the NHS, and she deserves a lot of credit for the status she gave the health and social care committee."
A Department of Health spokesperson said: "We want the NHS to be the safest place in the world to have a baby and we're committed to transforming maternity services as part the NHS Long Term Plan, backed by an extra £33.9 billion a year by 2023/24.
"We are considering all options for central support for maternity training, as part of wider efforts to improve maternity safety."
Join our new commenting forum
Join thought-provoking conversations, follow other Independent readers and see their replies