Local councils cut millions of pounds from stop-smoking services while investments in tobacco companies soar
Exclusive: Dramatic reduction in funding is having a 'severe impact on the most vulnerable people'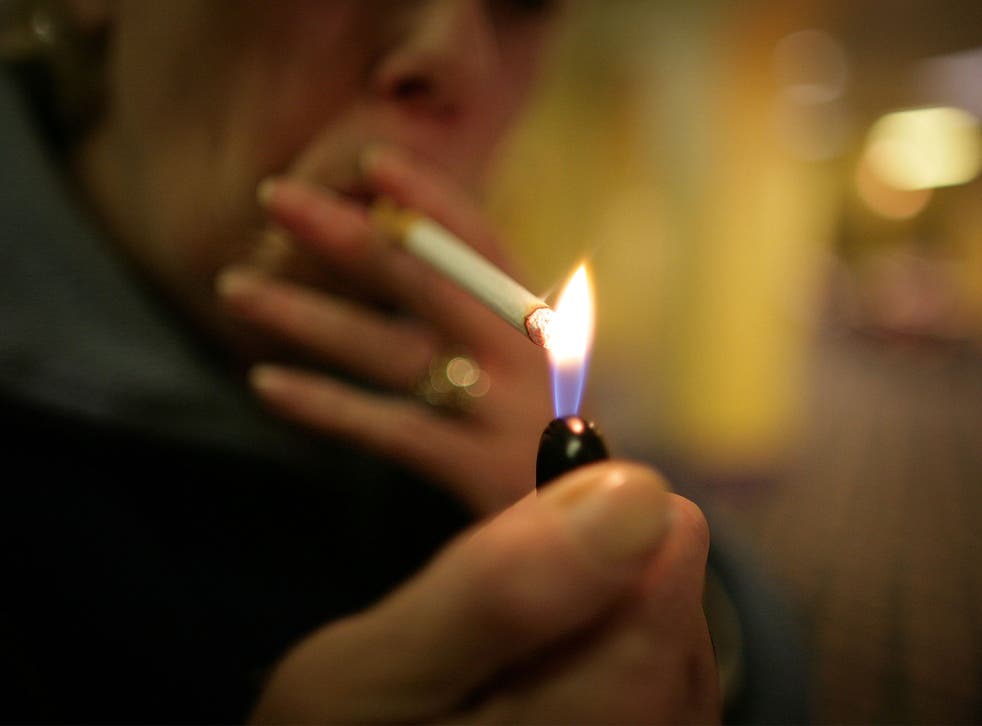 Councils are investing millions of pounds in some of the world's largest tobacco companies at the same time as funding for services to help people stop smoking is being slashed, an investigation by The Independent has revealed.
Investments in cigarette giants including Phillip Morris and Imperial Tobacco by local authorities in England have increased by hundreds of millions of pounds over the past five years.
At the same time, councils have nearly halved the money available to help smokers to beat their addiction.
In around a dozen areas, locally run stop-smoking services – widely regarded as the most effective way to quit – are being scrapped entirely.
In other cases, programmes are being scaled back, with only those who are pregnant or suffering from long-term health conditions offered help to give up.
The dramatic reduction in funding, which is revealed in freedom of information requests submitted by The Independent, is having a "severe impact on the most vulnerable people", critics have warned.
One council, the Royal Borough of Windsor and Maidenhead, saw investments in tobacco firms through its independently managed pension fund climb from £5m in 2012-13 to £27m in the last financial year.
Meanwhile, the borough – home to Theresa May's constituency – cut funding for smoking-cessation services from £278,000 to £97,000.
In 90 seconds: A history of smoking laws
A similar pattern is repeated in local authorities across the country, including Wiltshire, where investments more than doubled to £23.8m while funding for health initiatives to wean smokers off cigarettes was trimmed by more than two-thirds.
Over the five year period to April, total investments in tobacco companies by the 50 local authorities that responded to The Independent's request jumped by more than £300m.
That saw total investments climb from £1.007bn in 2012-13 to £1.317bn in 2016-17.
Over the same period, the 113 local authorities that responded to a request for figures on stop-smoking services had cut spending from £101m to £55m.
Although pension funds are controlled by investment managers rather than council employees, there is growing pressure on national and local government to oversee responsible investing, and a handful of mostly London-based councils hold no investments in tobacco firms at all.
Responding to the figures, the Royal Society for Public Health urged councils to recognise the "vast and calculated global harm caused by multinational tobacco firms" and divest.
The charity's chief executive, Shirley Cramer, said: "The UK boasts some of the fastest-declining smoking rates in the world, and one of the key tools in driving this has been hugely effective council-funded stop-smoking services – the same services whose funding has been cut in two over the past five years.
"While councils may have had their hand forced on this by central government cuts, they should not with the other hand be boosting their financial stake in the tobacco industry – which continues to pour billions into fuelling smoking-related harm."
In Bromley, tobacco firm investments doubled from around £5m to £11m, while council-funded stop smoking services have been scrapped entirely.
The south London borough said its pension fund managers "cannot make any illegal investments, nor any investments contrary to UK defence or foreign policy, but are otherwise able to make investment decisions to secure the best returns".
Kent County Council saw pension investments in tobacco firms rise from £26m in 2012-13 to more than £70m five years later. In Warwickshire, investments spiralled from £1.8m to £11m over the period while in Northamptonshire, investments trebled to almost £30m. The West Midlands Pension Fund holds the largest total investment, with more than £100m spread across cigarette companies in Europe, Asia and North America.
And the total amount invested by English councils could be far higher as a number of local authorities were unable to provide the data.
Dr Penny Woods, of the British Lung Foundation, said smoking-related costs of more than £12bn to the taxpayer each year meant cutting services was "not just short-sighted economically, but dangerous for the nation's health".
But Simon Clark, director of the smokers' group Forest, said slashing funding for smoking-cessation programmes made "perfect sense" as demand for the service had dropped, with smokers increasingly turning to e-cigarettes.
In 2013, responsibility for public health was taken from the NHS and handed to local authorities. Since then, smoking-cessation services have been squeezed because of a "cut in the public health grant and the wider cuts to local authority budgets", a report in the Journal of Public Health found.
The report's authors warned that services were now reliant on support from councillors and stop smoking initiatives could be easily scrapped if their priorities changed.
Labour MP Sharon Hodgson, a shadow health minister, criticised the Government for its "disastrous failure to properly fund local authority services", warning that the lack of money was having a "severe impact on the most vulnerable people, including smokers reliant on crucial stop smoking services".
Register for free to continue reading
Registration is a free and easy way to support our truly independent journalism
By registering, you will also enjoy limited access to Premium articles, exclusive newsletters, commenting, and virtual events with our leading journalists
Already have an account? sign in
Register for free to continue reading
Registration is a free and easy way to support our truly independent journalism
By registering, you will also enjoy limited access to Premium articles, exclusive newsletters, commenting, and virtual events with our leading journalists
Already have an account? sign in
Join our new commenting forum
Join thought-provoking conversations, follow other Independent readers and see their replies