Hospitals forced to repay millions after falsely claiming their maternity units were safe
Hospitals at the centre of maternity scandals wrongly claimed they were among the safest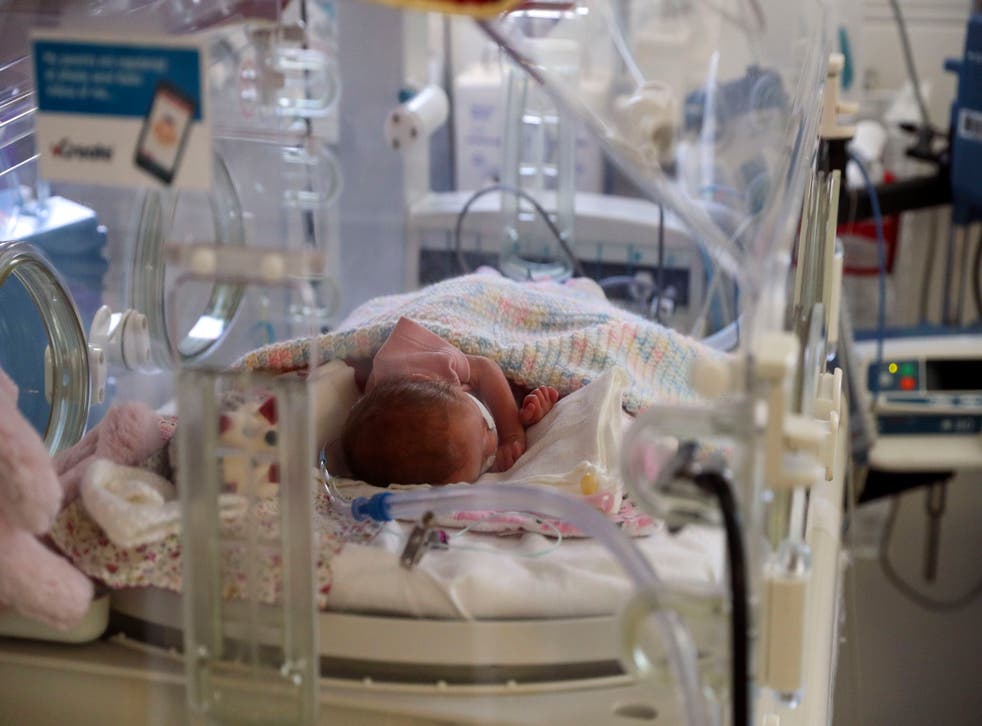 NHShospitals have been forced to pay millions of pounds to regulators after wrongly claiming their maternity units were among the safest in the country.
Seven NHS trusts, including some now at the centre of major care scandals, will have to pay back a total of £8.5m after self-assessments of their maternity services were found to be false.
Families whose babies died as a result of avoidable errors at some of the hospitals told The Independent it was further evidence of poor governance and management failings.
NHS Resolution, which acts as the health service's insurer for clinical negligence, launched the maternity incentive scheme in 2018 in an effort to focus action on 10 key safety areas in maternity.
There were almost £5bn of clinical negligence claims against the NHS in 2018-19, of which 60 per cent involved maternity services.
Among the trusts forced to give money back over the first two years of the scheme include Shrewsbury and Telford Hospital Trust, which paid back £953,000. An inquiry into its maternity service found a dozen women and more than 40 babies died as a result of poor care in one of the largest maternity scandals in NHS history.
East Kent Hospitals University Trust, which is facing an inquiry into baby deaths and a criminal prosecution by the Care Quality Commission over the death of baby Harry Richford in 2017, face paying back £2.1m over two years.
Also on the list is Nottingham University Hospitals Trust which will have to return £890,000 after it was criticised for its "unsafe culture" last year by a coroner following the death of baby Wynter Andrews.
In December, inspectors from the Care Quality Commission downgraded the trust's maternity unit to inadequate and warned women were being left at risk because of a shortage of midwives.
Also on the list was University Hospitals Birmingham, which repaid almost £3m in both years after an internal review of the trust's maternity services.
Three other trusts who are expected to have to repay money after safety concerns were raised by the Care Quality Commission include North West Anglia Foundation Trust, West Suffolk Foundation Trust and Northern Devon Healthcare Trust.
Derek Richford, who helped expose failings at East Kent after the death of his grandson, told The Independent it was "abhorrent" that the trust claimed "vital NHS funds by falsely claiming that they had achieved 10/10 for maternity safety when the truth was in fact 6/10. East Kent Trust did this two years running and even when asked to check their submission, reconfirmed the erroneous data to NHS Resolution."
Mr Richford challenged this with the local MP Roger Gale, and the chief executive Susan Acott defended the trust's position as correct. Mr Richford added: "To me this is a dereliction of duty and would be unacceptable in any other walk of life."
Gary and Sarah Andrews, parents of Wynter Andrews, who died at Nottingham University Hospitals, said: "If the trust are prepared to misreport to get funding it confirms to us that they can mislead families as they did to us. What worries us is where that money has gone over the years, as it hasn't been used for safe staffing levels or equipment, as the CQC found were both lacking.
"This was a basic reporting requirement and the trust failed. This is exactly why external oversight by an independent inquiry is needed."
Their lawyer Natalie Cosgrove added: "My experience from representing families who have suffered tragedy as a consequence of maternity failings, is that Nottingham has still not learned lessons following the avoidable deaths of so many of its patients. The trust clearly still has a defective management culture and this is reflected in their failure to properly report to NHS Resolution."
The 10 safety actions that trusts are supposed to meet include ensuring they have systems in place to review deaths, monitor women and plan staffing levels as well as reporting incidents to the Healthcare Safety Investigation Branch which investigates maternity incidents in the NHS.
An evaluation of the scheme by NHS Resolution said it was "recognised that recent examples of poor governance from trusts in relation to the certification of submissions require further action".
It expects NHS chief executives to sign off on declarations that their maternity units meet the standards and any hospitals who are found to have misdeclared will be referred to NHS England.
A spokesperson for NHS Resolution said: "The maternity incentive scheme makes a strong financial case for NHS trusts to focus on actions to improve the safety of maternity services, and has put investment in patient safety firmly on the agenda of trust boards. Ongoing evaluation of the scheme will ensure that the scheme's safety actions continue to make a difference and benefit patients."
In total, more than 115 NHS trusts have declared themselves to meet all 10 safety actions in the most recent year, with 14 NHS trusts failing on at least one measure.
A spokesperson for Nottingham University Hospitals Trust, which met seven out of the 10 standards, said: "We want to provide the best maternity services for local people, and launched our maternity improvement programme last year to ensure that improvements are made.
"We were disappointed that although we met the majority of the criteria, we were unable to provide all of the robust evidence that NHS Resolution required, on this occasion, but we have committed to hitting the standards required and making our maternity services one we can be proud of."
At East Kent the trust said it had submitted a bid for funding from NHS Resolution to make improvements and has received £270,000 to fund extra training and improve the maternity triage unit at the William Harvey Hospital, Ashford.
A spokesperson for University Hospitals Birmingham said: "While the trust has had to downgrade its submission to not compliant, in most cases, the downgrading was because we were unable to identify evidence of full compliance with every standard.
"We consider the standards to have been partially met and, in most cases, the non-compliance was concerned with the lack of evidence of board reporting and discussions between individuals, rather than non-delivery of the safety actions."
Join our new commenting forum
Join thought-provoking conversations, follow other Independent readers and see their replies