Whistleblowers trigger downgrade of maternity unit over staff shortages
Midwives tell regulator their concerns over staffing levels were not acted on by hospital bosses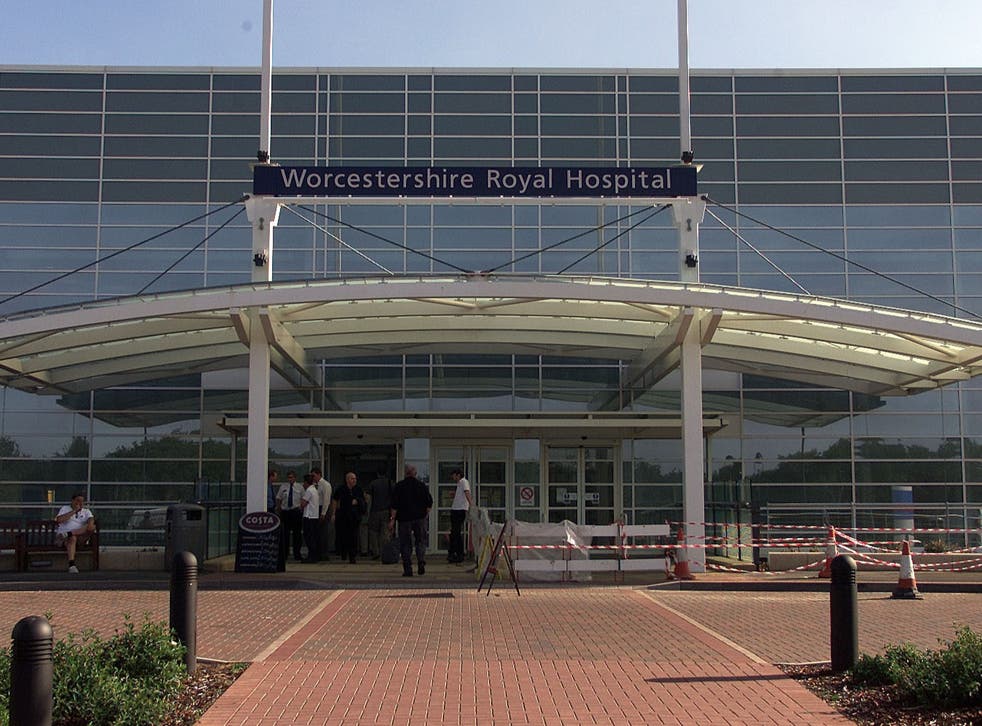 A hospital's maternity unit has been downgraded over safety fears after whistleblowers raised alarms over unsafe staffing levels.
The Care Quality Commission has issued Worcestershire Royal Hospital with demands to improve after inspectors found shifts had only half the required number of midwives during an inspection in December.
The regulator said whistleblowers had raised repeated concerns over unsafe staffing levels in the maternity unit which were not being acted on by managers.
According to its inspection report, the CQC found there was a shortfall of registered midwives between September and December of 49 per cent. Between March and June last year the unit was 30 per cent short of midwives.
The safety of maternity services across the NHS has been in the spotlight after a string of safety scandals. The Royal College of Midwives has warned the NHS needs thousands more midwives to ensure services are safer.
The inspectors said staff on the unit did not feel "respected, supported and valued by all managers", adding: "Most staff we spoke to told us that morale was low due to continuous short staffing. They told us that the impact of longstanding staffing issues had impacted on staff morale.
"All staff we spoke with raised concerns regarding midwifery safe staffing and felt that their views and comments regarding this were not considered. Staff reported continually escalating concerns to senior staff relating to staffing levels with no response.
"The service did not always have an open culture where staff could raise concerns without fear."
Doctors on the unit reported being supported with a no-blame culture and good learning with the CQC finding there were enough doctors to keep patients safe.
Managers at the trust told inspectors the data did not account for staff redeployment taken on a shift-by-shift basis to keep mothers and babies safe. Inspectors said the number of times managers escalated staffing concerns had not been documented so it could not be sure how often the process had been used.
The Worcestershire Acute Trust has around 5,000 births a year and employs more than 200 midwives.
The CQC last inspected maternity services in June 2018 but carried out the unannounced inspection after several whistleblowers contacted it last year.
It said: "Between July and September 2020, we received four whistleblowing enquiries relating to maternity services. Staffing levels were the main area of concern reported.
"We spoke to staff of all disciplines throughout the unit who unanimously raised concerns about safe midwifery staffing levels and reported they did not feel their concerns were always considered by managers. Midwives told us that the service was always short staffed and that they were moved frequently within the department."
The whistleblowers told the regulator the new requirement for continuity of care for women had made staffing levels harder. Managers admitted that at the times the service was not able to match the severity of patients' needs.
Th CQC acknowledged the impact of Covid-19 on services and said that up to 15 per cent of midwives were unable to work clinically due to the need to shield from the virus and this was not included in the staffing plans.
UK news in pictures

Show all 50
The watchdog added that due to pressures on midwives they did not always have time to report incidents while some staff said they had stopped doing so because they received no feedback.
It also warned that some incidents had been graded wrongly as low harm, such as when full term babies needed to go to the neonatal unit for specialist care. This meant some care might not be investigated and that women might not be properly told about harm caused to them or their babies.
Other concerns including not all staff being up to date with their training and not all risk assessments being properly completed. An audit in June found only 40 per cent of women in triage were reviewed by a doctor within the right time and less than half of the paperwork was completed accurately.
Whistleblowers also told the CQC women were having to wait too long for inductions with some women waiting up to a week instead of one or two days. Managers said there had been delays for six women. The CQC said the length of delays was not recorded.
Following the inspection, the maternity service's overall rating went down from "good" to "requires improvement".
The CQC's chief inspector of hospitals, Ted Baker, said: "We fully appreciate that hospitals are facing a particularly challenging time currently. However, it is crucial that women get the safe and personalised birth experience they are entitled to and that midwifery staff feel supported and valued in order to achieve this.
"Staff should never feel that their concerns are not listened to and we are pleased service managers have initiated meetings to listen to staff with a view to taking action in the problem areas."
Vicky Morris, chief nurse for Worcestershire Acute Hospitals Trust, said an extra 10 midwives had now been recruited.
She added: "Managing maternity services through the Covid-19 pandemic has been extremely challenging for all our staff and we thank them for their commitment and dedication during what has been a very difficult period.
"We were pleased that the report reflected the success of our efforts to redeploy colleagues to maintain safe staffing levels and the valuable support from our medical team.
"We were already taking action to address the midwifery staffing issues which are described in the report before the inspection was carried out, and we have continued to make progress since the inspectors visited us in December."
Join our new commenting forum
Join thought-provoking conversations, follow other Independent readers and see their replies