Measles cases in first three months of 2019 up 300% globally, WHO says
Outbreaks causing 'many deaths, mostly among children' with cases rising in all regions organisation monitors
Alex Matthews-King
Health Correspondent
Monday 15 April 2019 20:01 Comments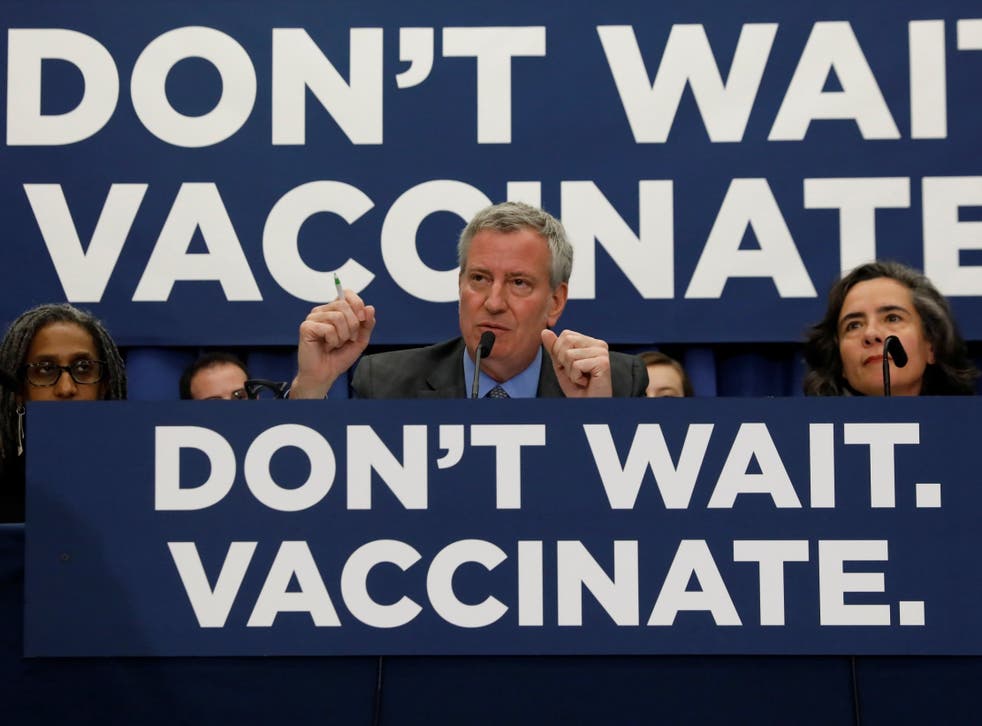 A global resurgence of measles showed no sign of slowing down as preliminary data from the World Health Organisation (WHO) revealed the number of cases quadrupled in the first three months of 2019 in comparison to the same period last year.
Initial figures show 112,163 cases of the highly infectious disease were reported across 170 countries by April, compared to 28,124 in the same period in 2018.
The WHO said this indicates a clear trend with many countries experiencing sizeable outbreaks, and every region it monitors seeing an increase in cases of the potentially deadly disease.
There has been a 300 per cent rise in cases reported in Europe – which last year saw the highest number of cases for a decade – and a nearly 700 per cent rise across Africa, the WHO said.
Outbreaks in the Democratic Republic of the Congo, Ethiopia, Georgia, Kazakhstan, Kyrgyzstan, Madagascar, Myanmar, the Philippines, Sudan, Thailand and Ukraine, are causing many deaths – mostly among young children, it added.
The famous faces of the anti-vaccine movement

Show all 7
The WHO has previously warned a rising tide of vaccine scepticism, increasingly propagated by false claims on social media, has contributed to the resurgence of measles in many areas where it was virtually eradicated.
"Spikes in case numbers have also occurred in countries with high overall vaccination coverage, including the United States of America as well as Israel, Thailand, and Tunisia, as the disease has spread fast among clusters of unvaccinated people," the WHO added.
The disease is one of the most contagious in the world, and caused close to 110,000 deaths in 2017.
Even in high-income countries around a quarter of cases end up in hospital because of complications, which can cause life-long disability, brain damage, deafness and blindness.
The failure to adequately fund vaccination programmes and health awareness schemes in developing countries is another major driver of outbreaks.
There have been more than 115,000 cases – and 1,200 deaths – in Madagascar since September, sparking an emergency vaccination programme which aimed to reach 7 million children under the age of nine.
The figures show new measles cases and deaths in the country are starting to decline.
Official measles data is released by the WHO annually in July, but it warned figures are likely to underestimate the true scale of the problem as less than 10 per cent of infections are reported.
Measles is almost entirely preventable with two vaccination doses, but global coverage has stalled.
Support free-thinking journalism and attend Independent events
Much of the modern anti-vaccination movement can be traced back to a 1998 paper from disgraced researcher Andrew Wakefield who claimed the combined measles, mumps and rubella vaccination increases the risk of autism.
Mr Wakefield has since been stripped of his medical license and the paper, which has never been replicated, withdrawn. However he remains a driving figure of the anti-vaxxer movement in America.
Register for free to continue reading
Registration is a free and easy way to support our truly independent journalism
By registering, you will also enjoy limited access to Premium articles, exclusive newsletters, commenting, and virtual events with our leading journalists
Already have an account? sign in
Join our new commenting forum
Join thought-provoking conversations, follow other Independent readers and see their replies