Global health chief warns 'Whole Foods mums' over MMR vaccine
Parents 'trying to be organic' are shunning the potentially life-saving injections, says Seth Berkley, the head of international vaccine alliance Gavi
Jon Sharman
Saturday 16 September 2017 16:45 Comments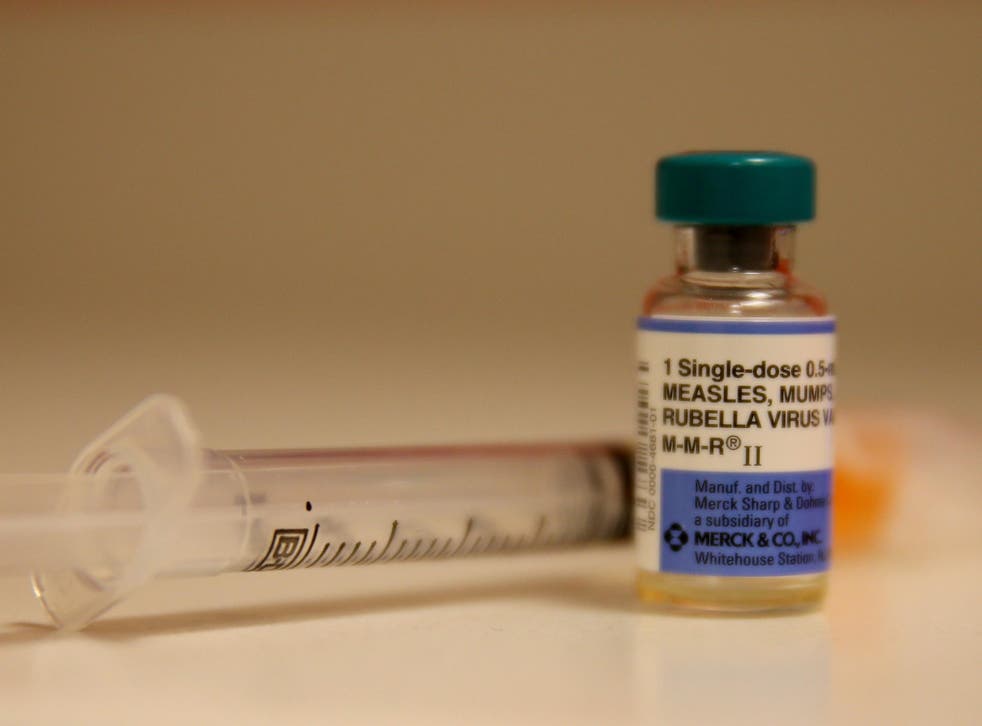 The creeping return of deadly diseases like measles should be blamed on "Whole Foods mums" who refuse to vaccinate their children, a global health chief has said.
Parents in developed countries are shunning the life-saving injections by "trying to be organic", amid a barrage of anti-vaccine conspiracy theories led by American celebrities, said Seth Berkley, the head of international vaccine alliance Gavi.
He told The Times: "Are developed countries moving away from vaccines? Yes, and one of the reasons is we don't see the diseases any more. People think they aren't relevant."
He added: "We're really in trouble" when US celebrities like ex-model Jenny McCarthy, who loudly oppose vaccinations despite overwhelming scientific evidence of their safety, have "the same credibility as the American Academy of Paediatrics" among some parents, he said.
A drop in vaccinations in Western countries is also partly down to parents "not seeing people die from these diseases," Dr Berkley said.
His organisation, Gavi, is a joint public and private partnership that includes governments, the World Health Organisation, Unicef and the World Bank as well as philanthropists including Bill and Melinda Gates.
It combines demands from developing countries to create a larger, more attractive market for manufacturers of vaccines.
Much anti-vaccine sentiment stems from the claims of disgraced former doctor Andrew Wakefield, who was struck off over a fraudulent study that was later retracted by The Lancet, the journal that had published it.
His influence remains strongest in the US where he moved after Britain's General Medical Council found, in 2010, he had committed "multiple separate instances of serious professional misconduct" including conducting invasive tests on children without ethical approval.
Mr Wakefield's claim that the measles, mumps and rubella triple vaccine (MMR) was linked to autism has found particular traction there.
Scientists agree there is no evidence to support the conspiracy. The American Centre for Disease Control said: "No links have been found between any vaccine ingredients and [autism]."
Vaccine conspiracists claim to have found succour at the highest levels of US government, however, with one saying last year that now-President Donald Trump appeared to pledge his support for her campaign.
Mr Trump has speculated on a potential vaccine-autism link in the past.
The UK must also be on the alert for slipping vaccination rates, Dr Berkley told The Times. He said: "It's the Whole Foods mums. You're trying to be organic, you're trying to do the right thing for your kids and all of a sudden you're like, 'Well, do I need to inject these things?'
"My children are fully vaccinated and I would consider myself to not be a good parent if I didn't do that."
World news in pictures

Show all 50
The measles "immunisation gap" is thought to amount to about 24,000 children a year in England, and the most recent figures put coverage for the first of two MMR jabs at 91.7 per cent in children aged 24 months, UK-wide.
MMR1 coverage at five years is 95.4 per cent, but the second jab has suffered a reverse in fortunes, falling to 88.1 per cent coverage across the UK, data showed. England lags behind the devolved administrations in all the figures.
At their lowest ebb following the Lancet study's publication in 1998, rates dropped to below 50 per cent in parts of London.
Measles is feared because it is highly infectious and comes with a risk of severe complications that, Dr Berkley said, could "turn your brain into liquid".
A spike in cases in 2013 was largely attributed "to the proportion of unprotected 10- to 16-year-olds who missed out on vaccination in the late 1990s and early 2000s when concern around the discredited link between the vaccine and autism was widespread", NHS England said earlier this year.
Register for free to continue reading
Registration is a free and easy way to support our truly independent journalism
By registering, you will also enjoy limited access to Premium articles, exclusive newsletters, commenting, and virtual events with our leading journalists
Already have an account? sign in
Join our new commenting forum
Join thought-provoking conversations, follow other Independent readers and see their replies