'Monkey dust': What is the drug 'causing a public health crisis' that induces hallucinations, paranoia and dulls sensitivity to pain?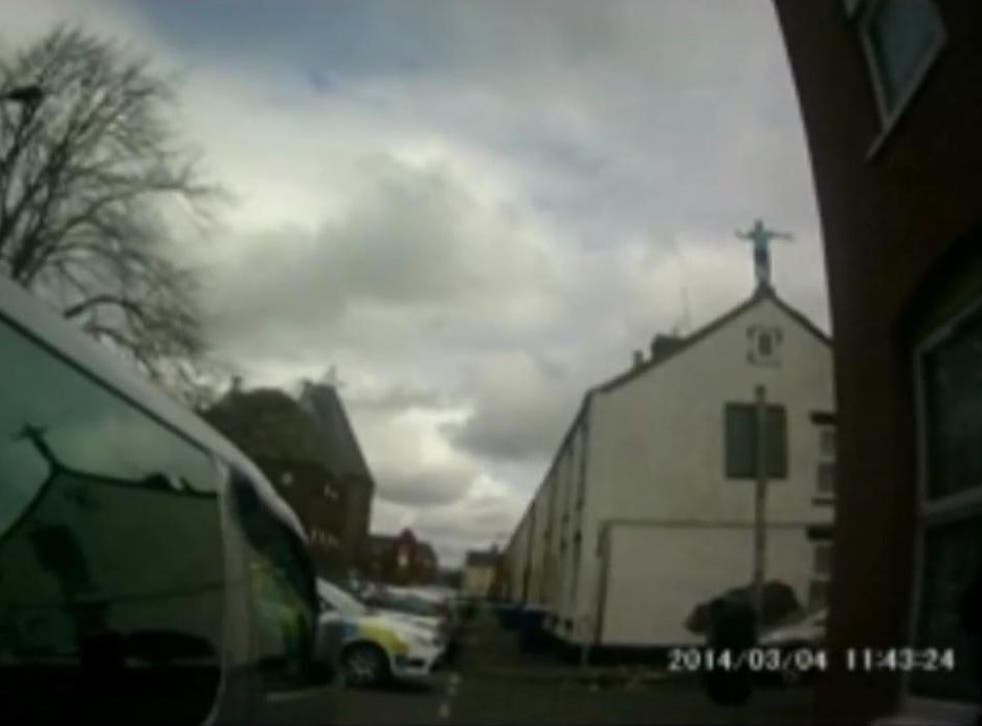 Footage from Staffordshire Police of a person believed to have taken monkey dust shortly before they fell off the roof onto a car and began fighting police
(Sky News)
Police officers in the West Midlands are warning of a "public health crisis" over a new synthetic drug known as monkey dust that can be bought for as little as £2.
The drug causes hallucinations and paranoia, and users have been known to climb trees and buildings and will lash out at members of the emergency services who approach them.
So what is the drug and how big a problem is it?
What is monkey dust?

Monkey dust is also known as MDPV and comes as an off-white powder which can be swallowed, injected or snorted.

It is from a family of drugs known as cathinones. While MDPV is man-made, a so-called "designer drug", the cathinones include the naturally occurring stimulant khat, popular among some sections of the Somali and other West African communities.

Before 2010 cathinones could be bought in 'head shops', but they were reclassified as Class B drugs in legislation rushed through Parliament to tackle the rise of the drug, mephedrone, before a wider crack down on so-called "legal highs".

They are chemically similar to amphetamines and have similar effects. Synthetic forms like MDPV can be made with various tweaks in their chemical structure and can cause unpredictable effects.

MDPV has already gained notoriety in America, where it was known as "bath salts". Fears around the drug were sparked by a number of reported "cannibalism incidents". This includes the case of Miami man Rudy Eugene who was shot while naked and chewing another person's face — though this was later put down to psychosis not linked to the drug. Another incident with the drug led to an elderly woman being attacked with a shovel by a man claiming to be an alien.

What does it do?

Monkey dust dampens perceptions of pain and causes powerful hallucinations which lead to severe paranoia.

Police officers report users often feel they are being chased and will lash out or climb buildings to escape, and this has led to serious falls.

In an interview with Sky News, PC Rich Frost said violent users were all too common, adding: "When you are trying to restrain them it's almost like trying to restrain someone who thinks they are the Incredible Hulk, the strength is unbelievable."

The effects can last several days and rapidly lead to addiction with meth-like withdrawal symptoms.

Why is monkey dust on the rise?

Doses of the drug can be bought for as little as £2 in Stoke-on-Trent and its effects can be felt even after ingesting amounts as small as 3mg, meaning a little will go a long way and it can rapidly lead to users becoming addicted.

Its increase mirrors the growing epidemic of synthetic cannabinoids, including "spice" and "black mamba", which were also made illegal in the ban on legal highs.

How big an issue is monkey dust?

Staffordshire Police said on Friday that it has dealt with 950 calls related to the drug in the past three months, an average of 10 per day.

It was first reported as an issue in the county in 2016 but its presence has grown the force's chief superintendent, Jeff Moore, spoke out publicly this week to call for a concerted effort to stamp it out.

"The drug is highly addictive and highly unpredictable, meaning emergency services can often struggle to provide the appropriate treatment to those under the influence," Chief Superintendent Moore said.

"Every user acts differently, displaying behaviour that is volatile and dangerous to both the user and emergency services personnel responding."

While Staffordshire is a known epicentre for the drug, West Midlands Ambulance Service said it has dealt with cases across the region. Paramedics have been called to 178 incidents since April involving monkey dust — 131 of them in North Staffordshire.

In July, Shropshire police linked a bad batch of the drug to two deaths in Telford and warned people not to take it. West Mercia Police have issued similar warnings over the drug in Worcestershire.
Register for free to continue reading
Registration is a free and easy way to support our truly independent journalism
By registering, you will also enjoy limited access to Premium articles, exclusive newsletters, commenting, and virtual events with our leading journalists
Already have an account? sign in
Register for free to continue reading
Registration is a free and easy way to support our truly independent journalism
By registering, you will also enjoy limited access to Premium articles, exclusive newsletters, commenting, and virtual events with our leading journalists
Already have an account? sign in