NHS A&E waiting time performance at worst ever levels
Emergency departments in a 'state of emergency' experts warn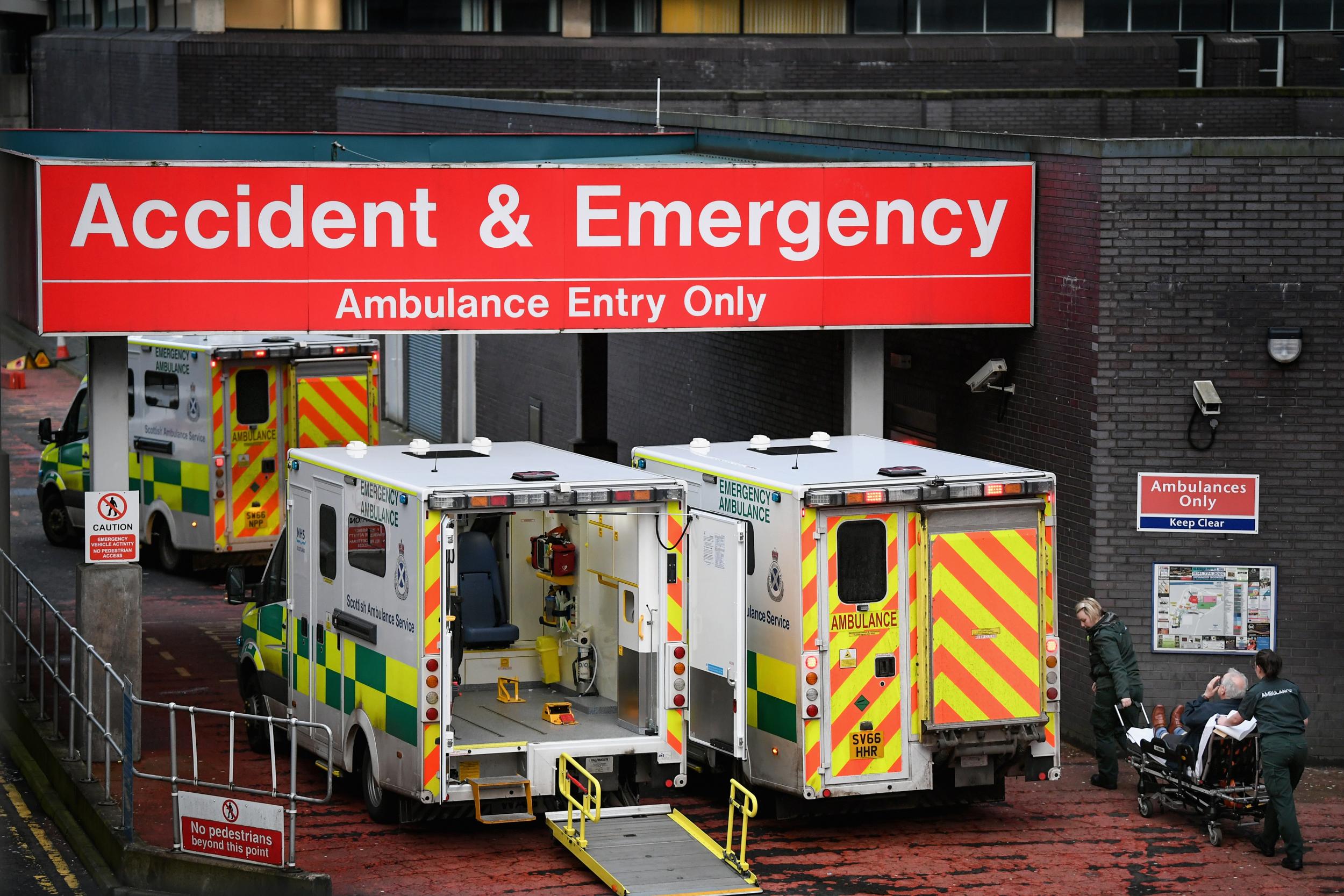 Record numbers of patients are being forced to wait longer than than four hours to be seen in A&E as underfunded hospitals struggle with an unfolding winter crisis, official figures show.
MPs have warned Government ministers will have "blood on their hands" if they don't get to grips with the pressures in A&E, which are at the worst levels since standards were set in 2004.
Figures for December show 85.1 per cent of patients waited longer than four hours to be seen in A&E departments, equalling the record set in January 2017 last year when pressures were at their peak.
This is well below the official target of 95 per cent target, which has not been hit since 2015.
But these figures mask even greater pressures in "type 1" A&E departments, centres with 24-hour resuscitation facilities for the most serious patients, where four-hour target was as low as 77.3 per cent.
Health news in pictures
Show all 40
The previous record, from January 2017, was 77.6 per cent, which suggests figures could fall further in the figures for the first month of 2018.
In Blackpool Teaching Hospitals NHS Foundation Trust, which The Independent revealed had closed one of it's children's wards to house adult patients, type 1 A&E wait performance fell to 40.1 per cent.
It is also in spite of repeated assurances from Theresa May and Jeremy Hunt that the NHS is better prepared for this winter than ever.
Medical experts said this showed the decision to cancel non-urgent care last week, until at least February, was a sensible one but it would store up disruption for patients and hospitals later on.
Dr Taj Hassan, president of the Royal College of Emergency Medicine said this performance was "the worst ever" and represents a "danger to patient safety" as there are 7,000 fewer beds open than at this point last year.
He said: "Our emergency departments are not just under pressure, but in a state of emergency.
"This is not just business as usual and these figures make clear the scale of the situation."
A spokesperson for the Royal College of Surgeons said performance was declining despite staff efforts and increased planning.
"The fact remains that we do not have adequate funding or capacity in our health or social care services," they added.
This comes after NHS bosses wrote to the newly promoted Health and Social Care Secretary, this morning, warning the NHS has insufficient funds to meet standards.
It is also despite a last minute injection of £335m funding for this winter, and an extra £1.6bn for 2018/19, which was given explicitly to improve performance against waiting time targets.
The uplift was less than half of the £4bn health experts said the NHS needs next year.
The Liberal Democrat former Health Minister Norman Lamb said: "The NHS is facing record levels of pressure - meaning every day patients are dying and experiencing dreadful failures of care.
"Yet all the government does is offer inadequate sums of money which barely keep our health service going.
"Theresa May cannot ignore this crisis any longer. Ministers have a choice: agree to work with others to deliver a proper, sustainable settlement for the NHS or be left with blood on their hands."
The monthly performance figures were released alongside NHS England's weekly winter operational data, which shows that bed occupancy is again at 95 per cent across the NHS, up from 91.7 per cent over the Christmas break.
Theresa May says 55,000 missed operations are part of the NHS plan
Experts warn routinely operating above 85 per cent is unsafe.
This has been driven in part by increases in seasonal pressures from flu and a 30 per cent increase in the number of beds shut down by outbreaks of the norovirus vomiting bug, with 944 beds shut compared to 731 last week.
Last year the NHS struggled, even without a major flu outbreak, and despite additional funding and planning this year the extra capacity is already under strain.
NHS England said that the numbers of patients stuck in hospital unnecessarily, officially known as delayed transfers of care (DTOCs) because of a lack of community or social care capacity to discharge them were at record lows.
A spokesperson said: "Despite the clear pressure on the NHS in December, with rising levels of flu and record numbers of 111 calls and hospital admissions, we managed to hold A&E performance at the same level as last January.
"We also saw the best seasonal performance on NHS DTOCs in four years, and went into winter with cancer and routine surgery waits both showing improvements."
Adding that reductions to DTOCs and extra funding in the Autumn budget meant an extra 2,500 beds were open over winter.
Join our commenting forum
Join thought-provoking conversations, follow other Independent readers and see their replies