Revealed: NHS Ambulances fail to reach most seriously ill and injured patients in time despite efficiency drive
Exclusive: Unions accuse NHS England of 'manipulating' response time targets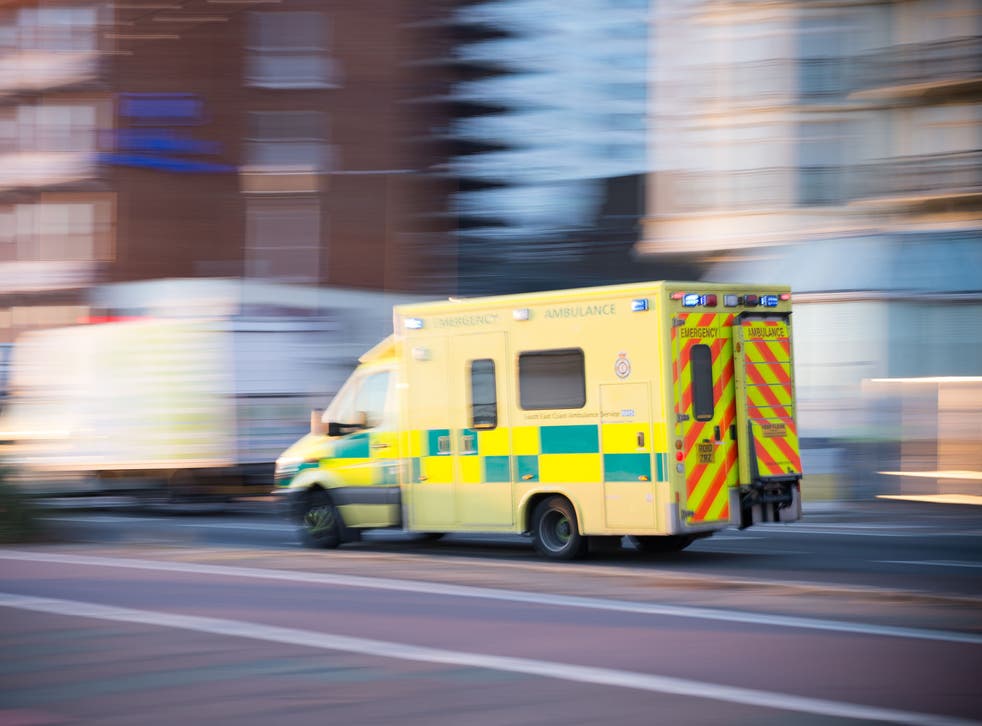 Ambulances are failing to reach thousands of seriously-ill patients within the eight-minute target time, despite a dramatic reduction in the number of calls classified as urgent, The Independent can reveal.
Unions warned that lives are being put at risk by slow response times, even as the system is being "manipulated" to make it easier to hit government-imposed targets.
The revelations of worsening performance come from a trial being run in three of the country's 10 ambulance trusts, which is aiming to streamline the service and ensure the sickest patients are dealt with quickly.
The number of calls categorised as needing an urgent response has been radically cut to enable ambulances to respond to 75 per cent of cases within eight minutes – a requirement that has not been met nationally since January 2014.
But exclusive figures obtained by The Independent show even though tens of thousands of cases have been stripped out of the urgent category, ambulances are still failing to meet the target.
In Yorkshire, the percentage of the most serious calls responded to within eight minutes fell to 67 per cent between May 2016 and January 2017, down from 71 per cent a year earlier. During the same period, the number of calls classified as requiring an urgent response fell from 235,200 to 53,300.
The number of most urgent calls taken by the South Western ambulance service between May 2016 and March 2017 compared to the year before was reduced from 308,000 to 44,600. But the proportion of calls hitting the eight-minute target remained stagnant at 70 per cent.
Ambulance staff union GMB accused NHS England of "manipulating" targets, saying: "At the end of the day, someone, if they haven't already, is going to die from a lack of care."
"The targets are being manipulated so there are fewer urgent calls – and if there are fewer urgent calls, surely you should be able to hit the targets," the spokesman added.
"I don't think reducing the number of calls classed as emergencies is the way forward. The way to deal with response times is more ambulances and more properly-trained paramedics."
The most urgent calls in the other ambulance trusts are currently split into two groups depending on their severity: 'red 1' and 'red 2'.
'Red 1' is used for patients who are not breathing, do not have a pulse, or in other highly time-sensitive situations such as cardiac arrest or severe bleeding. Conditions such as stroke, sepsis and major burns are in the 'red 2' category, used for "serious but not the most life-threatening" conditions. Both require an eight-minute response.
Data from the Yorkshire Ambulance Service indicates that thousands of calls previously classed as 'red 2' now have a response time of 19 minutes.
Theresa May challenged whether £350m NHS funding promise from Leave campaigners will exist
Debbie Wilkinson, chair of Unite's ambulance staff committee, said staff shortages, rising demand and a lack of extra funding meant the Ambulance Response Programme (ARP) trial was "always going to fail".
The trial – which is also running in the West Midlands – was "originally a good idea" but had failed to show improvement, she added. Ms Wilkinson also raised concerns that the reduction in the total number of calls classed as top priority meant "we're missing things we should be getting to".
When the ARP was first announced, Keith Willett, national director for acute care at NHS England, said the programme was "not about relaxing standards" but ensuring that patients were provided with the correct level of care.
Some conditions in the 'red 2' category have been upgraded to 'red 1' status in the trial, which also involves giving call handlers more time to better assess emergency situations.
The full results of the trial are expected to be published in the coming months in an independent report by Sheffield University.
Richard Webber of the College of Paramedics said the organisation was generally supportive of the changes because too many cases are currently classified in the most urgent category.
"The problem has been that currently across the country there are around 40 per cent of calls in the most life-threatening category, which clearly isn't right." he told The Independent. "We know about 10 per cent of 999 calls are probably life-threatening."
He added that "commissioners need to review investment in the ambulance services" to give the new targets system the best chance of success.
Paul Evans, Director of the NHS Support Federation, told The Independent: "The eight-minute target is based on the clinical reality that if you don't get to a patient with heart failure in a certain amount of time, you're not going to save them.
"Any change to that would have to have some clinical evidence. It's not just a matter of saying, 'well, we can't get to everybody, so why don't we reassess what we can do and then we are more likely to meet it'.
"The bottom line is people die if you don't get to them quickly enough."
Health news in pictures

Show all 40
Demand for ambulance services, fuelled by an ageing population and rising levels of obesity, has grown by an average of 5.2 per cent a year since 2011-2012, according to a National Audit Office report.
In November, NHS England admitted a "system-wide problem" after it emerged that every ambulance service in England had failed to meet targets for the previous 16 months.
A similar trial is taking place in Wales, where the eight-minute target did apply to around 40 per cent of calls received by the Welsh Ambulance Service, but now applies to just four to five per cent of calls.
The Welsh target of 65 per cent of these calls to be reached in eight minutes has been met since the trial began, and in March 2017, 77.9 per cent of immediately life-threatening calls were reached within eight minutes, up from 74.6 per cent in February.
Shadow Health Secretary Jonathan Ashworth said: "Despite Jeremy Hunt's promise of better efficiency and improved outcomes for patients, the Government's reckless handling of ambulance targets has left record numbers of patients suffering and in discomfort.
"Since Theresa May became Prime Minister the decline in standards for NHS patients has been appalling. Targets have been missed across the board and her Government is in complete denial as to the fundamental failings of their sustained underfunding of our NHS."
A performance report from the South Western Ambulance Service in February suggests the new way of working will continue for the time being and may be implemented elsewhere.
"The Ambulance Response Programme is now at the end of its testing phase," it said. "It has been recommended that ambulance services continue to operate under ARP conditions until a decision is made on full implementation."
A spokesperson for NHS England said: "The Ambulance Response Programme trials are still being evaluated and any recommendations on changes to the existing standards will be made in due course. More than 10 million calls have been included and analysed in these trials, with no adverse effect on patient safety.
"Additional triage time has led to fewer ambulances being stood down and more vehicles and crews being available to answer 999 calls, enhancing service efficiency."
Join our new commenting forum
Join thought-provoking conversations, follow other Independent readers and see their replies