Children's operations cancelled by NHS up 58 per cent since austerity began, new figures show
Data obtained by Labour Party probably an underestimate of cancellations, as majority of trusts refuse to provide full figures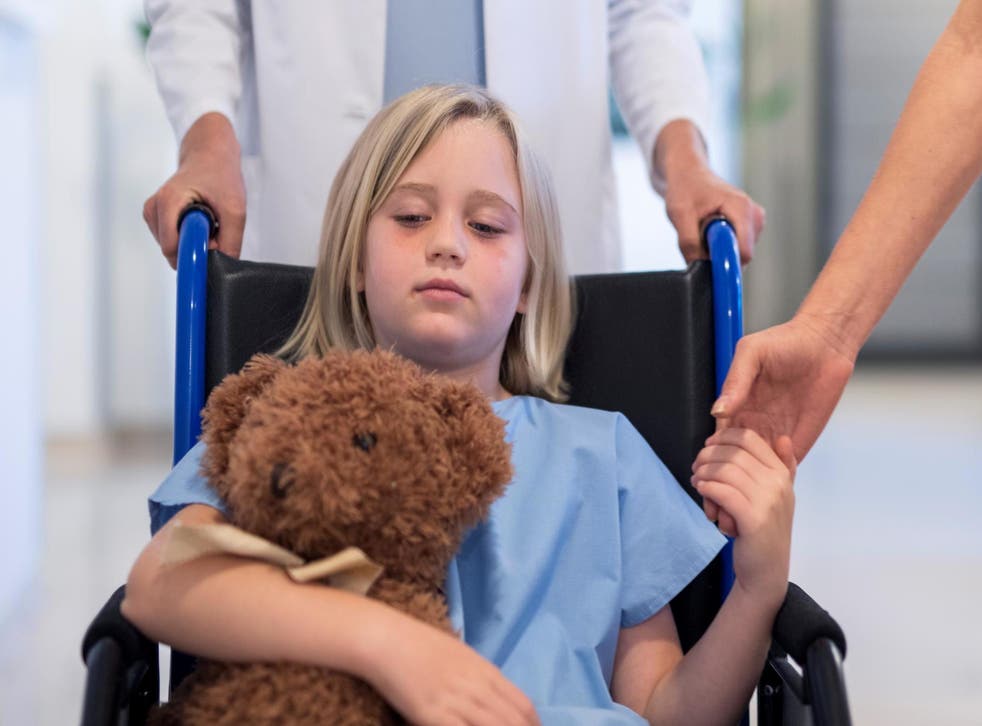 There has been a 58 per cent rise in the number of children's operations cancelled by the NHS in the past seven years, according to figures which critics warn illustrate the "cruel toll" of pressures on the health service.
Last year, a record 18,647 under-18s had surgery cancelled or delayed, with cancer treatment, pregnancy terminations and broken bones among the procedures affected.
That compares with 11,821 cancellations since the Conservatives came to power in coalition with the Liberal democrats in 2011/2012, and the number has climbed steadily in a period where austerity policies have seen budgets fall behind rising demand.
A lack of theatre capacity, bed shortages and equipment failures – among other reasons given for surgery cancellations – are all signs the health service's shoestring budget is affecting the most vulnerable, experts said.
"The fact that more children's operations are being cancelled nationally, is of deep concern to surgeons," said Richard Stewart, president of the British Association of Paediatric Surgeons (BAPS), and Eric Nicholls, chair of the Children's Surgical Forum at the Royal College of Surgeons, in a joint statement.
"Having an operation cancelled is stressful for children and their families," they added. "Alongside practical considerations, such as wasted time off school and work, children and their families have to deal with the mental anguish of preparing for surgery all over again."
NHS at 70: demonstration and celebration march to mark anniversary

Show all 18
The two groups first warned of rising cancellations in 2006, but pressures have been made worse by bed and staff shortages "as a result of the financial pressures the NHS has faced over recent years".
Addressing funding and moving more minor surgery out of specialist centres, could also reduce cancellations, they added.
Abortions after nine weeks' pregnancy are also carried out in a hospital setting, and delays can be particularly stressful for young women, charities said.
"When a woman is certain of her decision to end a pregnancy, it is best for her health and wellbeing that she can access abortion services as soon as possible," Katherine O'Brien, from the British Pregnancy Advisory Service, told The Independent.
"Abortion is a safe procedure, but it is safer at earlier gestations … As a pregnancy advances, this can also restrict women's choice of method.
"They may move from having a procedure under local anaesthetic to general anaesthetic, for example."
More than 117,936 paediatric operations were cancelled in the last seven years, figures obtained through Freedom of Information Act requests by Labour reveal.
Actual cancellations could be far higher, as only a third of NHS trusts in England provided figures, with Alder Hey Children's Hospital in Liverpool, and the Birmingham Women's and Children's hospitals among the NHS trusts that did not respond, Labour said.
Specialist children's hospitals that did respond to the request accounted for the majority of cancellations. Great Ormond Street Hospital has cancelled 46,151 operations in seven years, and Sheffield Children's NHS Foundation Trust cancelled 18,064.
Support free-thinking journalism and attend Independent events
"Behind each of these cancellations is a sick child and their loved ones facing unnecessary distress for entirely avoidable reasons," shadow health secretary Jonathan Ashworth said.
"These cancelled operations risk harming children further in the long term, and it's shameful that cancellations have reached this level."
The scale of cancellations, Mr Ashworth added, "reveals yet again an NHS pushed to the brink by the Tories".
Demand reached crisis point last winter, as the NHS directed hospitals to cancel all non-urgent care to guarantee emergency provision, and The Independent revealed children's wards were being used as overflow areas for adults.
The fallout from the winter is still being felt with December a month away. On Thursday, the Health Service Journal revealed Derriford Hospital – part of the stretched University Hospitals Plymouth Trust – had struck a deal to move all non-urgent orthopaedic operations to private hospitals, to tackle its waiting list.
But those figures do not show how many operations were cancelled at short notice or rescheduled within the recommended 30-day period.
"It is bad enough being ill at any age, but it is particularly cruel for children to be waiting in pain and discomfort for an operation that has been delayed," said John Kell, head of policy at the Patients Association.
"It is hard to feel optimistic for an NHS that is feeling the effects of sustained underfunding and disastrous workforce planning. We hope the new funding that will be available from next year can start to turn things around, though it will be stretched thin. In the meantime, families with children who need an operation are facing an anxious winter."
A Department of Health and Social Care spokesperson said: "There are 2.1 million more operations taking place a year than in 2010, and hospitals continue to do everything they can to keep last-minute cancellations to a minimum.
"The NHS long-term plan, together with our historic funding commitment for the health service, will see frontline services improve, and put the health service on a long term, sustainable footing, backed by an extra £20bn a year by 2023/24."
Register for free to continue reading
Registration is a free and easy way to support our truly independent journalism
By registering, you will also enjoy limited access to Premium articles, exclusive newsletters, commenting, and virtual events with our leading journalists
Already have an account? sign in
Register for free to continue reading
Registration is a free and easy way to support our truly independent journalism
By registering, you will also enjoy limited access to Premium articles, exclusive newsletters, commenting, and virtual events with our leading journalists
Already have an account? sign in
Join our new commenting forum
Join thought-provoking conversations, follow other Independent readers and see their replies