NHS surgery rationing on the rise as thousands rejected for cataract surgery, investigation finds
'Cataract surgery comes out as probably the most cost effective thing in the NHS,' ophthalmologists say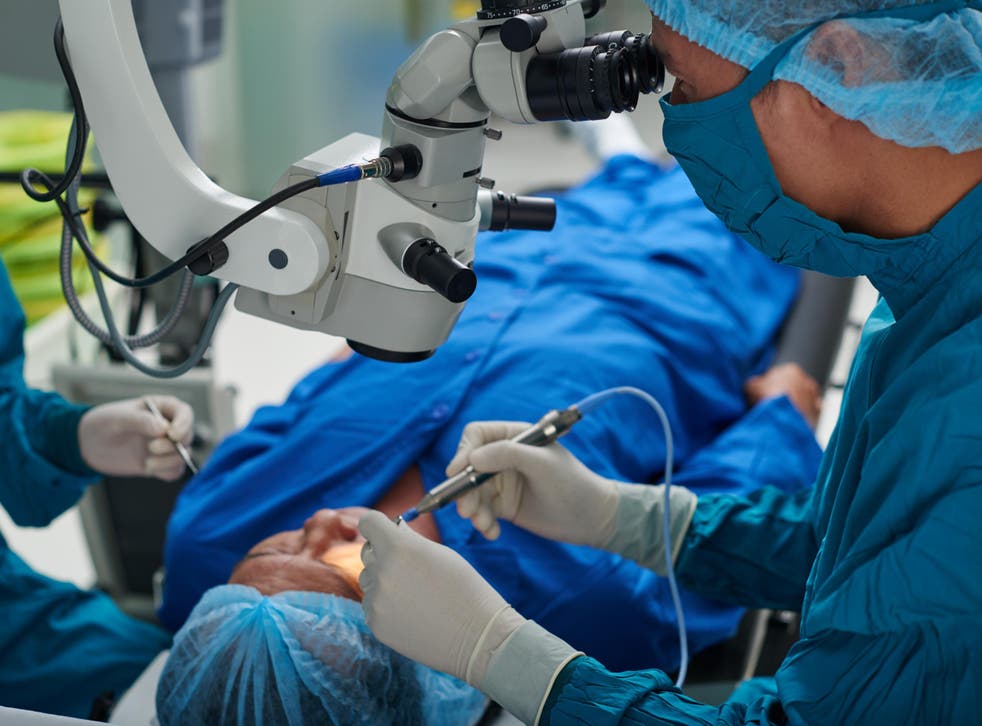 Thousands of elderly people losing their vision to cataracts are being left housebound and at risk of galls as NHS bosses try to ration surgery in a bid to cut costs, despite official guidelines warning this is a false economy, an investigation has revealed.
One in five patients now have to undergo a further pre-approval check after being referred for cataract surgery, a rise from 7 per cent of patients who were screened in 2016-17.
Nearly 3,000 patients saw their ophthalmologist's request for the procedure rejected outright, twice as many as three years ago, the investigation by the British Medical Journal (BMJ) found.
The findings fly in the face of 2017 guidance by the National Institute for Health and Care Excellence (NICE) which concluded that the operation was cost effective and should not be limited to people who had the most severe vision loss.
"What is the point of NICE doing detailed evaluation if CCGs [clinical commissioning groups] are just going to knowingly ignore that advice?" said Mike Burdon, president of the Royal College of Ophthalmologists.
Everyone the Government blames for the NHS crisis – except themselves

Show all 6
"The health service budget is limited, but you should make those spending decisions on the basis of the clinical evidence. Cataract surgery comes out as probably the most cost effective thing in the NHS."
Cataract procedures are the most common operation in the NHS and around 400,000 a year are carried out in the UK.
However, after years of below-inflation funding increases, NHS clinical commissioning groups have increasingly looked to restrict non-urgent procedures to free up funds and hospital capacity.
Last year's severe winter saw 70,000 NHS patients waiting over six months for supposedly non-essential procedures like cataract and hip surgeries and surgeons warned thousands were being made to "beg for treatment".
Restrictions also vary drastically around the country depending on the financial position and population of each CCG.
The BMJ found Telford and Wrekin CCG in the West Midlands rejected 332 cataract funding requests, one fifth of the total, while 29 out of 30 were rejected by Cambridgeshire and Peterborough CCG.
Rejected patients may have to wait for their vision to get worse and risk falls, fractures and other complications that also end up costing the NHS in the meantime.
"I think it is insulting to our elderly patients that this rationing is going on. It is unjustified," Mr Burdon said.
Dr Graham Jackson, co-chair of NHS Clinical Commissioners, which represents CCGs, said funding decisions had to be made against a backdrop of "spiralling demand, competing priorities and increasing financial pressure".
"Cataract surgery specifically is an area that is often subject to prior approval," he said. "Such clinical decisions are critical in deciding when a patient has reached the stage that an operation will be the best option."
He added that surgery "is not without risk".
A Department of Health and Social Care spokesperson said: "Commissioners should take the latest NICE guidelines into account, to ensure fair and consistent access to the best possible treatment for all cataract patients."
Join our new commenting forum
Join thought-provoking conversations, follow other Independent readers and see their replies