Thousands more patients made to 'beg for treatment' as NHS rations hip operations, investigation finds
Top doctor warns more patients will spend time in pain with potential deterioration of their condition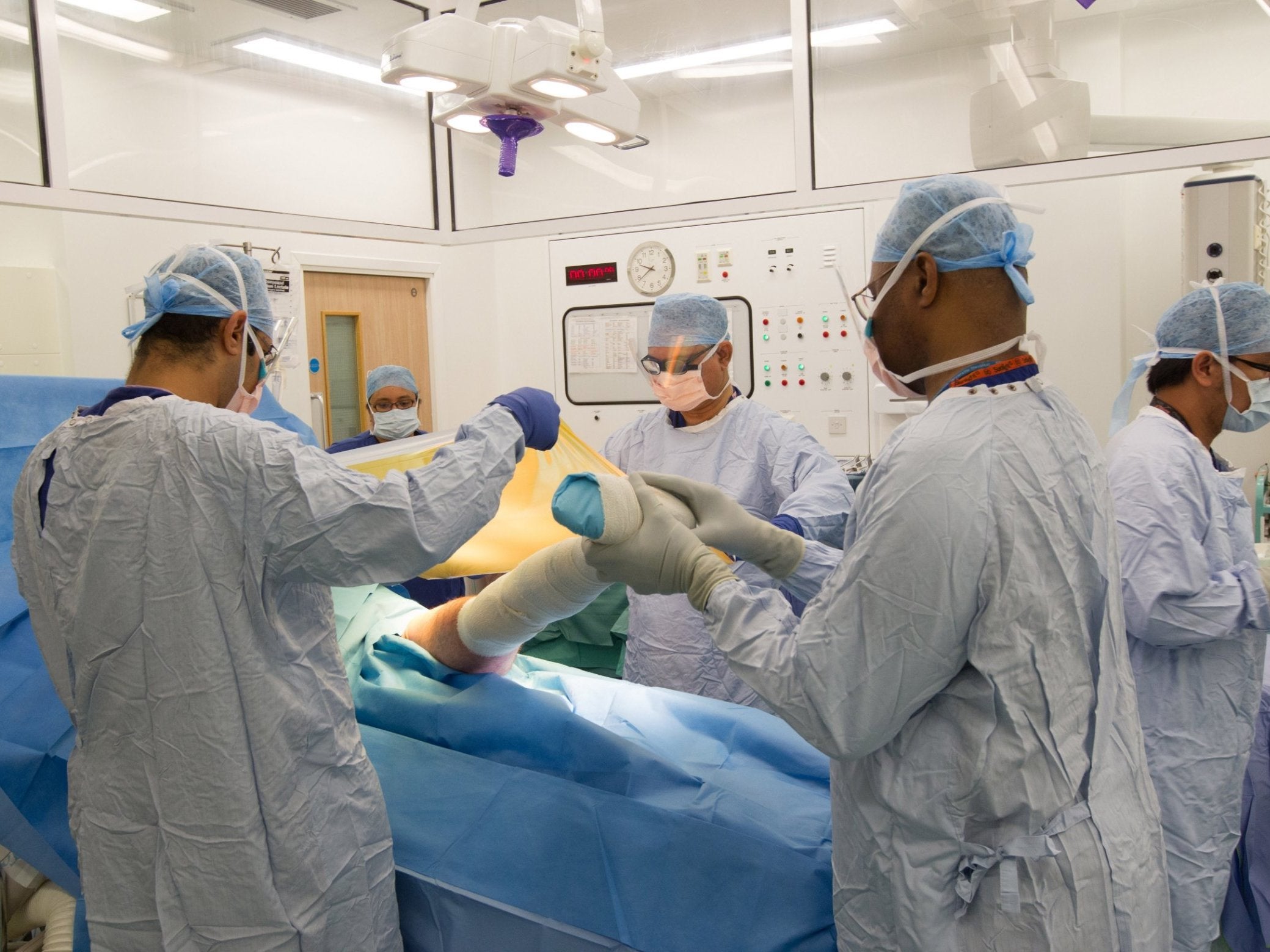 There has been a sharp rise in the number of patients blocked from accessing hip or knee operations by NHS rationing panels, despite their GP thinking surgery is necessary, an investigation has found.
Last year thousands of patients were forced to jump through hoops to access these procedures which surgical experts say are "clinically and cost effective", according to the British Medical Journal (BMJ).
GPs are increasingly asked to make "exceptional funding applications" which are judged by local NHS panels, some of which include lay officials with no medical background.
Between 2016-17 and 2017-18 there was a 45 per cent increase in the number of patients rejected after their GPs recommended them for surgery in this way.
"We are appalled that a number of commissioning groups are now effectively requiring thousands of patients to beg for treatment," said Ian Eardley, senior vice president of the Royal College of Surgeons.
"The use of funding requests means patients will spend more time in pain with potential deterioration of their condition, thereby generating further costs for a system already under acute financial strain."
Last year there were at least 1,675 exceptional funding requests for hip or knee operations rejected by these panels up from 1,155 requests rejected in 2016-17, data obtained by Freedom of Information shows.
The increase in rejected requests mirrors an increase in the number of GPs being forced to use this exceptional funding request process.
NHS at 70: demonstration and celebration march to mark anniversary
Show all 18
Requests rose from 10,598 in 2016-17, to 16,169 last year, meaning thousands more patients's care was delayed with panel reviews and there was more red tape for their doctors.
This process of exceptional requests was introduced in 2000 for GPs to refer patients for costly procedures which aren't routinely funded, and cosmetic or non-essential procedures, such as skin tag removals and IVF.
However many local NHS clinical commissioning groups (CCGs) are now using them for routine procedures as they try to make scarce NHS funding stretch further.
An earlier BMJ investigation found that in 2013-14 there were just 49 requests made for hip and knee surgery in this way. Next year is likely to be even worse as the NHS is still coping with a major backlog after postponing thousands of non-urgent appointments to cope with winter demand.
NHS England also recently announced a list of 17 procedures including breast reductions and snoring surgery which are not routinely done and which it thinks should be restricted nationally, but does not intervene in local decisions.
Request panels may require GPs to prove the patient has a body-mass index below a certain level, or has undergone a course of physiotherapy first. However there is no consistent set of criteria adopted by CCGs, leaving patients at the mercy of a postcode lottery.
The process also strips GPs and surgeons of the final say on what patients require surgery, with panels instead keeping one eye on cutting costs.
Dr Helena McKeown, a GP in Wiltshire, said the process takes up scarce GP time and means patients have to "give up their identity" and medical details to these panels. "Some patients feel that this is a price they are not prepared to [accept]," she added.
NHS at 70: A timeline of the National Health Service and its crisis
The BMJ analysis, based on data from 167 of England's 195 CCGs, found that the funding requests are used differently across the country – Buckinghamshire CCG had 1,298 exceptional funding requests for knee surgery last year and rejected 18 per cent.
Meanwhile, Doncaster only received 24 requests and rejected all but one.
The Royal College of Surgeons said NHS England must urgently act to iron out these unfair variations.
However CCG representatives said that with NHS money stretched it was right that they only spent it where there was the best evidence the procedure would be successful.
Julie Wood, chief executive of NHS Clinical Commissioners – the membership organisation for local health bodies – said: "The money has in effect run out, and CCGs have got to find ways of delivering greater efficiencies.
"CCGs might, for example, decide that they need to commission a lower amount or apply different thresholds.
"We have to be very honest and upfront. It needs to be a conversation with the public about what the NHS should be providing."
Commenting on the study, shadow health secretary Jonathan Ashworth said: "The increase in patients refused knee and hip surgery demonstrates the stark consequences of the Tories' sustained underfunding of the NHS.
"Forcing vulnerable patients to turn to the private sector in desperation is nothing short of scandalous."
A Department of Health and Social Care spokesman said NHS funding has increased since 2010 and £20bn a year more has been pledged by Theresa May, they added: "Decisions about when or whether an operation is carried out are rightly made by doctors based on what is best for their patient.
"We expect NHS England to intervene if there is any evidence of rationing care."
Join our commenting forum
Join thought-provoking conversations, follow other Independent readers and see their replies