Jeremy Hunt and NHS 'delayed telling patients' about mislaid confidential documents after private firm blunder
At least 1,700 patients may have suffered because of the major blunder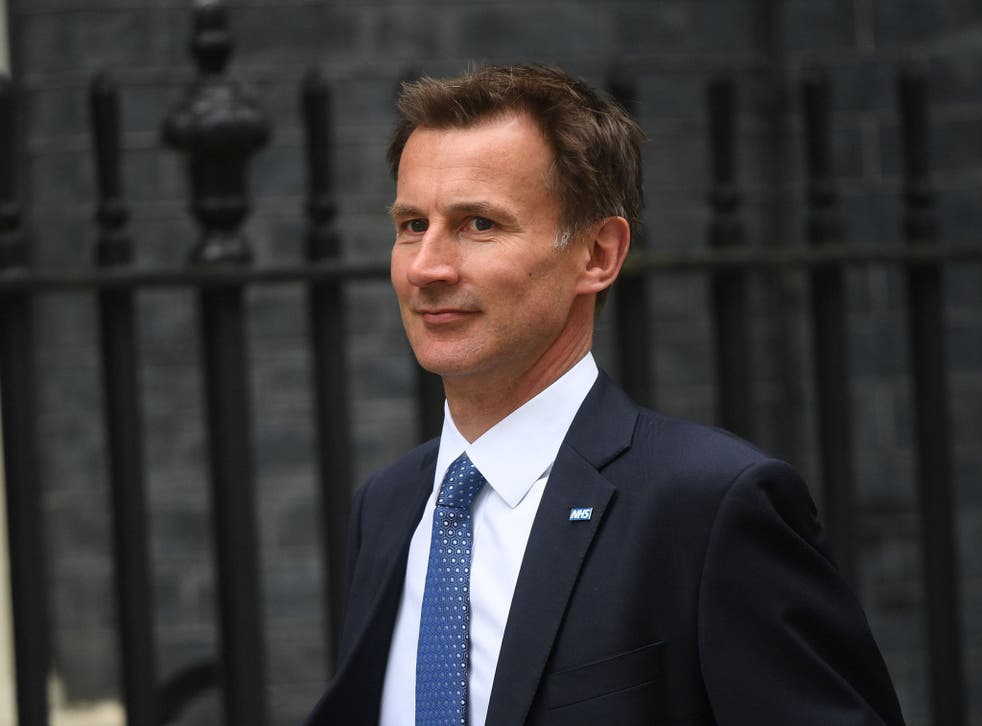 Jeremy Hunt has been accused of leaving Parliament and patients in the dark after hundreds of thousands of pieces of confidential medical correspondence was discovered "languishing in a warehouse".
At least 1,700 patients may have been harmed by the major blunder, according to a new report into the incident from the National Audit Office (NAO).
The Department of Health and a private firm share ownership of the company responsible for the error, which saw more than 700,000 unprocessed documents mislaid, including treatment plans, blood and urine test results and cancer diagnoses.
Health Secretary Mr Hunt was told in March 2016 that thousands of pieces of mail sent between GPs and hospitals had not reached their recipients due to the blunder by NHS Shared Business Services (SBS).
However, according to the report, the department did not inform Parliament or the public for several months about the issue, as it considered it too early to understand the full extent of harm that may have been caused.
The company, which was operating a redirection service in the East Midlands, the South West and north-east London, is said to have known of the possible risk to patients as early as January 2014, but did not develop a plan to deal with the backlog as it continued to accumulate – with staff considering the work "just filing".
Tim Farron, leader of the Liberal Democrats, said the Government "must be held accountable for this shoddy affair", accusing ministers of trying to "simply wave this away" and adding: "This disaster left patient data, which includes blood test results and cancer screening, languishing in a warehouse."
NHS England estimates the cost of the incident will be at least £6.6m for administration alone, which shadow health secretary Jonathan Ashworth called "an extraordinary waste of taxpayers' money".
Overall, NHS England and NHS SBS have identified just under 709,000 items of unprocessed correspondence, and the review of the backlog as of 31 May had found 1,788 cases of potential harm to patients – a figure which Mr Farron warned "could be much, much higher".
The chief executive of NHS SBS, which is co-owned by the Department of Health and private company Sopra Steria in an almost 50-50 split, said staff attitude towards the documents did not excuse the blunder.
The NAO said that while no cases of actual harm have been identified yet, a third of GPs have not yet responded on whether unprocessed items sent to them indicate potential harm for patients.
Over a four-year period, local teams and reviews within NHS SBS observed the backlog "continuing to grow", said the report, which found that in January 2014, an internal review discovered a backlog of around 205,000 items and "highlighted the clinical risk to patients of notes not being with GPs."
"Senior managers within the NHS SBS primary care services business unit knew about the clinical risk to patients in January 2014 but it did not develop a plan to deal with the backlog," it said.
In June and July 2015, an NHS SBS administrator raised concerns with senior managers about the backlog in the East Midlands. The same administrator raised further concerns in August that the backlog was being destroyed, with evidence that sacks of mail were being got rid of.
It was only in January 2016 that the company's information governance manager rated the issue as a serious incident requiring investigation.
By the time NHS SBS reported the incident to NHS England and the Department of Health in March 2016, the backlog had grown to 435,000 items.
"An internal investigation found that staff had considered the misdirected clinical correspondence a lower priority than other work as there were no performance indicators attached to it," the NAO report said.
"The Department of Health decided in April 2016 not to alert Parliament or the public to the incident", it continued.
UK news in pictures

Show all 50
"It considered that it did not have an accurate picture of the scale of the incident or of the potential harm to patients. It believed there was a risk of questions that the Department could not yet answer, potentially leading to unnecessary worry among patients and the public."
According to the report, Mr Hunt's department informed Parliament of the incident on 21 July 2016.
It said that an investigation by NHS SBS "did not provide NHS England with the level of assurance it required that the incident had been appropriately investigated and the causes clearly established".
NHS SBS disputed NHS England's right to commission further work and "NHS England considered that NHS SBS was being obstructive and unhelpful in providing the access NHS England sought". This is something NHS SBS denies.
To date, of 2,508 items of mail classified as high priority, GPs have assessed 2,159 of those as having "no patient harm" and are still examining the remaining items, with 229 classified as "potential harm".
GPs have yet to respond on 175,000 items of correspondence assessed by NHS England to be lower priority, despite having received payment to review these additional items in February 2017, the NAO said.
A Department of Health spokeswoman said: "As the NAO report highlights, patient safety has been our first priority and no cases of harm have been identified to date.
"Alongside NHS England, we have been very mindful of appropriate transparency while working to make sure this does not happen again. Last year, the Health Secretary updated Parliament and the Public Accounts Committee was informed."
An NHS England spokesman said: "NHS England was deeply concerned to be belatedly informed by SBS in March 2016 about its backlog of unprocessed correspondence.
"We immediately set up a team, including clinical experts, to manage the incident, and all relevant correspondence has now been sent back to GPs for review.
"None of the patients whose cases have been reviewed to date have been harmed by the delay in correspondence."
The NAO report also pointed to the conflict of interest created by the fact Mr Hunt oversees the NHS and also sits on the board of NHS SBS.
Shadow Health Secretary Jonathan Ashworth said: "This is a total scandal. For a company partly owned by the Department of Health and a private company to fail to deliver half a million NHS letters, many of which contained information critical to patient care, is astonishing.
"There remain over 1,700 incidents of possible patient harm unaccounted for. This is a staggering catalogue of mistakes on this Government's watch. In total, the clear-up operation has now cost over £6 million and counting. This is an extraordinary waste of taxpayers' money.
"The Secretary of State needs to explain to the public how he got himself into this conflict of interest, why the oversight of the company went wrong, and why he failed to pick up this string of mistakes for so many years. He should apologise to patients and to taxpayers."
Register for free to continue reading
Registration is a free and easy way to support our truly independent journalism
By registering, you will also enjoy limited access to Premium articles, exclusive newsletters, commenting, and virtual events with our leading journalists
Already have an account? sign in
Register for free to continue reading
Registration is a free and easy way to support our truly independent journalism
By registering, you will also enjoy limited access to Premium articles, exclusive newsletters, commenting, and virtual events with our leading journalists
Already have an account? sign in
Join our new commenting forum
Join thought-provoking conversations, follow other Independent readers and see their replies