NHS nursing vacancies at record high with more than 34,000 roles advertised
NHS 'on Theresa May's doorstep' only able to fill one in every 400 nursing posts being advertised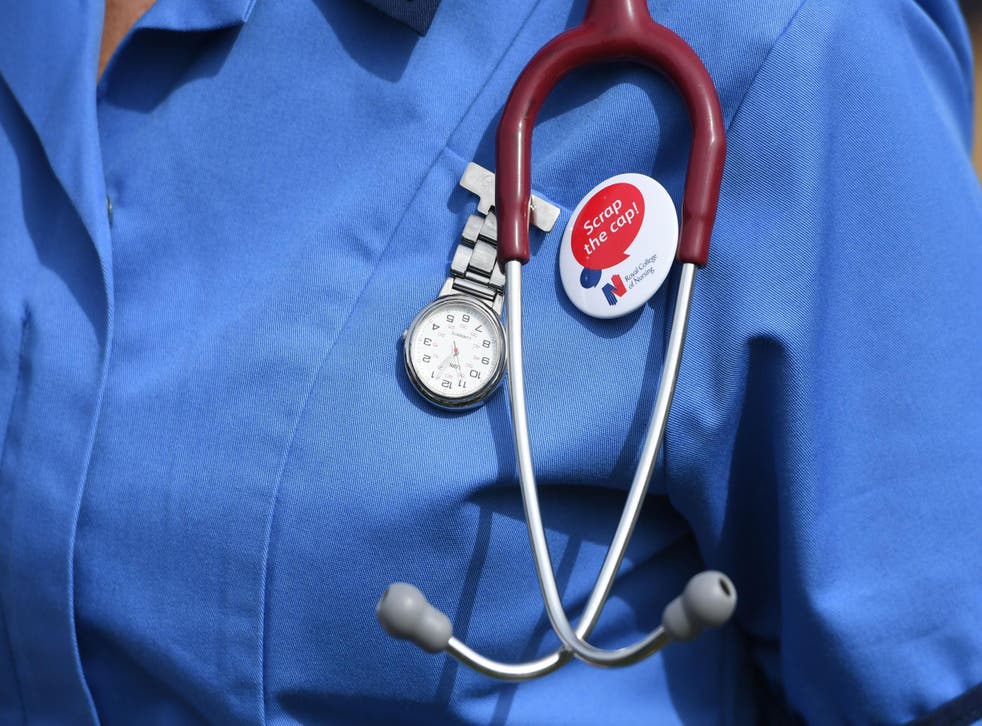 A record number of nursing and midwifery positions are currently being advertised by the NHS, with more than 34,000 positions currently vacant, according to the latest data.
Demand for nurses was 19 per cent higher between July and September 2017 than the same period two years ago, when NHS Digital first began collecting the data. In total, 34,260 jobs are currently available.
Experts have warned that increased workloads and the Government's pay restraint policies are leading experienced nurses to quit the health service. Some go to work for the private sector, others return to the NHS in a different capacity and a few quit the profession altogether.
They added that the next generation are rethinking nursing as a career choice altogether.
The Royal College of Nursing (RCN) said the figures "pull back the curtain" on the real state of the NHS, adding: "The Government can no longer deny the staffing crisis."
However, the Department of Health and Social Care said there are "record numbers" of nurses.
Overall there were 87,964 vacant full-time posts being advertised across the NHS, with nursing accounting for 40 per cent of these.
The actual number of staff needed could be even higher, and NHS Digital has warned that each advert could be used to fill multiple roles, so the figures "show the minimum number of vacancies advertised".
It said this "undercounting" phenomenon will be most severe in nursing because many of the adverts are put out on a rolling basis.
There are also significant regional variations in recruitment. Across England one nurse is recruited for every seven posts advertised.
UK news in pictures

Show all 50
But in the Thames Valley only one nurse was recruited for every 400 places advertised, while the West Midlands manages to fill almost half of its advertised roles.
The data shows a similar growth in the number of doctor vacancies being advertised.
There were 10,498 advertised vacancies for doctors and dentists in the latest figures, compared to 8,877 in 2015 – a jump of 18 per cent.
However, vacant posts were even higher earlier in 2017, peaking at 11,115 between January and March as the NHS was wracked by record demand – now surpassed by this year's pressures.
Earlier this week, the British Medical Association warned that almost three-quarters of doctors in hospitals reported rota gaps on their wards, with more than two-thirds saying NHS care was deteriorating as a result.
Niall Dickson, chief executive of the NHS Confederation, which represents organisations across health and social care, warned that workforce was a bigger issue to its members than even funding shortages.
Mr Dickson resurrected a government proposal suggesting junior doctors should give a minimum term of service to the NHS or else be forced to pay back the cost of their training, but doctors said this would worsen the crisis.
Chief executive at the RCN Janet Davies said the next generation of nurses are now being put off by pressures that are seeing senior staff leave faster than they can be replaced.
"When the Government allows nursing on the cheap, patients can pay the highest price," Ms Davies said.
"It is time to draw a line under this false economy with urgent investment in services and those who provide them – including a pay rise above inflation – and legislation to make ministers accountable for workforce planning and safe staffing levels."
Shadow health minister Justin Madders said: "Theresa May has overseen an unprecedented workforce crisis in our NHS, with over 100,000 vacancies across the system.
"These latest figures reveal in the starkest fashion how serious shortages have become, with new trainees put off from joining and existing nurses increasingly retiring early.
"Even in her own backyard, the situation is desperate. Thames Valley managed to hire just five nurses for 1,957 advertised posts – just one in 400. On the day her own Foreign Secretary has called for emergency funding, Theresa May must get an urgent grip of this escalating chaos in our NHS."
A Department of Health and Social Care spokesperson said: "There are now record numbers of hardworking NHS staff, and while these figures show vacancies are relatively stable compared to last year, we want to make sure we keep these staff in the NHS.
"That's why we are helping all existing staff to improve their work/life balance by working more flexibly and we recently announced the biggest ever expansion of training places for both doctors and nurses, as well as opening up extra routes into nursing – underlining our commitment to ensuring the NHS has the staff it needs, both now and in the future."
Join our new commenting forum
Join thought-provoking conversations, follow other Independent readers and see their replies