Dozens of patients left conscious but unable to breathe after NHS drug errors
Doctors are failing to properly follow a checklist to avoid mistakes, safety watchdog warns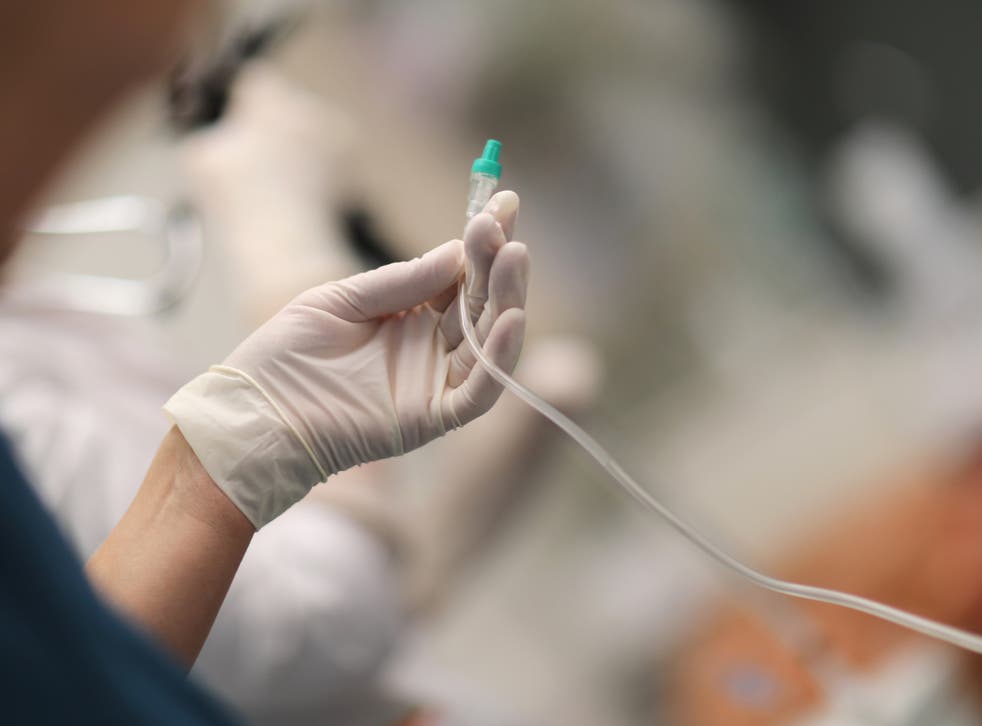 More than a dozen NHS patients have stopped breathing and 40 others suffered serious effects after having powerful anaesthetic drugs mistakenly "flushed" into their systems by unsuspecting NHS staff.
In one case a man has been left suffering nightmares and flashbacks after he stopped breathing on a ward when a powerful muscle relaxant used during an earlier procedure paralysed him but left him fully conscious.
He only survived because a doctor was on the ward and started mechanically breathing for him.
An investigation by the safety watchdog, the Healthcare Safety Investigation Branch (HSIB), found there had been 58 similar incidents in England during a three-year period.
The mistakes happen when residual amounts of drugs are left in intravenous lines and cannulas and not "flushed" out after the surgery. When the IV lines are used later by other staff the residual drugs can have a debilitating effect on patients.
In a new report HSIB said flushing intravenous lines to remove powerful drugs was a "safety-critical" task but that the process for checking this had been done was not being properly carried out, posing a life-threatening risk to patients.
It said the use of a checklist by anaesthetic staff can be overlooked when doctors are busy with other tasks and they fail to engage with the process.
Among the 58 total incidents, patients also suffered temporary paralysis while conscious as well as muscle spasms and breathing problems. In all, 18 people's breathing stopped.
In the case under investigation a 42-year-old patient known as Spencer had a procedure to drain one of his kidneys. Due to problems inserting a cannula into his veins doctors decided to use the same one put in by nurses to draw blood.
After the treatment he was taken to a ward where he complained of feeling unwell and was diagnosed with an infection. He was prescribed IV antibiotics and paracetamol. A nurse later flushed the lines to clear a blockage for the IV medicine and soon after Spencer told staff he began to feel ill.
The report said: "Soon after the flushing was done, Spencer started to complain of feeling strange, stating he could not breathe, before going limp. Fortunately, Spencer's respiratory arrest was witnessed by a doctor who immediately commenced manual ventilation via a bag-valve mask.
"Spencer began to breathe on his own a few minutes later and suffered no physical harm. However, he has reported significant psychological impact and is suffering from both nightmares and flashbacks," HSIB said.
HSIB said the most likely cause of his arrest was that a small amount of muscle relaxant was in his cannula from the procedure earlier in the day which was flushed through by the nurse.
UK news in pictures

Show all 50
Dr Kevin Stewart, medical director at HSIB, said: "Powerful drugs that are administered inadvertently can be a time-critical emergency – patients can stop breathing and are at risk of brain injury or death as a result of a lack of oxygen reaching the brain.
"As we saw in our case, it can also cause significant psychological harm as the patient was aware of what was happening to him during resuscitation.
"The investigation sought to understand why this risk, that has existed for many years, still continues to happen despite safety alerts being issued and key guidance being adapted.
"What we found is that the current mitigations don't eliminate the hazard or 'design' it out, which is always the most effective way to mitigate risks. Our findings also reinforce that checklists don't always provide an effective barrier to human error."
HSIB said it wanted to see better guidance and planning for the use of powerful drugs outside operating theatres.
Register for free to continue reading
Registration is a free and easy way to support our truly independent journalism
By registering, you will also enjoy limited access to Premium articles, exclusive newsletters, commenting, and virtual events with our leading journalists
Already have an account? sign in
Register for free to continue reading
Registration is a free and easy way to support our truly independent journalism
By registering, you will also enjoy limited access to Premium articles, exclusive newsletters, commenting, and virtual events with our leading journalists
Already have an account? sign in
Join our new commenting forum
Join thought-provoking conversations, follow other Independent readers and see their replies