Number of NHS patients waiting over six months for surgery 'triples in four years'
NHS England declined to respond directly to the six-month figures
Katie Forster
Health Correspondent
Friday 02 June 2017 08:13 Comments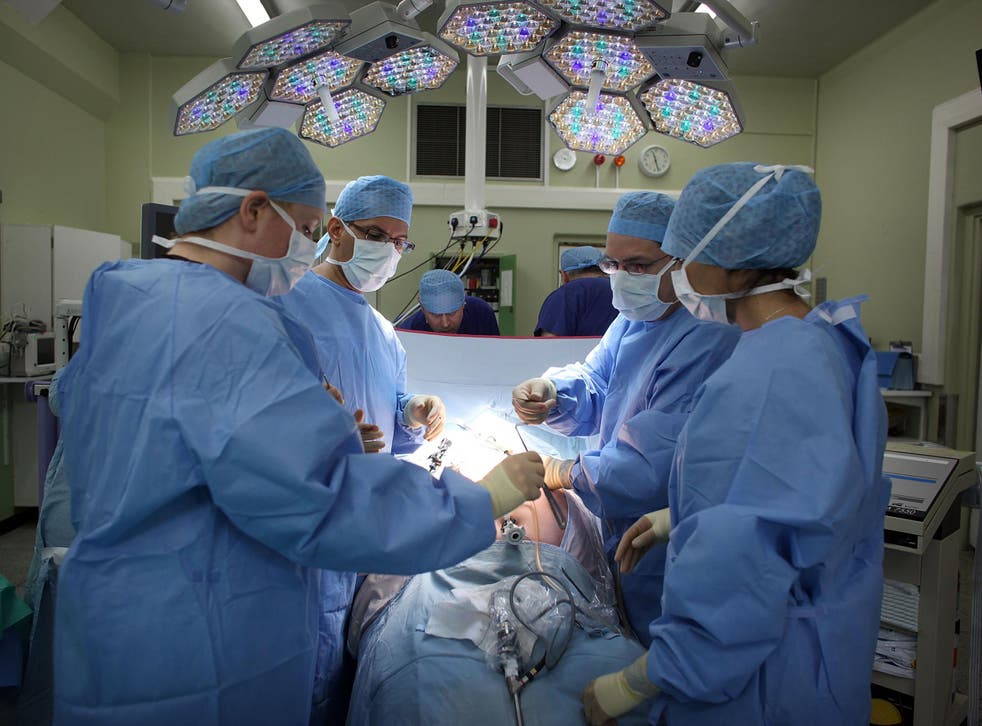 Nearly three times as many patients are waiting over six months for NHS surgery than four years ago, research has shown.
The number of people waiting half a year for an operation rose to 126,200 in March from 45,000 in March 2013, according to analysis by the Royal College of Surgeons (RCS).
RCS president Clare Marx called the 180% rise "unacceptable" and accused political parties of having a "blind spot" over the issue ahead of next week's election.
"Waiting times have come down a lot since 10 years ago and far fewer patients are waiting over a year for treatment. However, over the last few years waits for treatment have begun to head in the wrong direction once again," she said.
"We are now struggling to meet the standards and timeliness of care that the public rightly expect. It is unacceptable for such a large number of patients to be waiting over half a year in pain and discomfort for treatment."
The study found that surgical disciplines with the biggest increase in waiting times in the last four years were ear, nose and throat (up 256 per cent), urology (199 per cent), general surgery (146 per cent), oral surgery (146 per cent) and brain and spinal surgery (145 per cent).
Audience member during May's comments on NHS: 'Bollocks, absolute bollocks'
Its analysis also found that the number of patients waiting more than nine months for surgery rose 209 per cent in the same four-year period, from 6,400 patients in March 2013 to 19,800 patients in March 2017.
Ms Marx added: "Many of these patients are older and in the most serious cases, such as for brain surgery, waiting longer could have a big effect on the quality of someone's life and their eventual recovery from surgery.
"With the 18-week target now being deprioritised, our concern is that we will see a fast deterioration in waiting times with tens of thousands of more patients waiting longer than six months for surgery."
The target that no patient should have to wait longer than 18 weeks after GP referral for non-emergency surgery, such as cataract operations and hip replacements, has been in place since 2004.
However the number of patients waiting longer than that is rising, with 10.1 per cent of patients waiting longer than that for an operation in January 2017 – up from 5.7 per cent at the start of 2013.
Changes announced by NHS England chief Simon Stevens in March mean patients could face longer waits for non-emergency surgery in a "trade off" for improved care elsewhere.
UK General Election 2017

Show all 47
NHS England declined to respond directly to the six-month figures.
A spokeswoman said: "Actually the NHS has cut the number of patients waiting more than a year for treatment by nearly 13,000 over the past five years, and spending on non-urgent surgery is continuing to rise.
"While the Royal College of Surgeons understandably lobbies for more spending on surgeons, in the real world they aren't the only call on constrained NHS funding, which also has to support extra investment in GP services, modern cancer treatments, and expanded mental health services."
Register for free to continue reading
Registration is a free and easy way to support our truly independent journalism
By registering, you will also enjoy limited access to Premium articles, exclusive newsletters, commenting, and virtual events with our leading journalists
Already have an account? sign in
Join our new commenting forum
Join thought-provoking conversations, follow other Independent readers and see their replies