St John Ambulance volunteers drafted into hospital due to 'unprecedented demand' over Christmas period
Staff say they were 'not qualified to be on wards' 
Alex Matthews-King
Health Correspondent
Tuesday 02 January 2018 17:30 Comments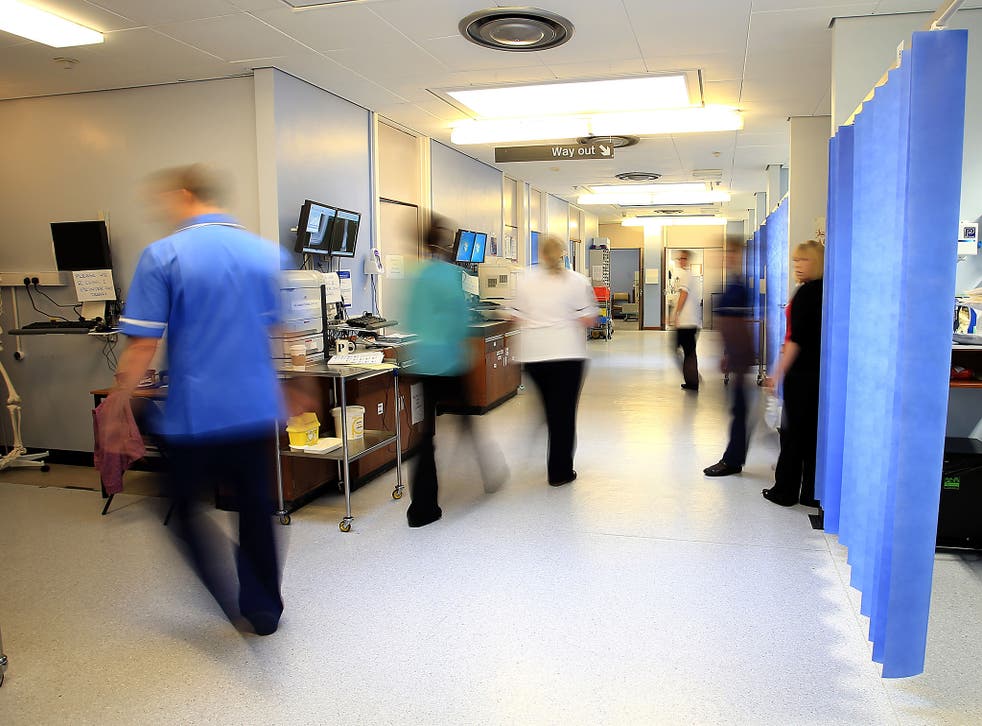 Volunteer first aiders from St John Ambulance were deployed onto wards at a Northern Irish hospital over the Christmas break.
"Unprecedented demand" led the Antrim Area Hospital to call in volunteers to provide additional support to patients "under the direction and delegation of registered nurses", a spokesperson said.
She added: "Volunteers from St John Ambulance have provided some input at different times at Antrim Area Hospital over the two nights of New Year's Eve and New Year's Day, working under our volunteer arrangements."
The additional support "helped to alleviate the pressures on very busy staff, thus allowing them to focus on other priorities".
However, some staff had even complained to the trust after seeing St John volunteers, who chiefly work in pre-hospital care and provide first aid, The Irish News reported.
A staff member told the newspaper that they were "not qualified to be on wards", adding that the trust should have followed proper protocols and called in more "bank" nursing staff.
Pressure on the NHS across the UK also saw patients and ambulances diverted from A&E.
It prompted a senior medic from one of the UK's biggest A&E departments to pen an apology for the "third world" conditions in stretched emergency rooms.
Dr Richard Fawcett, a consultant in emergency medicine in Stoke-on-Trent, one of the country's largest A&E departments, tweeted: "As an A&E consultant at University Hospitals of North Midlands NHS Trust I personally apologise to the people of Stoke for the third world conditions of the department due to overcrowding."
He added that earlier in the week, the hospital had had to divert ambulances to other hospitals because of demand.
Milton Keynes University Hospital also said in a statement that it was "under extreme and sustained pressure".
"Please DO NOT attend the hospital's emergency department unless you need emergency treatment," it said.
The trust's chief executive, Professor Joe Harrison, said: "Staff are working under incredible pressure to look after the patients in our care. I cannot overstate that. We are doing our best in extraordinarily difficult circumstances."
It said it had opened extra "escalation beds to cope with demand".
It comes after The Independent revealed that pressure on emergency services over the festive period meant nurses and GPs were being asked to attend to pensioners with broken bones, to save ambulances being sent out.
Everyone the Government blames for the NHS crisis – except themselves

Show all 6
In the North-east, there were also "tragic" cases of patients being left on the floor with "serious fractures" while waiting for an ambulance with nurses drafted in.
The pressures "escalated rapidly" in England, despite a last minute injection of £335m for this winter issued in the Chancellor's Autumn Budget.
NHS England chief executive Simon Stevens had requested the £350m a week pledged by Brexit campaigners, amid widespread concerns about how the health service will cope this winter as it is asked to make ever deeper "productivity" savings.
Dr Chris Moulton, vice president of the Royal College of Emergency Medicine (RCEM), told The Independent: "There's no doubt about it, this year seems to be worse."
​RCEM figures from the two weeks prior to Christmas across 56 hospitals show operations being cancelled and patients stuck in hospital because of a lack of capacity to discharge them.
"This year, Christmas Day doesn't seem to have been any better than a normal day. It's now just another very bad day, that's unusual.
"Out of the 56 hospitals we collect data from, we think there's about 1,000 operations being cancelled a week."
A serious outbreak of flu is adding further pressure this year.
Register for free to continue reading
Registration is a free and easy way to support our truly independent journalism
By registering, you will also enjoy limited access to Premium articles, exclusive newsletters, commenting, and virtual events with our leading journalists
Already have an account? sign in
Join our new commenting forum
Join thought-provoking conversations, follow other Independent readers and see their replies