NHS winter pressure: Hospitals report 99 per cent capacity over festive period as flu season looms
Senior physician calls for non-urgent operations to be postponed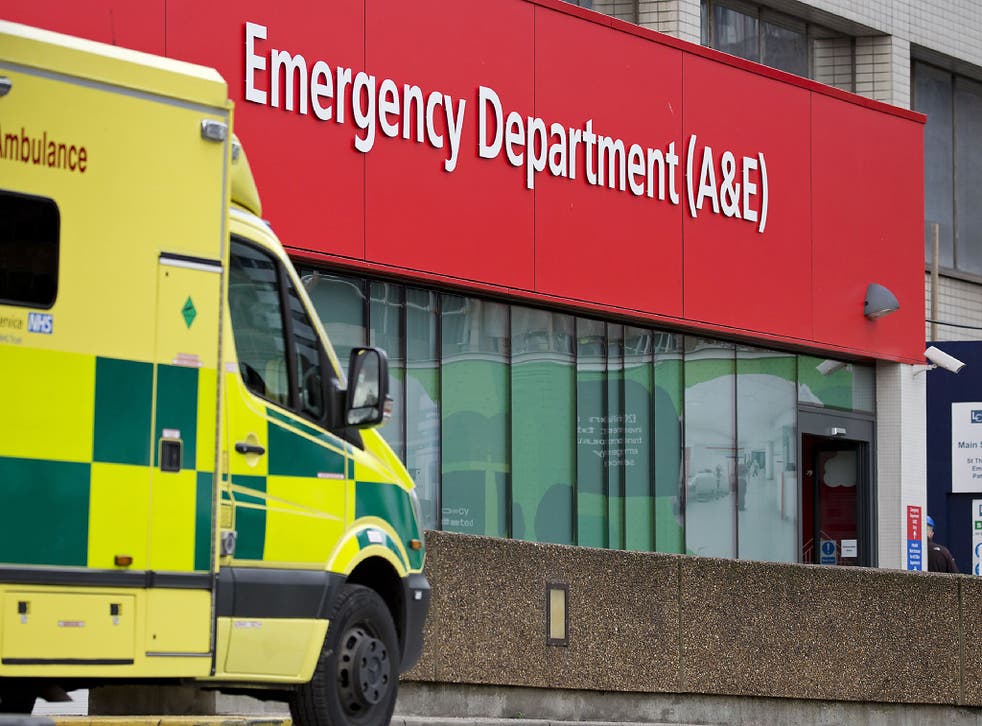 Pressures on the NHS have "escalated rapidly" over the festive period with hospitals experiencing significant bed shortages, a leading doctor has warned.
Dr Nick Scriven, president of the Society for Acute Medicine (SAM), said many hospitals reported more than 99 per cent capacity in the week before Christmas.
He said services are being placed under significant strain as they enter the new year and called for non-urgent operations to be postponed until at least the end of January.
His warning comes the day after The Independent revealed that nurses and GPs are to be sent to answer 999 calls ahead of ambulance crews, while last month this paper also reported that one in five NHS hospital trusts ran out of beds in the first week of winter.
NHS England said hospitals were "generally coping", with overall bed occupancy levels down from 95 per cent in the lead-up to Christmas to around 93 per cent.
Dr Scriven said: "Since the bank holiday things have escalated rapidly and we are on the cusp of a major issue at least as bad as last year when it was described by the Red Cross as a humanitarian crisis.
"There is an awful lot of respiratory illness causing a lot of severe symptoms in the old and young and 10 to 12-hour delays in emergency departments are now not uncommon – along with patients being placed on inappropriate wards."
He urged hospitals to prepare for extra demand, adding: "I fear for acute trusts this next week."
It came as doctors warned of hospitals running out of space due to a sudden rise in flu cases.
Instances of flu were thought to have risen by 67 per cent in just one week, with 3.7 million adults coming down with symptoms, the Daily Telegraph reported.
The paper quoted public health officials as saying they were "more scared than we have ever been" about the risk of a severe flu outbreak.
Head of the British Red Cross Mike Adamson described the situation facing the NHS as a "humanitarian crisis" in January last year, though this was rubbished by NHS leaders and Government ministers.
At the time, he said demand for the charity's help had risen and revealed it was working in 20 A&Es.
Last week, hospitals were advised to defer non-urgent operations until mid-January with the festive period expected to put the NHS under further pressure.
NHS England said hospitals must free up beds for the sickest patients and, by acting early, they can avoid last-minute cancellations that can be costly and inconvenient for patients.
UK news in pictures

Show all 50
Dr Scriven did not know how many trusts had taken the advice, which followed a decision at a meeting of the new NHS National Emergency Pressures Panel.
But he said: "To be at this point now – with reports of some hospitals even diverting patients between Christmas and New Year when there is traditionally a lull – suggests we may be in desperate times.
"With us yet to experience any significant infection outbreaks, my belief is that trusts may be wise to consider cancelling some elective surgery until at least the end of January and maybe into February."
A spokesman for NHS England said: "As you would expect at this time of year, our hospitals are extremely busy, but thanks to hard-working NHS staff and robust plans in place to meet winter pressures, they are generally coping.
"Hospitals are currently reporting bed occupancy levels of 92 to 93 per cent – down from 95 per cent previously.
"Bed occupancy on Christmas Eve was down to 84.2 per cent, compared with 95.3 per cent on 18 December.
"Hospitals are prioritising the increased numbers of emergency patients over non-urgent planned services and additional services and beds are coming online funded by the winter budget cash released by the Government."
Additional reporting by PA
Join our new commenting forum
Join thought-provoking conversations, follow other Independent readers and see their replies