'Staff have been treated like cannon fodder': NHS bosses issue stark warning on future of health service
Exclusive: 'You can't keep putting pressure, accountability and responsibility on people and expect them to endlessly soak it up'
Shaun Lintern
Health Correspondent
Friday 16 April 2021 15:23 Comments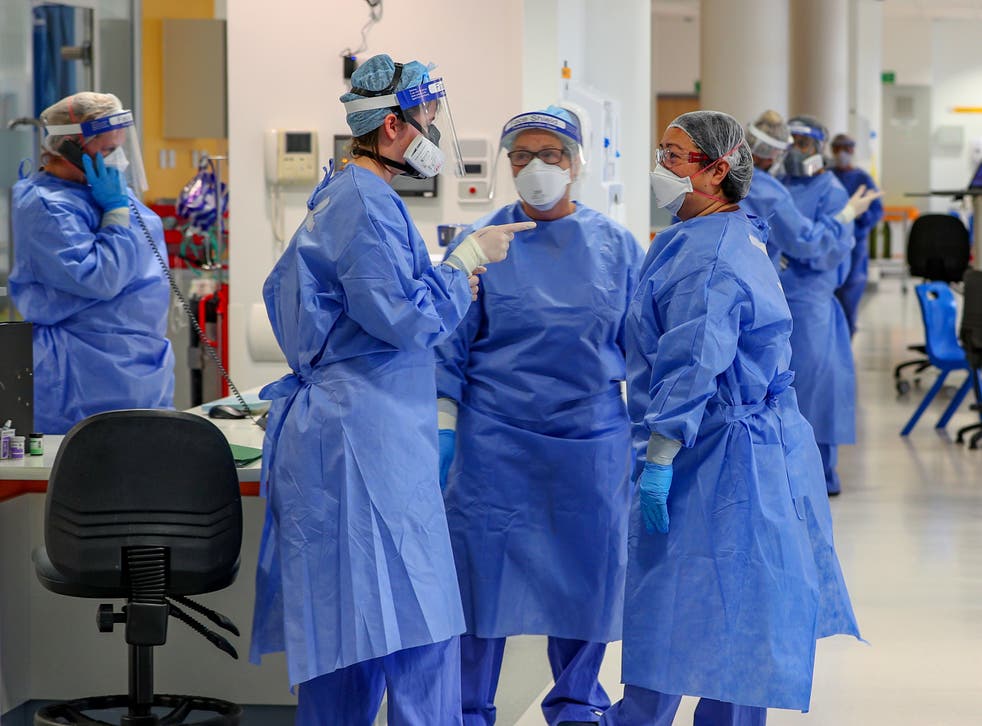 Hundreds of senior NHS managers have voiced their fears for the future of the health service amid the ongoing coronavirus crisis without a significant pay rise to help retain staff on the front line.
A survey of more than 800 senior NHS managers has revealed the extreme pressure some have been working under, with many working 20 or more hours of unpaid extra hours each week.
More than 90 per cent backed a significant pay rise for NHS staff to try and head off a feared exodus of nurses, doctors and other staff leaving the NHS after the pandemic. This would help shore up the service as it faces the daunting task of tackling record waiting lists now totalling 4.7 million patients.
Some managers said that the government's planned 1 per cent pay rise was an "insult" and made them feel "worthless", according to the survey run by the Managers in Partnership union.
Another described NHS staff as being treated like "cannon fodder" during the crisis.
In an interview with The Independent, Jon Restell, chief executive of the union which represents 6,000 NHS bosses said: "Our members, as managers, are deeply worried about the sustainability of services. They fear as we come out of this phase of the pandemic there is going to be an almighty set of recruitment and retention problems. They fear staff are exhausted.
He added: "There has been a huge amount of sustained pressure over the past year. Most of the membership that I represent have been working pretty much non-stop since February or March 2020.
"It was a national emergency, but I think they are now getting to the point where like other staff they are worried they can't sustain this."
He warned that the recovery of waiting lists could take three to five years, with many parts of the health service already hit by staff vacancies.
He said the government's claim that pay was a trade-off against recruitment was wrong, adding: "We need a strategic approach to pay which is about recognising people are valued and wanted. The cost of a system where people are leaving, or joining and not staying, far outweighs that trade-off Matt Hancock talks about."
He said the fact nine out of 10 NHS managers backed a significant pay rise for staff showed they believe it was "absolutely critical for keeping their staff engaged, valued and retained".
The survey was carried out last month, with 92 per cent of the 828 respondents saying a significant pay rise was needed for NHS staff.
The survey found many managers were worried about a likely exodus of staff that could leave parts of the system "on the brink of collapse".
In total, 71 per cent reported recruitment problems. Before the pandemic there were 100,000 vacancies in the NHS and in recent months NHS England has said it has successfully recruited more than 8,000 nurses and 10,000 care workers.
But leaver rates in the NHS can be as high as 10 per cent or more in some staff groups, with the risk that a high turnover of staff undermines recruitment.
Many managers said they were considering leaving the NHS themselves, with 68 per cent saying they had seriously considered leaving in the last 12 months. Almost two-fifths said they aimed to leave as soon as possible while more than half said they planned to bring forward their retirement.
Sixty per cent said they worked between five and 20 hours extra unpaid each week with almost a quarter saying they worked between 20 and 25 hours extra each week.
Among the hundreds of managers to respond to the survey, one said: "Staff have been treated like cannon fodder. If I didn't need the money I would've resigned, which is soul-destroying because I used to love my job but now it fills me with dread and I'm permanently exhausted."
Another added: "I have no idea yet what the long-term impact will be of witnessing so much death and trauma and 1 per cent feels particularly insulting given how many of our people are suffering for their commitment to the NHS and our communities."
One worker described working almost non-stop for the last 12 months and taking calls even when they were not working: "We have given everything, absolutely everything of ourselves", they said.
Other comments included: "I am so sick and tired of being treated like I'm worthless."
One respondent said they had worked three months of overtime in just 10 months from March to December last year, working weekends and nights and now needing mental health support.
Mr Restell warned: "We don't want an exodus of experienced people leaving just when we need that experience to guide the system through the next two to three years."
He said the challenge of future years risked managers being "exposed to unfair" criticism and "blamed politically" for the consequences of under-investment.
He added: "You can't keep putting pressure, accountability and responsibility on people and expect them to endlessly soak it up. This survey tells us that we've reached a moment where people may be not ready for that anymore."
A Department of Health and Social Care spokesperson said: "We recognise the acute pressure this pandemic has put on all health and social care staff who continue to work tirelessly on the front line, saving lives and caring for our most vulnerable.
"Over one million NHS staff are benefitting from multi-year pay deals agreed with trade unions, which have delivered a pay rise of over 12 per cent for newly qualified nurses and will increase junior doctors' pay scales by 8.2 per cent.
"Pay rises in the rest of the public sector will be paused this year due to the challenging economic environment, but we will continue to provide pay rises for NHS workers. In setting these rises we have asked the independent pay review bodies for their recommendations and will consider these carefully when we receive them."
Register for free to continue reading
Registration is a free and easy way to support our truly independent journalism
By registering, you will also enjoy limited access to Premium articles, exclusive newsletters, commenting, and virtual events with our leading journalists
Already have an account? sign in
Register for free to continue reading
Registration is a free and easy way to support our truly independent journalism
By registering, you will also enjoy limited access to Premium articles, exclusive newsletters, commenting, and virtual events with our leading journalists
Already have an account? sign in
Join our new commenting forum
Join thought-provoking conversations, follow other Independent readers and see their replies