NHS faces 'unprecedented workforce crisis' as vacancies rise 10% in last year
Labour says Jeremy Hunt's 'flagrant denial of the extent of this workforce crisis is a damning indictment of his and the Government's failure'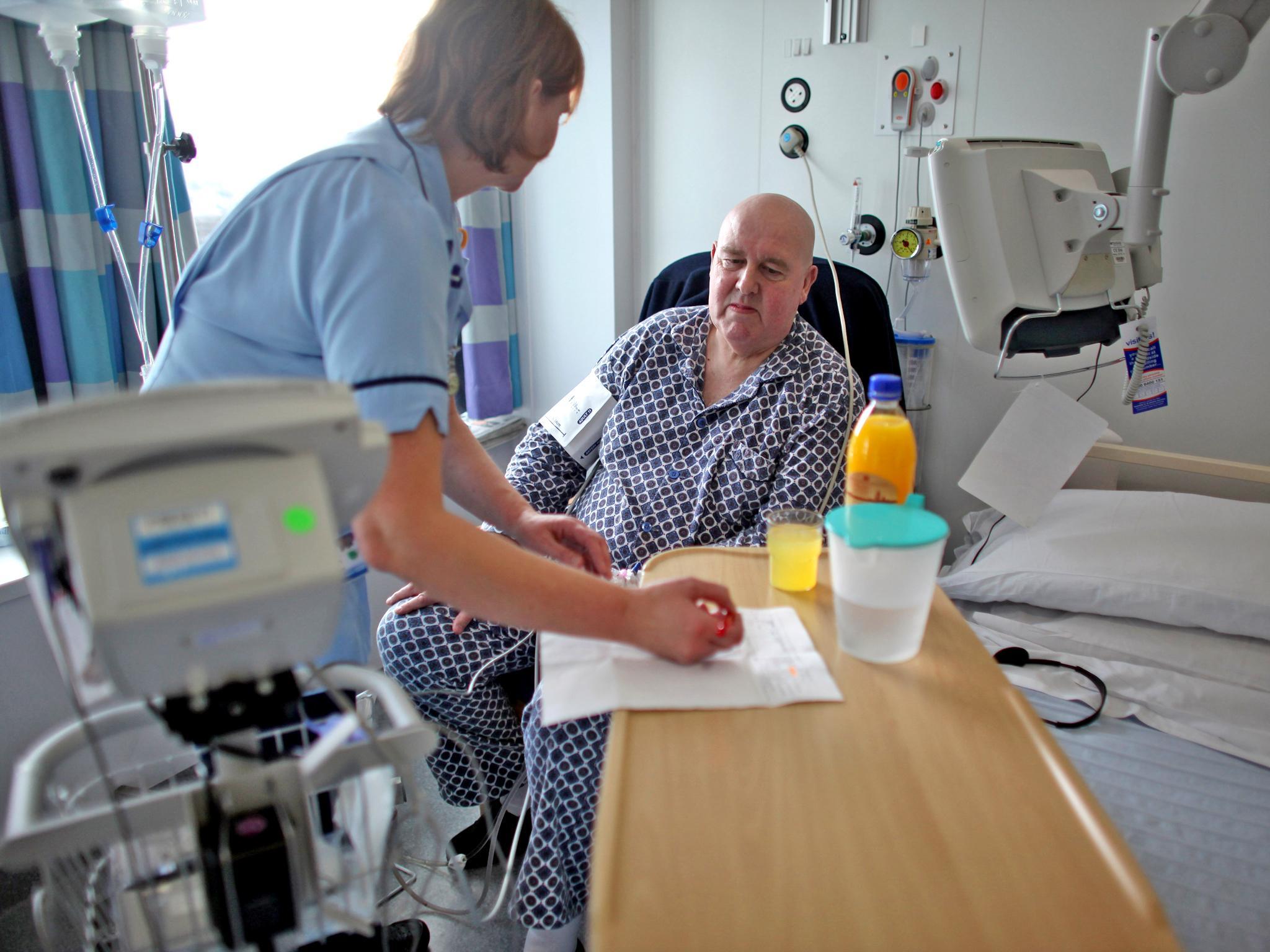 Theresa May has been accused of overseeing "an unprecedented workforce crisis in the NHS" after it emerged staff vacancies have risen by more than 10 per cent in the last year, with tens of thousands of posts left unfilled.
Official figures revealed that in March this year there were 30,613 vacant full-time positions advertised by NHS England – up from 26,424 in the same month in 2016 and 26,406 in 2015.
Labour said the Prime Minister was taking health service staff for granted and warned that a repeat of last winter's chaotic scenes, which saw A&E patients lined up on trolleys for hours, would be "simply intolerable".
Nearly 40 per cent of the vacancies in March 2017 were for NHS nursing and midwifery positions, of which there were 11,485 adverts in total. The average nursing or midwifery role is only drawing three applications, the figures show.
Nurses said the true number of unfilled jobs is "far higher than the number of online adverts", citing a figure of 40,000 in England alone, and warned patient safety is suffering as people are put off the profession by "low pay, relentless pressure and new training costs".
"NHS staffing levels are reaching crisis point," said Janet Davies, head of the Royal College of Nursing (RCN).
"At the very moment the NHS needs to be recruiting more nursing staff, we learn the number is falling and the NHS finds itself advertising for more jobs we know it cannot fill," said Ms Davies.
"A lethal cocktail of factors is resulting in too few nurses and patient care is suffering. The Government desperately needs to keep the experienced staff still working in the NHS."
Nurses are threatening to strike for the first time in history over staff shortages and low pay, which has been subject to the Government's 1 per cent public sector pay freeze since 2010.
But tensions are simmering among ministers over the pay cap, which has been attacked by the Government's own experts. The senior civil servants' union, the FDA, said the policy, in place until 2020, meant the UK's ability to fill jobs in teaching and the health service "could deteriorate rapidly".
Ms May has defended the pay freeze despite senior cabinet ministers calling for it to lifted to ease pressures faced by public sector workers, with Downing Street saying the Government would consider potential wage increases for nurses, police officers and firefighters on a "case by case" basis.
Nurses protest at Department of Health over pay cap
The latest data was collected from NHS Jobs, the main recruitment website for the NHS. Between January 2017 and March 2017, a total of 86,055 vacancies were advertised, up from 78,112 in the first quarter of 2016.
However, each advert may stand for multiple vacancies or an ongoing recruitment programme, meaning the overall figure is likely to be higher.
Health trust bosses now consider the issue of recruitment and retention of NHS staff to be "as serious as concerns over funding," Phillippa Hentsch, head of analysis at NHS Providers, told The Independent.
"Tough language tests, and the uncertainty that Brexit has created for current and potential EU staff" has contributed to this, she said. "We are also seeing the impact of pay cap, prompting staff to seek work elsewhere.
"Trusts will do all they can to ensure safe care for patients, but where they can not recruit to roles they may be forced to rely on expensive agency staff, or stop services altogether. Both of these options are unsustainable in the long term."
Justin Madders, Labour's shadow health minister, said: "For years the Tories have taken NHS staff for granted and asked them to do more for less, resulting in a recruitment and retention crisis which threatens patient care on a daily basis."
January 2017 was the worst month on record for hospital A&E departments, with more patients than ever waiting four hours to be seen – and Mr Madders warned if action is not taken, this winter could be even worse.
That month, nearly 80,000 seriously ill patients spent more than four hours waiting on trolleys to be treated after being admitted to A&E, with an unprecedented 988 patients waiting on trolleys for longer than 12 hours.
"Frankly, the Government's solution of hiring expensive agency staff or asking hard-pressed existing staff to cover extra shifts is not in the best of interests of patients or medical professionals," said Mr Madders.
"The public is under no illusions: a repeat of last winter's crisis is simply intolerable and Theresa May must now take urgent action to secure a sustainable workforce in our NHS."
The Department of Health did not address concerns over vacancies directly in its official response to the figures, instead focussing on the numbers of new staff that have joined the health service in recent years, not how many may have left.
"Staffing is a priority – that's why we have invested in the frontline and there are almost 32,400 more professionally qualified clinical staff including almost 11,800 more doctors, and over 12,500 more nurses on our wards since May 2010," said a department spokesperson.
But Mr Madders hit back at this, saying: "Jeremy Hunt's flagrant denial of the extent of this workforce crisis is a damning indictment of his and the Government's failure."
Campaign group Keep Our NHS Public also said the Government's response "doesn't address this massive, increasing and rapidly unsafe problem", adding the NHS is "falling apart, post by vacant post and budget deficit after deficit".
The British Medical Association (BMA) added that doctors were "struggling with unsustainable workloads" to try and fill gaps caused by staff shortages.
"Across many parts of the NHS, recruitment and retention problems are leaving staff and services thinly stretched and affecting patients' access to care," said Dr Andrew Dearden, the BMA's treasurer.
The new figures come as England's Chief Inspector of Hospitals warned that Brexit poses a "threat" to the NHS workforce, as the health service struggles to recruit enough nurses, doctors and support staff from EU countries.
Professor Sir Mike Richards told the BBC there is "no doubt that the workforce of the NHS and indeed the care system generally is absolutely critical and we do need to have more staff".
But he said: "If we are leaving the EU there is a threat to that, which we need to make sure is being dealt with so that we are not losing staff and we can then replace them if necessary to grow our own, if you like."
Liberal Democrat health spokesman Norman Lamb said: "The NHS is finding it harder and harder to recruit the staff it needs, yet still this Government is refusing to end years of cuts to pay."
Commenting on the figures, Dr Mark Holland, president of the Society for Acute Medicine, said the removal of the Government's 1 per cent cap on public sector pay rises was long overdue.
He said: "Removing the pay cap on NHS staff, particularly the lowest paid, is long overdue, while the extra pressure on overworked front-line staff to meet targets must be eased.
"This data shows it is high time we saw steps taken to stop disincentivising staff – salaries must be fair, working conditions must be safe and sustainable and clear career pathways must be in place."
Join our commenting forum
Join thought-provoking conversations, follow other Independent readers and see their replies