'Unholy' cocktail of summer pressures leave patients waiting longer than ever as winter looms, NHS trusts warn
'Worryingly high' numbers waiting more than 12 hours at A&E or over a year for operations, experts warn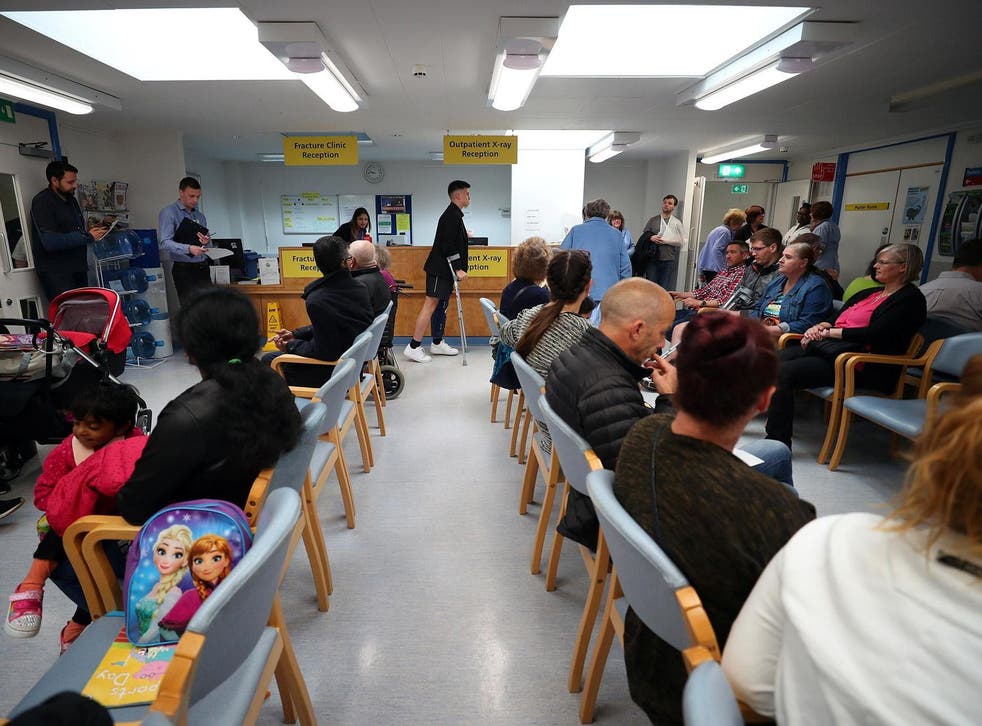 An "unholy" cocktail of pressures this summer and the relentless demand at A&E means patients are waiting longer than ever for hospital treatment and tests, official figures show.
NHS trusts said they expect the winter to be "even more challenging than last year", in the wake of official performance figures for the July to September period showing demand has continued to outstrip capacity.
The NHS Improvement statistics show there are more than 4.3 million on the health service waiting list and 3,1756 people have waited over a year for treatment – an increase of 78 per cent on the same point in 2017.
In A&E just 89.3 per cent of patients were seen within the four hour target, a fall on last year and well below the standard of 95 per cent, which confirms the summer months no longer bring any respite for overstretched staff.
Driving these waits is the constant increase in demand, particularly at A&E where 6.18 million people attended in just three months – a quarter of a million more than last year.
There was also a 7 per cent rise – more than a million extra patients – in people needing to be admitted, suggesting the rise isn't just patients with minor complaints but those who are sicker. The figures are down to a mix of increasing numbers of elderly patients and those with long-term conditions, and a lack of support in the community, experts said.
'We have become used to key targets being missed, but the increase in the number of patients forced to experience long waits for care is a significant concern," said Siva Anandaciva, chief analyst at the King's Fund think tank.
"The number of people stuck on hospital waiting lists for more than a year or spending more than 12 hours in A&E is worryingly high, and far worse than this time last year."
NHS Providers, which represents trusts, said "heroic" efforts by staff had allowed more patients to be seen than ever before and helped facilitate reductions in delayed discharges stuck in hospital.
However, performance will continue to deteriorate without a rethink of care and an end to the "unrealistic" financial efficiency targets demanded by ministers.
UK news in pictures

Show all 50
"These figures reflect a very difficult summer for trusts and their staff as they have worked flat out to grapple with an unholy combination of rapidly rising demand, an ongoing financial squeeze and a once in a generation workforce shortage problem," chief executive Chris Hopson said.
"But the reality is that, however hard trusts work, they cannot currently keep up with the growth in demand for care.
"All trusts are warning that, despite improvements, this coming winter is likely to be more challenging than the last."
The NHS "long-term plan", which is due to be announced in December, is intended to mark a major change in the way the health service works, and will set out how to spend the £20.5bn funding uplift planned by 2024.
However, economists said billion-pound deficits in NHS trust finances mean the recovery will start off "underwater financially" with urgent investment needed to recover waiting time and other performance targets.
Support free-thinking journalism and attend Independent events
The NHS has also not been helped by more than 100,000 job vacancies across hospitals and ambulance trusts, 10 per cent of which are not even currently filled with temporary "locum" staff.
The staffing crisis is one of the areas, alongside the crisis in social care, which NHS England chief executive Simon Stevens said on Wednesday was outside the NHS plans despite having a significant impact on its performance.
Labour's shadow health secretary, Jon Ashworth, said: "Not only has the health secretary been forced to bin the NHS plan next week because of government squabbling, we now learn hospitals are in the red to the tune of £1.23bn.
"With doctors warning we are on the brink of another winter crisis, it's becoming increasingly clear the government haven't got a grip and it's patients who will lose out yet again."
Ian Dalton, chief executive of NHS Improvement, said the plan was a chance to "fundamentally redesign" the way the health system operates.
"The NHS is working flat out to ensure record numbers of patients get the care they need. Frontline staff and managers deserve tremendous praise for their heroism.
"But this achievement continues to come at a cost, with performance targets not being met nationally and hospitals being unable to balance their books to cover the increased demand on their services.
"The long-term plan is our opportunity to fundamentally redesign how the NHS works so that it can continue to provide high-quality care for patients."
Register for free to continue reading
Registration is a free and easy way to support our truly independent journalism
By registering, you will also enjoy limited access to Premium articles, exclusive newsletters, commenting, and virtual events with our leading journalists
Already have an account? sign in
Register for free to continue reading
Registration is a free and easy way to support our truly independent journalism
By registering, you will also enjoy limited access to Premium articles, exclusive newsletters, commenting, and virtual events with our leading journalists
Already have an account? sign in
Join our new commenting forum
Join thought-provoking conversations, follow other Independent readers and see their replies