Patrick Stewart backs call for six-year-old epileptic boy to receive medical cannabis
'There has never been a stronger case for the legalisation of medical marijuana', says actor who uses plant for arthritis pain
Alex Matthews-King
Health Correspondent
Tuesday 20 March 2018 17:59 Comments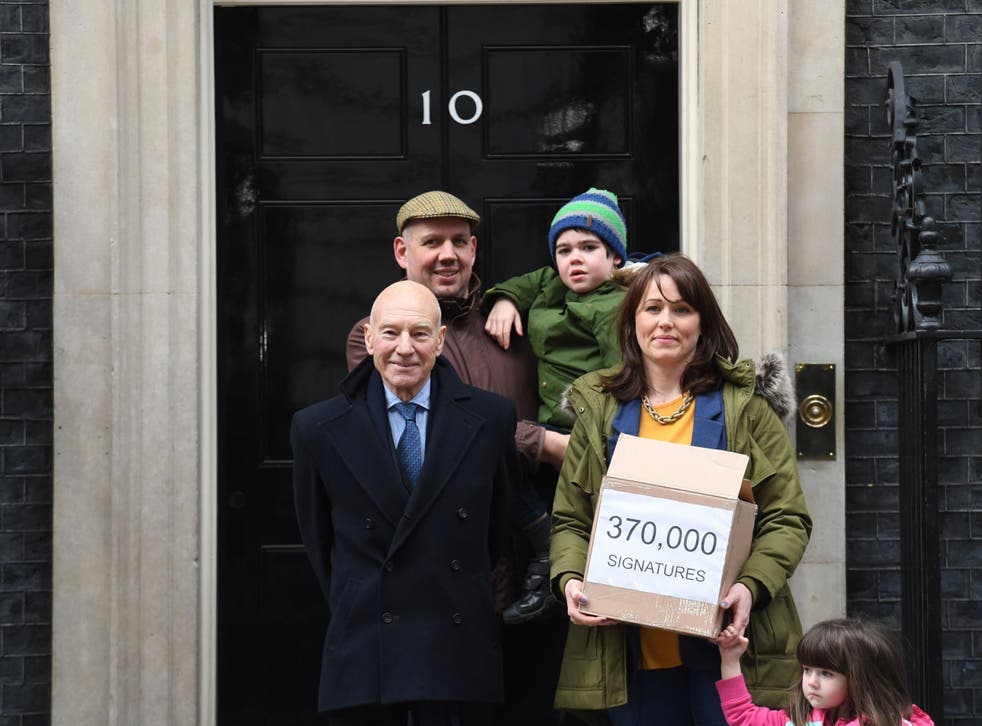 Actor Sir Patrick Stewart joined a six-year-old boy with epilepsy on the steps of 10 Downing Street, to hand over a petition containing nearly 400,000 signatures which calls on the Government to approve a license for medical cannabis.
Alfie Dingley has a rare form of epilepsy that causes him to have up to 150 potentially life threatening seizures every month.
While receiving medical cannabis oil on prescription in the Netherlands he went 27 days without a seizure. But when his family applied for a license for him to use it in the UK, they were rejected by the Home Office.
His appeal has been backed by celebrities, MPs and tens of thousands of members of the public.
"How could one not support Alfie?" Sir Patrick said. "Hearing what his life has been and the benefits given to him by being able to use medicinal marijuana."
The Star Trek star has arthritis and uses medical cannabis when he is in California to manage the pain. In the UK he said he was forced to rely on "painful" steroid injections between his knuckles instead.
"There has never been a stronger case for the legalisation of medical marijuana," he added. "I have been registered for medical marijuana in California for over three years and have found it immensely beneficial for my arthritis."
Alfie suffers from a rare form of childhood epilepsy called PCDH19, and has previously been hospitalised 48 times in a single year.
The duration and severity of his seizures, which come in clusters and can occur 30 times a day, was significantly reduced when the family relocated to the Netherlands in September 2017.
A consultant paediatric neurologist was able to prescribe Alfie oils derived from whole plant cannabis.
The medication cannot be brought back into the UK because they are deemed to be drugs with no medicinal value and a Schedule 1 controlled substance.
His parents Drew Dingley and Hannah Deacon have attempted to have the medication recognised in the UK, but their attempts were blocked by the Home Office.
Instead the NHS can only offer powerful steroid medications, which are likely to lead to psychosis, major organ damage and premature death after a lifetime of use.
However, ministers recently suggested the oils could be prescribed through a clinical trial.
"Alfie's condition is worsening, which is obviously a worry," Mr Dingley said. "The steroids have side effects, they make people more aggressive and we've seen a change in his behaviour. We just want our little boy back, our happy little six-year-old playing with his sister.
Health news in pictures

Show all 40
"What we're asking for is a medical grade product, made under laboratory conditions, which is bottled and prescribed in the way any painkiller is."
Writing on the petition, Ms Deacon said providing a license for Alfie was a "no-brainer". His condition alone costs the NHS "over £100,000 and 150 paediatric bed days" a year, she said.
She added that she wanted Home Secretary Amber Rudd and Health Secretary Jeremy Hunt "to understand this isn't about the wholesale legalisation of Cannabis.
She said: "This is about weekly trips to A&E, watching my son have seizures, watching him turn purple, and praying that he lives to see another day."
Alfie's other supporters include Sir Richard Branson and Joanna Lumley, along MPs in favour of drug legislation.
Theresa May's official spokesman said the Prime Minister had previously written to the Dingley family to express her sympathies and "reiterate the Government's commitment to explore a range of options to find a solution for Alfie".
The spokesman added: "That work is ongoing and is being led by senior clinicians. What we have said is that it is important that medicines are thoroughly tested to ensure they meet rigorous standards before being placed on the market, so that doctors and patients are assured of their quality and safety."
Ms May was opposed to the decriminalisation of cannabis, he said.
Asked whether decriminalisation was one of the options under consideration in the current work, he added: "We have said when we've looked at this in the past that we are looking at specific solutions in relation to Alfie and what can be done to help him."
Additional reporting by Press Association
Register for free to continue reading
Registration is a free and easy way to support our truly independent journalism
By registering, you will also enjoy limited access to Premium articles, exclusive newsletters, commenting, and virtual events with our leading journalists
Already have an account? sign in
Join our new commenting forum
Join thought-provoking conversations, follow other Independent readers and see their replies