Breakthrough pregnancy blood test can predict delivery date and help tackle risky premature births
Test may tackle leading cause of infant death and provide better maternity care in developing countries
Alex Matthews-King
Health Correspondent
Thursday 07 June 2018 20:18 Comments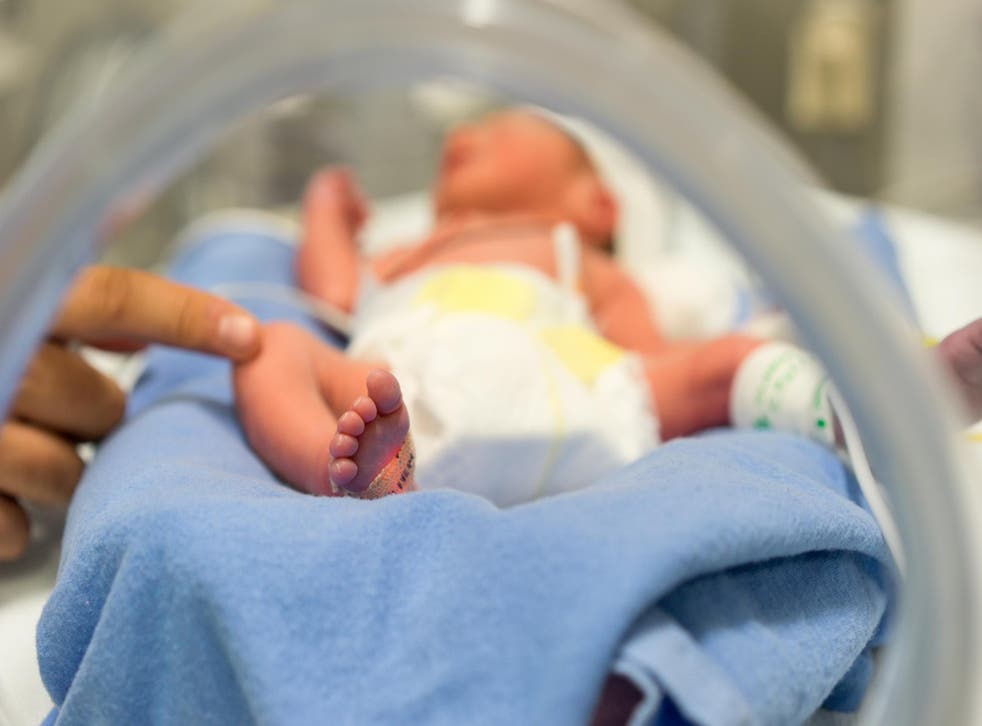 A blood test which can predict whether a child will be born up to two months prematurely could help tackle the condition, which is the leading cause of newborn death and disability in developed countries like the UK.
Premature birth – after less than seven and a half months of pregnancy – affects 15 million infants a year and can cause brain damage and have knock-on impacts on the child's future health.
The new test was able to predict which pregnancies would end prematurely with up to 80 per cent accuracy in early trials – previous tests have only been accurate 20 per cent of the time.
It was also able to predict the age of a foetus and its likely due date, with the same accuracy as an ultrasound but much more cheaply.
This could make it an important addition to maternity care in developing countries, particularly rural and remote communities who might not have access to ultrasound or trained technicians.
"Unfortunately there's no good test right now to figure out if a woman will deliver pre-term for a specific pregnancy," said Mira Moufarrej, one of the study's lead authors and a PhD researcher at Stanford University.
Mum Christina Hahn plays with prematurely born son Markcus Cropper Jnr.
"We felt this was an especially important problem to address."
Ultrasound imaging and mothers' estimates of their last period are currently used to estimate how far advanced a pregnancy is, but these are either expensive or inaccurate, respectively.
Inaccurate estimates in particular can lead to unnecessary caesarean sections or induced labour where a baby is wrongly thought to be overdue and requires even more time in neonatal care.
"Pregnancy is the most critical period for the mother and child and pre-term delivery, which is the delivery after less than 30 weeks gestation, gives rise to most neonatal deaths and complications.
"So we really need to understand pregnancy in great detail," said visiting Stanford professor Mads Melbye, who supervised the research published today in the journal Science.
Their test looks at messenger molecules in the blood, called cell-free RNA, which translate the information encoded in the DNA into the protein molecules which perform functions in the body.
Using blood tests collected from women at various stages of their pregnancy they were able to see what markers were elevated in the women who eventually had a premature birth.
NICU Premature Baby Graduates

Show all 8
"We found that a handful of genes are very highly predictive of which women are at risk for pre-term delivery," added Professor Melbye, who is also president of the Statens Serum Institute in Copenhagen.
"I've spent a lot of time over the years working to understand pre-term delivery. This is the first real, significant scientific progress on this problem in a long time."
Two-thirds of pre-term births occur when the mother spontaneously goes into labour, and doctors still don't understand why.
Previous studies have suggested signals from gut bacteria in the reproductive tract could be a cause in some cases.
But this study found it was the mother's body which appears to trigger the process.
"It's mostly maternal genes," Ms Moufarrej said. "We think it's mom sending a signal that she's ready to pull the ripcord."
This insight, which the authors likened to "eavesdropping on the conversation" between mother and foetus, could help doctors to identify and monitor the changing patterns which trigger premature birth, and ways this could be prevented.
Register for free to continue reading
Registration is a free and easy way to support our truly independent journalism
By registering, you will also enjoy limited access to Premium articles, exclusive newsletters, commenting, and virtual events with our leading journalists
Already have an account? sign in
Register for free to continue reading
Registration is a free and easy way to support our truly independent journalism
By registering, you will also enjoy limited access to Premium articles, exclusive newsletters, commenting, and virtual events with our leading journalists
Already have an account? sign in
Join our new commenting forum
Join thought-provoking conversations, follow other Independent readers and see their replies