Bereaved parents criticise MP for claiming credit over maternity scandal investment
Families who helped force an investigation into the scandal say they were ignored by local MP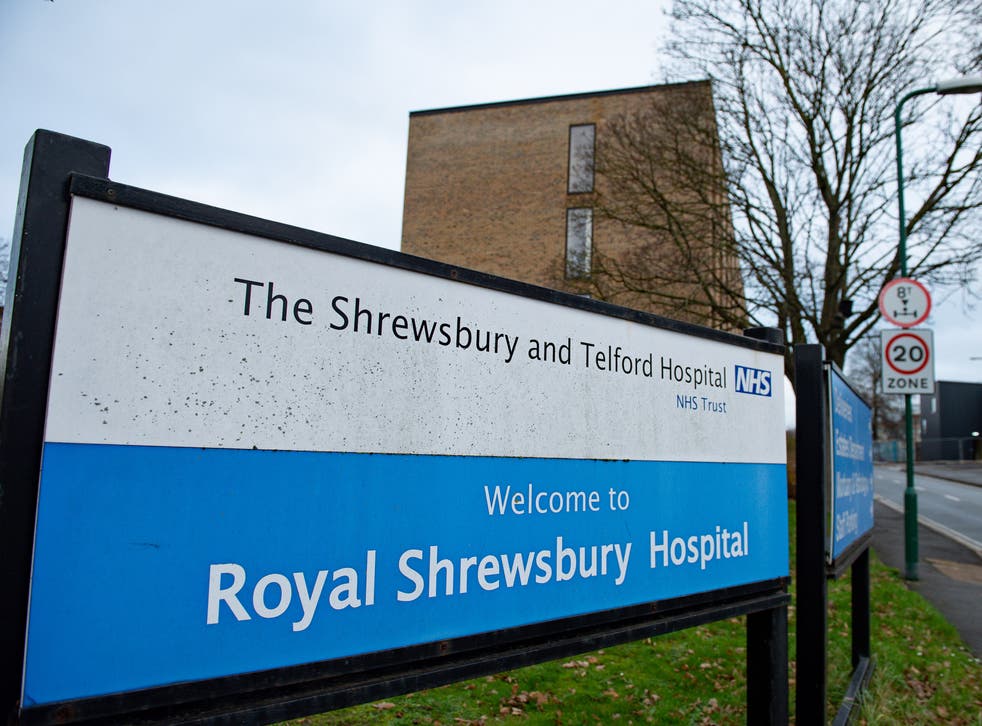 Bereaved parents who exposed the largest maternity scandal in NHS history have criticised Telford MP Lucy Allan for claiming credit for almost £100m of new NHS investment, saying she ignored their pleas for help.
The Tory MP, who is private secretary to leader of the House of Commons Jacob Rees-Mogg, angered the parents by claiming on Twitter, and on her own website, that the funding announced by NHS England last week followed "her campaign" to highlight the scandal at the trust.
The full scale of the scandal was revealed by The Independent in November 2019, but a review of deaths at the trust was launched in 2017 after parents Rhiannon Davies, Richard Stanton, and Kayleigh and Colin Griffiths wrote to former health secretary Jeremy Hunt with concerns about 23 cases.
The number of cases now being examined by an independent inquiry, led by midwife Donna Ockenden, has risen to more than 1,860.
According to the UK Parliament website, Lucy Allan has spoken on maternity issues five times since being elected in 2015. The first time was in January last year, after the scandal had been exposed.
Read more:
Rhiannon Davies, whose daughter Kate died as a result of errors at the trust in 2009, told The Independent the families wrote to the Telford MP at the time.
She said: "Lucy Allan ignored us. We wrote a long detailed letter explaining the background and who we were. We never got an acknowledgement or reply."
A second letter in July received only a standard response, she said, adding: "There was no attempt to engage with us at all. This is not an insult to me, it's an insult to Kate and Pippa [the daughter of Kayleigh and Colin Griffiths].
"This investment is a positive victory. It's wonderful news and we claim it posthumously on behalf of Kate and Pippa, and all the other families who have come forward. To see her claim it as her own made a really positive day bad."
Kayleigh Griffiths, whose daughter Pippa died after mistakes in 2016, added: "We have had no support from any of our local MPs. I wrote to them all and said something is going on here and it affects your constituents, but I didn't get a response.
"This is not Lucy Allan's campaign, its ours and the other families'. We haven't had any help or support from her."
A full report on the scandal at the trust is due to be published later this year.
An initial report in December last year revealed widespread poor care over many years, with a culture of avoiding caesarean sections and of not learning from incidents. In some cases babies suffered fractured skulls and broken bones.
Lucy Allan sent The Independent a series of links to statements she had made in response to news about the trust's problems since 2019. She said in some cases families who were not her constituents would be directed to contact their local MPs.
She said she was proud of her record on the issue, adding that she had spoken out "after hearing from my constituents who had suffered terrible loss, trauma and injustice. I was proud to give them a voice and campaign on their behalf."
She added: "There are many families across Shropshire who have suffered. Many would not have come forward but for the extraordinary campaigning of a small number of brave families, who worked tirelessly to bring about the Ockenden Review.
"They can be so proud of what they achieved for others. I pay tribute to them all. I hope they feel some comfort from the new investment in this area, and the work of Donna Ockenden."
Register for free to continue reading
Registration is a free and easy way to support our truly independent journalism
By registering, you will also enjoy limited access to Premium articles, exclusive newsletters, commenting, and virtual events with our leading journalists
Already have an account? sign in
Register for free to continue reading
Registration is a free and easy way to support our truly independent journalism
By registering, you will also enjoy limited access to Premium articles, exclusive newsletters, commenting, and virtual events with our leading journalists
Already have an account? sign in
Join our new commenting forum
Join thought-provoking conversations, follow other Independent readers and see their replies