Government plans smoking rate reduction from 15.5% to 12% by end of 2022
Doctors welcome proposals but warn local authorities must be properly funded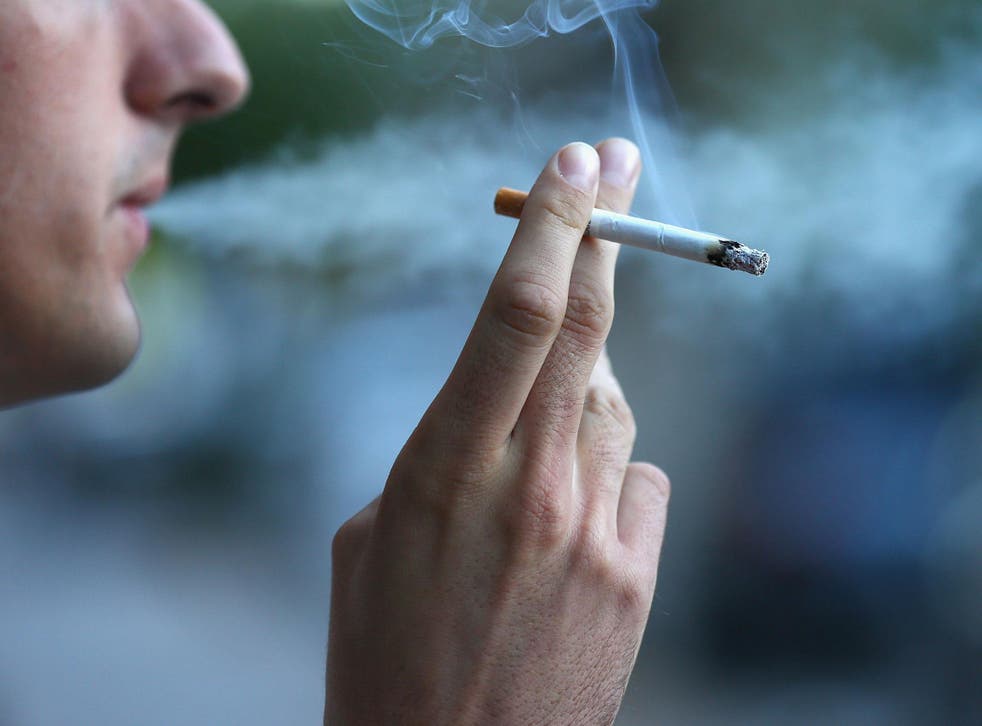 The Government has announced plans to further cut smoking rates and create Britain's "first smoke-free generation".
Currently 15.5 per cent of adults in England smoke, a figure ministers aim to reduce to 12 per cent by the end of 2022.
To achieve this, measures including high taxes on tobacco and mandatory plan packaging will be enforced, while pregnant women, NHS staff and patients will be encouraged to quit in a new drive to improve the nation's health.
More than 200 deaths are caused by smoking every day, according to the NHS, and new research has found the habit cost the health service £2.6bn in 2015.
Councils in areas with high smoking prevalence will be supported by public health officials to "identify local solutions" to help people stop smoking.
However, doctors warned that local authorities, which provide services to help people stop smoking, must be properly funded for the plans to be successful.
"While we are glad to see developing policy such as plain cigarette packaging and increased taxation on tobacco, it is still worrying that more than 200,000 children and young people take up smoking, the leading cause of preventable premature death and ill health in this country, each year," said Parveen Kumar, board of science chair for the British Medical Association (BMA).
"If we're to stop the 79,000 annual deaths in England attributed to smoking, smoking cessation services and tobacco control measures must be adequately funded yet local authorities are reducing stop – smoking budgets, merging services into unwieldy departments or cutting services altogether.
"Cuts to these highly cost-effective services will only increase health inequalities and demand on tomorrow's GP surgeries and hospital wards."
Last week it was revealed that local public health budgets, including funding for stopping smoking and sexual health, are set to be cut by £85m this year.
In 90 seconds: A history of smoking laws
Although local stop-smoking services are the most effective way for smokers to quit, three in five councils were forced to cut their budgets for the service last year, according to Cancer Research UK.
Smoking rates in Britain are at the lowest levels since records began and the number of smokers has fallen by nearly two million since the smoking ban was introduced in England a decade ago.
Now the Government's Tobacco Control Plan also aims to cut smoking among 15-year-olds who regularly smoke from 8 per cent to 3 per cent or less.
Ministers also want to almost halve smoking in pregnancy by 2022, from 10.7 per cent at present to 6 per cent or under.
Being "smoke-free" means smoking rates fall to 5 per cent or under across the population, with one in 20 people or fewer smoking.
Health news in pictures

Show all 40
Under the plan, there will also be a focus on using e-cigarettes and other stop-smoking devices as aids to quitting.
Public Health England (PHE) will update its evidence report on e-cigarettes and other devices annually until the end of 2022 and include messages about the relative safety of e-cigarettes in stop-smoking campaigns.
Ministers will also use the UK'' exit from the EU to "identify where we can sensibly deregulate without harming public health".
The report said this would include looking again at the Tobacco Products Directive, including as it applies to e-cigarettes.
There will also be more help for smokers with mental health problems. Figures show that more than 40 per cent of adults with a serious mental illness smoke.
All mental health inpatient services sites will also aim to be smoke-free by 2018, and prisons will get more support to become smoke-free.
There are currently 7.3 million adult smokers in England and more than 200 people a day die from a smoking-related illness that could have been prevented.
The difference in life expectancy between the poorest and the richest can be as much as nine years – with smoking accounting for about half of this difference.
Public health minister Steve Brine said: "Britain is a world leader in tobacco control, and our tough action in the past decade has seen smoking rates in England fall to an all-time low of 15.5 per cent.
"But our vision is to create a smoke-free generation.
"Smoking continues to kill hundreds of people a day in England, and we know the harms fall hardest on some of the poorest and most vulnerable people in our society."
Register for free to continue reading
Registration is a free and easy way to support our truly independent journalism
By registering, you will also enjoy limited access to Premium articles, exclusive newsletters, commenting, and virtual events with our leading journalists
Already have an account? sign in
Register for free to continue reading
Registration is a free and easy way to support our truly independent journalism
By registering, you will also enjoy limited access to Premium articles, exclusive newsletters, commenting, and virtual events with our leading journalists
Already have an account? sign in
Join our new commenting forum
Join thought-provoking conversations, follow other Independent readers and see their replies